Zimbabwe runs out of its new money within first week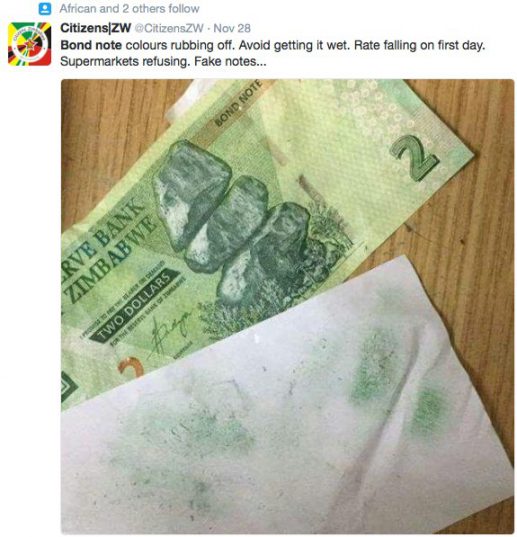 Picture: Twitter screenshot
According to users, the ink on the new bond notes also smudges if you rub too hard.
Within five days of issuing a new currency in Zimbabwe, the cash ran out at commercial banks in many parts of the country. Last week Zimbabwe's central bank released about US$12 million (presumably R165 million) of new cash, known as bond notes, and this money is supposed to have the same value as the US dollar, which was adopted as the main currency since the last financial crisis eight years ago.
"The banks have run out of bond notes in their vaults. We will be having a meeting with the banks and see how we can address the situation," Reserve Bank of Zimbabwe deputy governor Kupukile Mlambo told journalists in second city Bulawayo at the weekend. He said the central bank did not want too many bond notes in circulation as this would threaten the new currency's "viability".


Day 1 and the Bond Note is already trading weaker than USD.#BondNotes pic.twitter.com/qJUfJYzNs7

— Trends Zimbabwe ™ (@TrendsZim) November 28, 2016
Bank queues began last April when Zimbabweans discovered US dollar cash was running out. The government slapped import bans on many products, mostly from South Africa, and commercial banks started limiting the amount its account holders could withdraw per day.
Zimbabwe also banned exports of US dollars from Zimbabwe. Plastic money expanded rapidly, but still the queues grew as teachers and other civil servants were unable to withdraw all their salaries when they were paid, and most of them were paid late each month during 2016.
Mlambo lashed out at the manufacturing sector, much of which collapsed after the 2000 land invasions hacked into the economy largely dependent on commercial agriculture.
"We are not producing anything in the country. If you see a country surviving on beer manufacturing and airtime-selling companies only, this is a sign of a sick economy. It seems people are spending too much on beer drinking and phoning," he said.
Mlambo said use of US dollars and other foreign currencies from 2009 after the worthless Zimbabwe dollar collapsed meant the central bank had no control over issues such as bank charges in domestic commercial banks.
"When we adopted the multi-foreign-currency system, we lost our independent monetary policy. We no longer have the power to stop banks from doing unethical things," he said.
Most of Zimbabwe's locally owned commercial banks went broke since 2000. The largest is the Commercial Bank of Zimbabwe, CBZ, which handles most public service salaries, and admits it has a massive debt book. Since the liquidity crisis began earlier this year, three much smaller foreign-owned banks – Standard Chartered, Stanbic, and Barclays Bank – closed their doors to new account holders.
The quality of the new cash, mostly the $2 note, is not as good as expected, say some: "We have only seen the green ones so far, but the ink does rub off a bit if you rub it, and there are some discrepancies. Maybe the next printing will be better," said a banker in Harare on Friday.
Zimbabweans use South African-minted bond coins, as they are known, as change, as it had no coins after the collapse of the Zimbabwe dollar.
The central bank will not say where the notes were printed. It has repeatedly assured the country that it will not print new bond notes as it did before, in ever-higher denominations until the cash was worthless. It borrowed US$200 million from Cairo-based Afreximbank to fund the bond-note saga.
Zimbabwe is desperate to raise foreign loans to pay off the African Development Bank and the World Bank, so that it can then resume borrowing from the International Monetary Fund, which it recently paid off.
Zimbabwe has had discussions with several foreign banks and financial institutions over the past few months, looking for a loan, most recently with Standard Chartered Bank in London, but the matter has not yet proceeded beyond discussions.
Some in financial circles in Harare say they do not believe any foreign bank would lend any money to Zimbabwe without the "backup" of some kind of exit package attached to President Robert Mugabe, who will be 93 in February, and who has said he wants to fight elections in 2018 and die in office.
http://citizen.co.za/news/news-africa/1364973/zimbabwe-runs-out-of-its-new-money-within-first-week/
*****************
GURU HUNTER





Posts

: 24021

---

Join date

: 2015-02-19



GURU HUNTER





Posts

: 2881

---

Join date

: 2015-04-20



Maybe they should make the 'Two Broke Girls" work a little faster!! :rudolf:
VIP Member





Posts

: 13675

---

Join date

: 2011-06-18


Age

: 65


Location

: Central Florida-



the word on the street is buy buy buy before itstoo late
VIP Member





Posts

: 5980

---

Join date

: 2011-06-23



---
Permissions in this forum:
You
can
reply to topics in this forum