This is the video that started it all.
Is vegetarianism the same as meat eating?
Is killing a carrot the same as killing a cow?
Does cheese really give you a fat ass?

WSOMN members ponder these age old questions and more.
Tata writes:
Vegetarianism is Not the same as meat eating.
From a relative point of view (level we all live) killing a carrot and killing a cow is very very different.
PegasusGold responds:
Millions of baby calves are ripped away from their mothers in order that humans can steal their milk.  Then after the cows have been forced to give birth (most AI'd) 4 or 5 times, then they too are sent to the slaughter houses.  The cows cry for their babies and the babies cry for their mothers - for days.
The babies, if male - 99.99% are slaughtered for veal.  Many kept in crates where they can hardly turn around and they rarely even develop muscles and are never allowed to run and play
The girl babies - if kept alive, follow the same route as their mothers. If there are too many girl calves (heifers) they too are sent to slaughter for blood thirsty humans to consume.
Indirectly - unless a cow is kept as a pet and she and her baby share the milk with their human through mutual love and caring - Vegetarians who drink milk or eat cheese and other milk products, do indeed cause the death of many cows, goats, sheep and other animals who are milked
A cow does not lactate unless she gets pregnant so that she produces milk for the baby she gives birth to.
BeyondSummit chimes in with:
The GCR is a financial shift in consciousness - living as a Vegetarian is a personal shift in consciousness... My body is a temple
Kmhollow has this to say: 
Love meat and all Vegetables…

Which doesn't sit well with Pegasus Gold:
So, you are saying that you love the fact that animals suffer and are murdered so you can satisfy your lust for blood and flesh.
Animals want to live and have just as much right to life as you do!
Thoughts from HumanBeing:
Killing a carrot is very very different than killing a cow??? Tell that to the carrot you killed. Sorry. Every living being wants to live. Just because it doesn't have eyes to look at you when you kill it doesn't make it a lesser life form. Everything strives to live, but the great irony of life is: In order to live we must kill.
Don't try to justify your actions or make one type of living organism superior (or inferior) to another. It must be done if you choose to live. That's life.
GURU HUNTER





Posts

: 20301

---

Join date

: 2012-04-10



[img]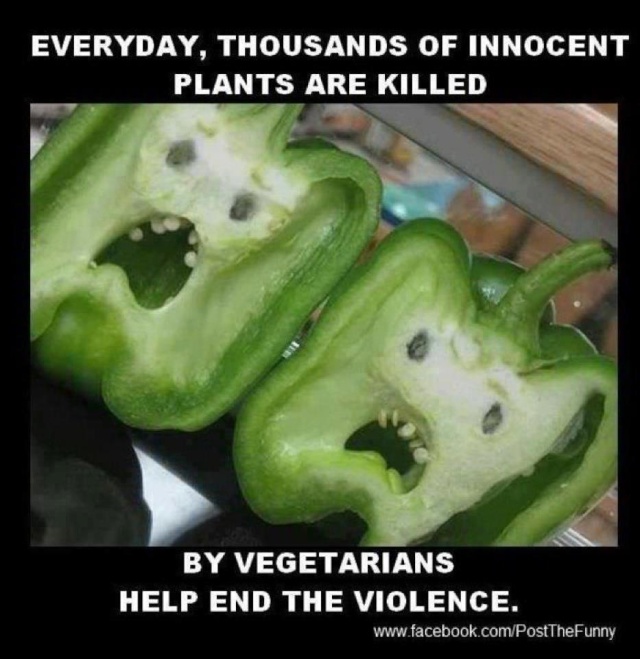 [/img]
*****************
Trust but Verify --- R Reagan
"Rejoice always, pray without ceasing, in everything give thanks; for this is the will of God in Christ Jesus for you."1 Thessalonians 5:14–18 
Super Moderator





Posts

: 27247

---

Join date

: 2011-08-09


Age

: 23


Location

: Umm right here!




Lutie

So we can't kill animals or veggies what do we eat? Dirt?
GURU HUNTER





Posts

: 20301

---

Join date

: 2012-04-10



HAHAHAHA PEGASUS IS A HARD CORE VEGGIE PERSON AND WILL SHOVE IT IN YOUR FACE ANY CHANCE SHE GETS, THEN TRY TO MAKE YOU FEEL BAD FOR LIKING MEAT. SHE ONLY QUOTES OLD ARTICLES ABOUT HOW THE WHOLE MEAT PROCESS IS DONE JUST TO MAKE YOU FEEL BAD. WELL, I DON'T....I THINK I WAS A T-REX IN A PAST LIFE LOL.

I WILL SAY I DON'T EAT VEAL BUT GIVE ME ANY STEAK ANY DAY AND I WILL DEVOUR IT.
*****************
Leadership is a potent combination of strategy and character. But if you must be without one, be without the strategy. - 
Norman Schwarzkopf, Jr.
GURU HUNTER





Posts

: 1482

---

Join date

: 2015-01-13


Age

: 48


Location

: Texas



Do you know what they call a 'vegetarian' with dysentery?......... A 'salad' shooter!
VIP Member





Posts

: 13675

---

Join date

: 2011-06-18


Age

: 66


Location

: Central Florida-



---
Permissions in this forum:
You
can
reply to topics in this forum