Hey (Deb.. Deborah Earp Debbie) on WSOMN wingitcall Wants you to purchase
HER
product Hook line and sinker What better way to Push for the Dinar RV Scam & make a sale at the same time FYI LOL
Want Proof! here the proof link> https://www.linkedin.com/in/debbie-earp-13958b1a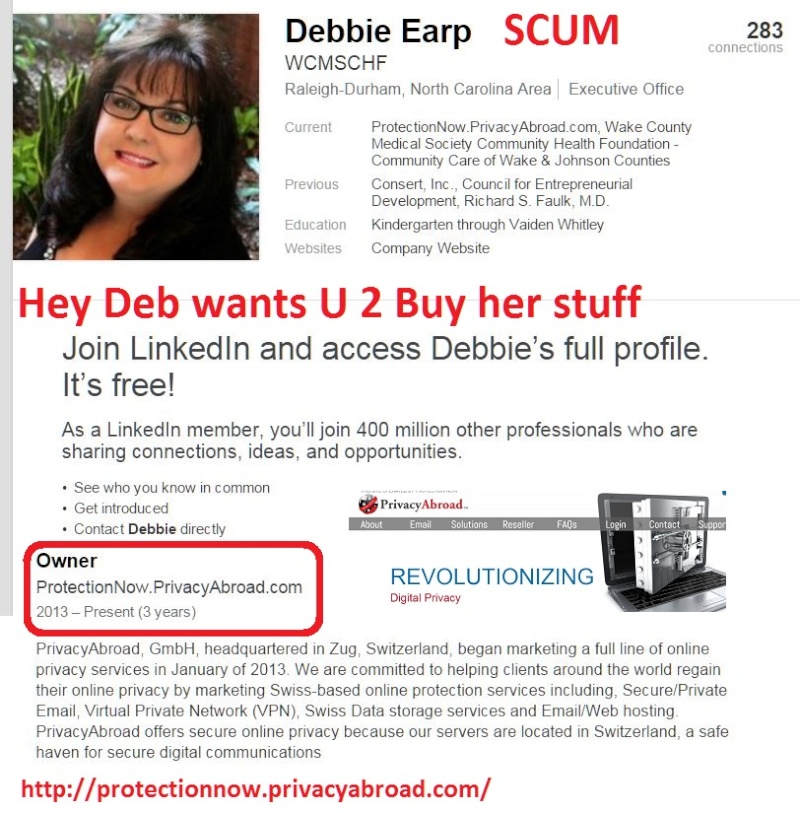 GURU HUNTER





Posts

: 564

---

Join date

: 2014-09-21


Location

: USA



GURU HUNTER





Posts

: 20039

---

Join date

: 2012-04-10



Now why would she not be like many of the other gurus?  I mean they have ulterior motives and let's face it she has been around long enough to figure it out.  Once a felon always one.  Pumping to profit now that sounds like something someone like Debbie Earp would do.  Why not, others are and getting away with millions. So she has for sale security solutions?  Gold? Silver? Precious metals?  Hmmmmmm.  I think I would be skeptical, I do believe.

Time this despicable example of a so called religious zealot came down hard.  Using the Lord to wrest undeserved gains from poor unsuspecting people certainly would qualify he as a person with criminal intent.  Especially since she uses the dinar persona and dinar sites to accomplish this feat.  Her infamous  postings where she claims the RV will appear SUDDENLY have been around for many moons and she still is hawking here wares?  Time for her to be forced to se reality and go to jail for her "sins."

Debbie old tart:  How you sew so shall you reap.  And if I remember my bible right that return will be ten fold.  Enjoy!
Super Moderator





Posts

: 4074

---

Join date

: 2011-07-06


Age

: 75


Location

: Arctic



Bible versus for Internet Marketing Affiliate Dinar Guru Promoter DERP (
DE
BBIE EA
RP
):
Dear Derp,
Please read the following bible verses, note emphasis on words in
BOLD BLUE
.
Matthew 6:19-21
King James Version (KJV)
19 Lay
not
up for yourselves treasures
upon earth
, where moth and rust doth corrupt, and where thieves break through and steal:
20 But lay up for yourselves treasures
in heaven
, where neither moth nor rust doth corrupt, and where thieves do not break through nor steal:
21 For where your treasure is, there will your heart be also.
Does God want you to get rich by preying on the innocent with your little RV checklists? 
http://www.dinarchronicles.com/intel-feb---dec-2014/post-rv-checklist
Some people think God is going to provide this "RV Blessing", I'm a Christian and I take offense to that.  Don't use God to push sales of things people don't need.  They should be looking forward to riches in heaven, not on earth.
GURU HUNTER





Posts

: 652

---

Join date

: 2015-04-11


Age

: 39


Location

: Arizona



A BIG AMEN to that Nick!

Those that misuse prayer, God or anything religous will certainly answer later and face etrrnity with their conseuences.

Thank you
Super Moderator





Posts

: 4074

---

Join date

: 2011-07-06


Age

: 75


Location

: Arctic



GURU HUNTER





Posts

: 20039

---

Join date

: 2012-04-10



---
Permissions in this forum:
You
cannot
reply to topics in this forum