Putin Goes From G-20 Pariah to Player With Obama Talk in Turkey
The sidelines of summits are full of talks between leaders, their ministers and aides, but the huddle between Barack Obama and Vladimir Putin at the Group of 20 in Turkey Sunday was heavy with significance.
The meeting on Syria lasting more than 30 minutes was the first since the Russian president surprised his American counterpart in September by sending in his warplanes to prop up Bashar al-Assad, the Syrian leader the U.S. wants deposed. Since then, Islamist terrorism has taken over the global agenda and provided common purpose.
"We have all seen the horror that took place recently in Paris and we sympathize with the affected people," Putin said in the Turkish coastal resort of Antalya before he met with Obama. "We are always in favor of joining efforts to deal effectively with the terrorist threat. Of course it is necessary to act in strict accordance with the United Nations charter."
After leaving last year's G-20 summit in Brisbane early following a berating from world leaders over stoking conflict in Ukraine, Putin arrived in Turkey with a narrative of collaboration over his vision for ending the Syrian war and tackling terrorism. His deputy foreign minister overseeing U.S. relations talked earlier on Sunday of how the atrocity in Paris can shift priorities in Washington, while another Russian official said ties with the west already have strengthened in recent days.
Russian Military
Since Putin and Obama last met, militants linked to Islamic State have bombed Ankara and Beirut and were blamed for downing a Russian passenger jet. In multiple attacks in Paris on Friday evening, they slaughtering more than 129 people.
Obama welcomed efforts by all nations to confront Islamic State and noted the importance of Russia's military efforts in Syria focusing on the group, a White House official said after the meeting with Putin. Both leaders endorsed a plan for a political transition in Syria forged by diplomats in Vienna Saturday who were galvanized by the Paris attacks into reaching a deal.
Both the U.S. and Russia are increasing their military activity in Syria, raising concerns the war may morph into a proxy fight between the two powers reminiscent of Cold War conflicts. Putin's intervention shifted the balance of power, forcing the Obama administration to reassess its strategy of supporting Syrian opposition fighters who are battling Islamic State and Assad's military.
In their talks, Obama and Putin agreed on the need for a Syrian-led and Syrian-owned political transition, which would be proceeded by UN-mediated negotiations between the Syrian opposition and regime as well a ceasefire, according to the White House official.
Assad's Future
When Putin met Obama at the United Nations General Assembly in New York in September, he discussed with his U.S. counterpart whether there is a candidate to replace Assad. Obama didn't have an answer, affirming in Putin's mind his support for Assad, according to two people who heard Putin's personal account of the meeting.
The rise of Islamic State has become a defining foreign policy challenge for both Putin and Obama. An Islamic State affiliate claimed it blew up a Russian airliner that crashed in Egypt on Oct. 31, killing 224. The group has beheaded Americans and continues to take territory and recruit fighters despite daily airstrikes by a U.S.-led coalition.
The Paris killings have raised the stakes further.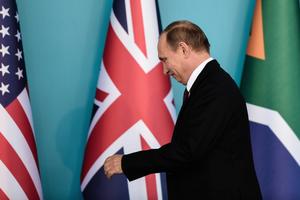 Speaking at the G-20 summit as they overshadowed scheduled meetings on the economy and trade, European Union President Donald Tusk said Russia should focus its force more on jihadists.
A dinner of leaders in Antalya takes place later on Sunday with terrorism, the Syrian war and refugees the official topics of conversation. Susan Rice, Obama's national security adviser, underscored the new tone with a Russian official.
He'd left a gift bag behind after the meeting, and it was handed to the U.S. by the Turkish organizers. "Normally, we would steal this," she laughed. She returned it "in the interests of mutual cooperation."
11.15.2015
https://www.bloomberg.com/news/articles/2015-11-15/putin-goes-from-g-20-pariah-to-player-with-obama-talk-in-turkey
Admin





Posts

: 38256

---

Join date

: 2011-08-09



---
Permissions in this forum:
You
can
reply to topics in this forum