Anyone in the Seattle area want to pay an exorbitant price to learn how to cheat on your taxes?
RayRen Workshop in the Seattle Area - September!!!
Hello Friends in the Seattle and surrounding Areas,
Just received a message from RayRen98 that he is coming to the Seattle area to do his workshop. If you are interested, please send him a response. RayRen98@aol.com
The registration fee is $495 per person, married couples (to each other) are considered on person. Electronic processing fee makes the total $515.
Date Choices:
1. Friday, Sept 11 9am-2pm
2. Saturday, Sept 12 9am-2pm
3. Friday, Sept 18 9am-2pm
4. Saturday, Sept 19 9am-2pm First 10 to reply will set the date .
There will be a Meet N Greet the evening prior to the class.

Please pass this on to all you know from Oregon to Idaho to Washington State. This may be the closest they will get to a workshop.
Tony might muster a $500 fee from some of his IDIOTS, but Ray ain't in that class....lol
Active Member





Posts

: 60

---

Join date

: 2015-07-08


Location

: TEXAS



I wonder what old Ray would be talking about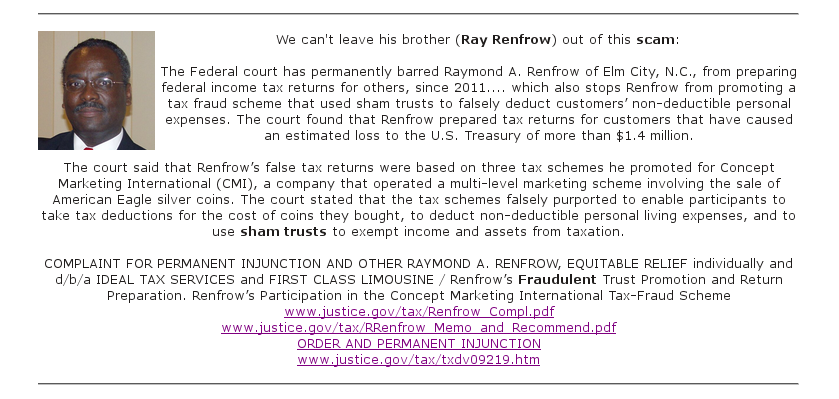 *****************
GURU HUNTER





Posts

: 24167

---

Join date

: 2015-02-19



Here are a few tips I found on how to find the right person to set up your trusts. 

They are all great ideas, but I would add one more ......


HAS THE PERSON HAD ANY LEGAL ACTION TAKEN AGAINST THEM, e.g., COMPLAINT For PERMANENT INJUNCTION & OTHER EQUITABLE RELIEF, etc..?


To find the right professional, here are a few tips:



Ask about experience with your specific situation. A professional may have 15 years' experience but that doesn't mean he or she has the type of experience relevant to your needs.


Ask about fees up front.


Ask if that attorney will be handling your issue personally, or if your issue will be handled by a less experienced attorney or paralegal in the office. Passing simple work to lower-paid employees is not uncommon, nor is it a huge problem. Just be clear on what process that firm uses so that you can decide if it is a fit for you.


Ask how long the process will take.


Ask how often you can expect to hear from the attorney. Do you have to initiate contact? Will he or she call you to give you updates or only when something significant occurs?


Trust your intuition. If you or your loved one does not feel comfortable, if you feel rushed or if your questions are not adequately answered, move on. Interview several attorneys before making a decision.

Looks like Ray got enough people to sign up for his seminar.  Wonder if anyone from the IRS will be in attendance???
ALREADY BLESSED wrote
2m ago
RAY IS FLYING TODAY ... I THINK SEATTLE....SO IT IS A PARTY ON THE PHONE....DON'T TELL HIM
---
Permissions in this forum:
You
cannot
reply to topics in this forum