Here we go again....from TNT (of course)!
At the Bank by Friday?
My wife and I independently checked in this morning using a pendulum (which I have use for stock buy/sell and other matters very successfully)....and we both got we'd be exchanged by Friday.  We were at her Chiropractor's today , and he uses Kinesiology in his practice....since he holds currency, we casually asked him to check in on his take on a timeframe to RV....he said Friday.  Soooo for what it's worth, let's hold that intention.  It's no less plausible that much of the intel out there.  And please, if using this modality is at all offensive to you, just let it go....it's shared with the best of intentions.  Namaste.

Ssmith

GURU HUNTER





Posts

: 20038

---

Join date

: 2012-04-10



I can't let it go....
There you have it, the pendulum said so.... so it must be so !!!  YAY, packing my clean underwear just like OKIE used to tell us to do and heading to the bank parking lot to wait in line for FRIDAY!

Ponee

Admin





Posts

: 36770

---

Join date

: 2011-08-09



What's a pendulum?  And what kind of hippie yoga garbage is this fool talking about? And his chiropractor guessed Friday too...that's confirmation? These sheeple are really grasping at invisible straws here. 

I bet there were all kinds of "yay RV" responses to this thread too...

BritishBulldog

VIP Member





Posts

: 1323

---

Join date

: 2013-09-20



Too bad this guys Chiropractor couldn't pull this guys head out of his ass for him!!

chevysteve

Elite Member





Posts

: 1007

---

Join date

: 2011-12-01


Age

: 60


Location

: GULF COAST USA



he might be right, we might be close....to seeing Tony in jail that is.
I can't wait to buy up the old TNT site and re purpose it, boy, that's going to be great.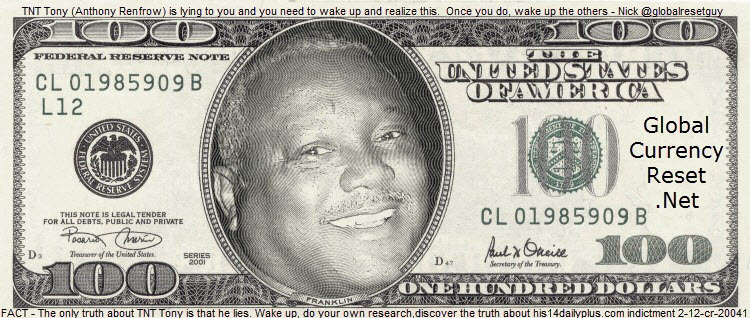 *****************
All we have to do is decide what to do with the time that is given to us.........~Gandalf~

alleyrose

Super Moderator





Posts

: 2851

---

Join date

: 2011-08-24


Location

: Australia




FS4Enthusiast

VIP Member





Posts

: 671

---

Join date

: 2014-02-19



Just goes to show how desperate some people are.  They will latch on to anything that gives them hope of a soon to happen RV.  Or in the case of an early exchange (like the one JCR just started), they will gladly give up all of their personal information to a complete stranger.

Ssmith

GURU HUNTER





Posts

: 20038

---

Join date

: 2012-04-10



WELL MY HORRORSCOPE TOLD ME THAT MY SHIP IS COMING IN AND THE WINDFALL I RECEIVE WILL LAST A LIFETIME IF I INVEST CORRECTLY, SOOOOOO ACCORDING TO TNT THE RV MIGHT HAPPEN TODAY....LMAO!!!!!!!
:okjh:
*****************
Leadership is a potent combination of strategy and character. But if you must be without one, be without the strategy. - 
Norman Schwarzkopf, Jr.

chilimama

GURU HUNTER





Posts

: 1482

---

Join date

: 2015-01-13


Age

: 45


Location

: Texas



---
Permissions in this forum:
You
cannot
reply to topics in this forum