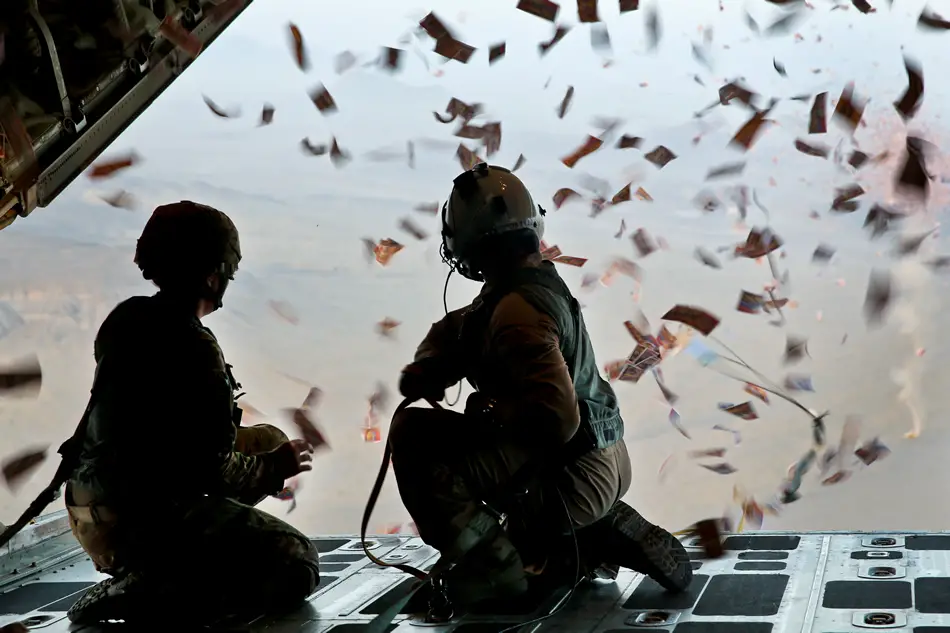 Iraqi planes dropped hundreds of thousands of leaflets over Mosul overnight Wednesday urging civilians to collaborate against the Islamic State ahead of a military push, the Defense Ministry said.
Addressed to "the people of Mosul," the flier, copies of which were circulated online, promised that the city would be liberated soon. Qais Karim of the Defense Ministry's media office said the air force's C-130 Hercules planes made the drops to "mobilize the people."
The move came despite military operations stalling farther east in Tikrit, where Iraqi forces' largest offensive to date against the Islamic State extremist group has paused amid heavy casualties. 
"Mosul is your city, Iraq is your Iraq," the flier read. "Your armed forces are very close to you."
It went on to urge civilians to make a note of those working with the extremists.
"Watch their bases, record their infidel actions. Point out those who cooperate with them to destroy your ancient civilization," it said.
There are signs of disagreement among the security forces over the timeline for a Mosul offensive, with some officials arguing that the western province of Anbar is a more critical priority.
Karim said that there was no timeline for a Mosul offensive but that the city would be the next target after operations in Tikrit and the surrounding province of Salahuddin end.
Iraqi officials earlier had publicly pushed back against a U.S. official's comments that an offensive could begin in April.
Defense Minister Khalid al-Obeidi on Tuesday held a meeting with field commanders to discuss the expected Mosul operation, the ministry said.
However, some of Iraq's most influential security chiefs have said that Sunni-dominated Anbar is a more pressing concern.
"After Tikrit, Anbar, and after Anbar, Mosul," Hadi al-Amiri, the head of Iraq's Badr Organization, a prominent Shiite armed group that has emerged as a powerful player on the battlefield, said in an interview Tuesday near the front lines in Salahuddin. 
Iraqi armed forces are advancing in parts of Anbar, pushing Islamic State militants back in the town of Garma, west of Baghdad, though they remain under pressure in the provincial capital of Ramadi.
Amiri cited concerns that if the army collapses in Anbar's population centers, including Ramadi and Haditha, local tribes that have fought the Islamic State will be massacred.
"Therefore, it's necessary to rush the Anbar operation," he said. That move also would cut enemy supply lines to Mosul, assisting any offensive there, he said.
Security officials have raised concerns about Iraqi forces' capability to hold ground in Sunni areas it seizes. The military relies significantly on Shiite militias, running the risk of alienating the local population.
Meanwhile, the pause in fighting in Tikrit has stirred doubts about whether pro-government forces can beat the Islamic State in street battles. Karim said the military decided to stall its advance to put in place a plan that would "guarantee fewer casualties."
Workers in a cemetery in the southern city of Najaf, where many pro-government Shiite fighters are taken for burial, have said that as many as 60 fighters were dying a day at the peak of operations in Tikrit.
The pro-government forces are yet to enter the city center, but they have reclaimed a string of towns and villages in Salahuddin province, buoying morale among the about 20,000 militiamen who have joined the fight. A few hundred Sunni tribesmen also participated.
"Your brothers in Salahuddin taught [the Islamic State] a lesson they will never forget," the leaflet said. "And so will you."
http://www.washingtonpost.com/world/middle_east/iraqi-planes-drop-leaflets-on-mosul-promising-liberation-soon/2015/03/18/b223663e-cd6d-11e4-8730-4f473416e759_story.html
Admin





Posts

: 38256

---

Join date

: 2011-08-09



---
Permissions in this forum:
You
cannot
reply to topics in this forum