9-28-2013 Intel Guru Mnt GoatYesterday Friday 9/27 Iraq held another one of their economic councils. I believe this one is important because it is laying out the final pieces to implementing their next 5 year economic plan, and the plan begins (gets kicked off) by restructuring of their currency. Attendees to this conference included members from the GOI, Parliament, the Finance Ministry, the CBI, the World Bank and the IMF. Discussions they talked about included not if they would revalue, but the final steps in the RV process. I am told this also will allow the full implementation of the HCL law which needs the RV for the implement. I am told it was a very productive meeting with no political egg throwing or walkouts. All agreed on the next steps. All agreed to go forward. 

9-28-2013 Intel Guru Mnt Goat My CBI contact has told me that this weekend in Baghdad there is a also a huge banking meeting…The purpose of this meeting is to disseminate the needed information to the banks for implementation and the final timetables for each next step. …you can see how we are aligning to events such as a new fiscal year and some final steps in Iraq that will lead to the timeframe planned for this RV event. The Iraq finance ministry has always stated in numerous articles that they require (not request) that any significant currency change coincide with their financial and accounting periods.  

9-28-2013 Intel Guru Mnt Goat …our special time is very near and I know this for a fact. Remember I have repeatedly said that we can expect to open our presents in late September early October timeframe. We are now in this timeframe. I am not calling the RV today or tonight but the final process is in motion and we should see it very shortly and I mean very shortly.

Ponee

Admin





Posts

: 36770

---

Join date

: 2011-08-09



I woke up expecting to be rich.  You mean I am not rich yet?  Preposterous!   But super fantastic Tony said it was done, done, done, their is no way he could be wrong.

My check list.

-Don't park Bentley in current getto neighborhood.

-Don't bring gun to bank when cashing in.

-Don't be mean to the bankers when cashing in.

-Don't camp at bank.

-Don't run through the neighborhood yelling I am rich, I am rich.

-Don't spend 18 million dollars all at once.

Got it, check, check and check!

Danarvictom

Active Member





Posts

: 54

---

Join date

: 2013-09-25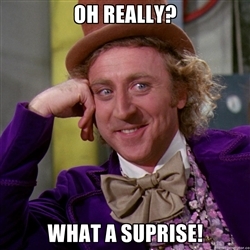 *****************
Trust but Verify --- R Reagan
"Rejoice always, pray without ceasing, in everything give thanks; for this is the will of God in Christ Jesus for you."1 Thessalonians 5:14–18 

Kevind53

Super Moderator





Posts

: 27225

---

Join date

: 2011-08-09


Age

: 20


Location

: Umm right here!



Well Mt Goat is trying to get it right, everyone says now, she says later!!! Oh, I'm so Confused!!!
*****************
Makin' Plans...
 Praise God for all things, and he will give us the desires of our hearts!

Horizon

Super Moderator





Posts

: 4683

---

Join date

: 2011-10-16


Age

: 59


Location

: The South



---
Permissions in this forum:
You
can
reply to topics in this forum