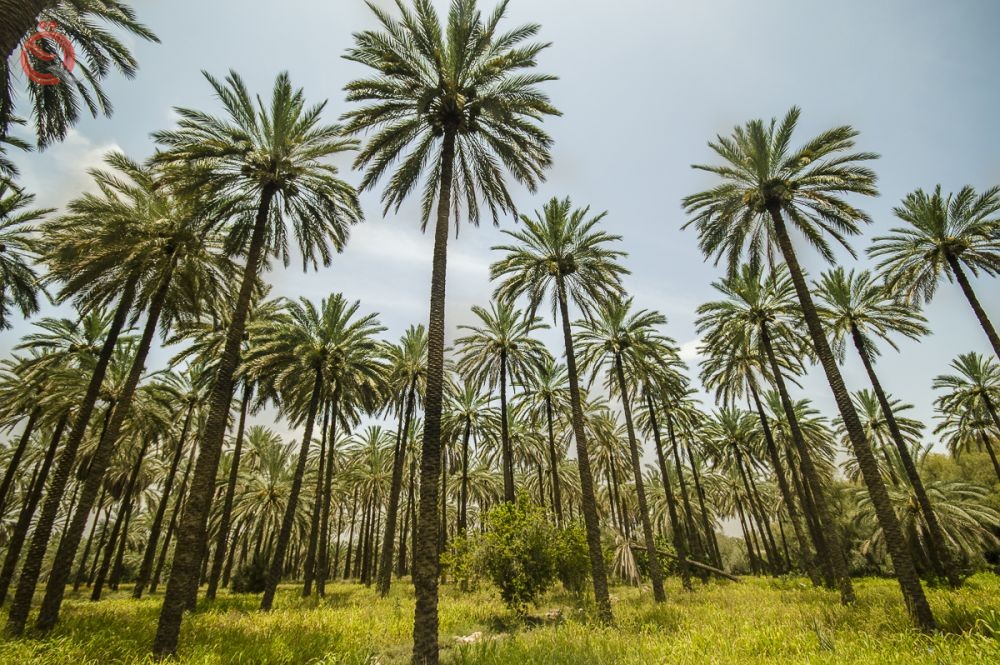 12/16/2021
Economy News _ Baghdad
Iraq was at the forefront of the world's producers of dates decades ago, but today its production of this yield does not exceed 5% of global production, after its economy has become dependent on oil in the main.
After decades of decline and neglect in which palm orchards in several regions of Iraq were battlefields, palm cultivation is returning to flourish again.
The Iraqi Ministry of Agriculture recently announced the export of 200 thousand tons of dates last October to many countries; Among them are Egypt, Morocco, India, Italy and the Netherlands.
Ministry spokesman Hamid Al-Nayef indicated that there are about 18 million palm trees in Iraq currently, despite the continuation of the bulldozing operations of large areas of them in favor of building housing units; However, he stressed that the ministry compensated for this by planting new orchards and using modern methods of irrigation such as drip irrigation and the use of tissue cuttings, which is expected to lead to an abundance of production in the coming years, he said.
However, in an interview, Al-Nayef said that palm cultivation suffers from weak government support, pointing to the high prices of fertilizers, seeds, pesticides and vaccines, which puts a heavy burden on the farmer.
He pointed out that the private sector is the one who undertakes the task of exporting abroad, with the assistance of the government; By providing logistical support to find outlets for export, as he put it.
In a country whose economy is almost entirely dependent on oil; Al-Nayef asserts that agriculture currently constitutes between 4% and 5% of the Iraqi national product, and it is possible to work to raise it to the level of 20% with more government support and water provision.
Civil Efforts
Previous government figures indicate that the number of palm trees in Iraq at the beginning of the eighties amounted to approximately 30 million palm trees, annually producing more than 500 thousand tons of dates.
But the first and second Gulf wars, then the economic blockade and the armed conflicts that followed the invasion of Iraq and the extensive bulldozing; It clearly contributed to the decline of this cultivation, until the number of palm trees fell by almost half.
Then this cultivation revived again after civil attempts in recent years, as the State Agricultural Statistics Directorate estimated the production of dates for the past year 2020 at more than 735,000 tons, an increase of 15% over the previous year.
and in Basra; One of the oldest palm habitats in the world; Investors worked to establish private farms for the production of dates, especially in the southern regions of the governorate such as Safwan, Al-Faw and others, after most of the old cultivated areas were converted into residential plots.
Abdul Wahed Al-Shawi is one of them, as he owns a palm farm on a land of 70 dunums in the Safwan area, but he faces many problems, among them is that the lands on which his project resides belong to the Ministry of Oil, while contracts are signed with the Ministry of Agriculture that does not grant them as land investors. Except with the approval of the Ministry of Oil, and a pledge not to invest in anything other than seasonal crops.
Al-Shawi tells about his farm, which includes about 2,500 palm trees, producing 40 types of dates, but he is afraid of losing them at any moment, because the land officially belongs to the Ministry of Oil, like the rest of the desert lands in Basra.
He refers to a law issued in 1979 that stipulates that whoever plants 50 palm trees or trees per acre; The land becomes his property if these crops bear fruit, but today it is suspended despite the need to implement it.
The repercussions of the rentier economy,
although Iraq was at the forefront of global producers of dates decades ago; Today, its production of this yield does not exceed 5% of global production, after its economy has become almost entirely rentier, dependent on oil to the main degree.
Economist Mustafa Akram Hantoush said that before extracting oil, Iraq relied on agriculture and exporting its crops abroad, as the area of ​​arable land in the country reached 23 million acres, this is not the land that was reclaimed.
However, agriculture today represents only 6% of the total national product, while it must depend on it by no less than 25%; According to him.
Hantoush points to another problem facing the agricultural sector in Iraq, which is that the initiatives to support and lend farmers money provided them with money, which was used to buy homes and cars, and was not used to develop and serve agriculture.
He adds that government support for agriculture has achieved some self-sufficiency in wheat and barley products, but it has not achieved sufficiency in vegetables, fruits, and agricultural-related commodities such as meat and poultry, of which Iraq still imports large quantities every year.
He notes that the experiences of neighboring countries were more successful, when they gave farmers support in the form of agricultural equipment and not money, and that the government should seek to use oil money to build other wealth such as agriculture and industry, to be able to face the fluctuations of the global economy and fluctuations in oil prices, he said.
Source: Al Jazeera Net
https://economy-news.net/content.php?id=26974
*****************
GURU HUNTER





Posts

: 24223

---

Join date

: 2015-02-19



---
Permissions in this forum:
You
cannot
reply to topics in this forum