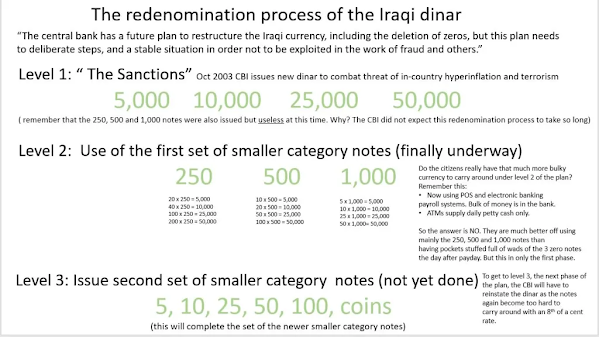 1. The CBI has told us over and over again that the BEST time to change the currency rate is at the beginning of the FISCAL year.
Jan 1st begins their new fiscal year.
I am not now talking about changing the program rate but doing the reinstatement which is much, much bigger and much different.
2. Just recently they told us details about the Quantum Financial System (QFS) and all about putting the currencies on a level playing field.
Oh! President Trump used these exact terms when he addressed the news media.
3. In 2012 the CBI planned for a January reinstatement preceded by the project to delete the zeros.
This is FACT and is backed up by Dr Shabibi's own words when he addresses a news conference in 2015 saying that Iraq has an unpresented opportunity reinstate the Iraq dinar in early 2013 having all permission do so.
If it were not for the raid on the CBI by Nori al-Maliki and the ousting of Dr Shabibi as the chairman, I would not be writing this newsletter today.
4. The "White Paper" reforms clearly states to take the Iraq dinar to international and trade it on a global trading platform like for instance FOREX.  
The White Paper is a 5-year plan which began in Jan 2020.
They are already reaching 2 years into it.
5. Iraq told us they can not get the investors to "flock" into Iraq that they expected.
They must change the laws how business is conducted.
They must also change to allow "free flow of capital".
International investors (such as from the UK, USA and EU) will want to easily take their profits out of Iraq.
Currently this is difficult to exchange large sums without a tie to the use of FOREX for that purpose in their software.
6. We know also in the White Paper there is plans to harvest the revenues to the GOI from the customs and tariffs.
They told us already they are using the most modern software for collection of these taxes and fees.
This software ties into global currency exchanges.
The IQD must be on the exchange to use the software appropriately.
7. We were told that Iraq's trading partners want to conduct trade with Iraq using their own currencies and not having to convert US dollars back and forth.
This is part of the currency reform program too.
*****************
GURU HUNTER





Posts

: 24220

---

Join date

: 2015-02-19



---
Permissions in this forum:
You
cannot
reply to topics in this forum