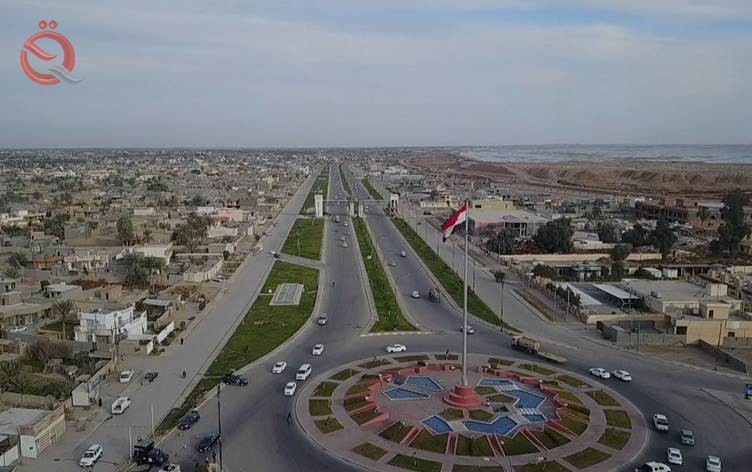 Gray. "Internet" 
12/07/2021
Economy News - Baghdad
On the banks of the Euphrates at the edge of Ramadi, bundles of steel and stone rise 20 stories high as work is underway to construct a five-star luxury hotel with swimming pools, saunas and restaurants overlooking the river view.
While the presence of a five-star hotel is not strange in many areas, it is considered the first hotel of its kind to be built decades ago in Anbar Governorate, which witnessed continuous battles with ISIS for years, and it constitutes a launch for the post-ISIS investment movement in an area that is now considered Surprisingly, one of the most stable areas in the country.
"When we entered this city in 2016 it was a ghost town, even stray dogs and cats couldn't be seen," Anbar Investment Authority director Mahdi al-Noman told a New York Times reporter as he surveyed the city in his car through new highways adorned with central carrots with green grass and trees.
Ramadi, the center of Anbar province, has witnessed waves of battles and wars since the American invasion of Iraq in 2003. The American forces had suffered most of their losses in this province after the invasion.
The last battle took place after ISIS militants invaded a third of Iraq in 2014. While other cities in the country are struggling to recover from the consequences of these wars, investment and construction efforts have begun to flourish in Ramadi.
In addition to the hotel, which will cost 70 million dollars, construction work has begun with the construction of one of the largest shopping complexes, malls, and there are companies that are also bidding for the construction of an international airport.
It took Iraqi forces three years to drive ISIS militants out of the country, and those battles left Ramadi largely decimated and almost empty of its civilian population. Now, Iraqi investors, who have been focusing their attention on projects outside the country for 18 years, have begun to bring their capital to be invested in Anbar.
While some residential areas still lie under the rubble, government-funded projects have revolutionized the city. Instead of crowded streets dotted with potholes and dangling wire mesh as in other Iraqi cities, Ramadi now has a neatly organized street network with underground power lines and central government offices.
The governor of Anbar, Ali Farhan, said, "We came back and witnessed the destruction and decided that any new construction work must be done in modern ways to be in touch with the modern planning for civil reconstruction." Farhan said that the people of Anbar, having lived through so much destruction, no longer tolerate the extremist ideology that allowed ISIS to have a foothold here.
When ISIS captured Ramadi in 2015, the poor of this city of half a million people fled across the desert to a camp set up to house the displaced. The other residents of Ramadi, who have financial means, went to the Kurdistan region or left the country towards Jordan or Turkey. When they returned, they looked forward to constructing supermarkets, cafes, and hotels, as they were accustomed to abroad. In the glistening central markets of Ramadi, you will now find food items and coffees from world-famous brands filling the shelves.
Maher Othman, the Iraqi contractor for the new Ramadi hotel, which has not yet been named, says, "This edifice will be a place for recreation, not just a hotel." He said that his company plans to spend at least 20 million dollars of the total construction cost on building swimming pools, restaurants and shops with saunas, saunas, Moroccan.
Within the vicinity of the hotel complex, workers are constructing 30 guest houses, chalets, with three floors for families or newlyweds. Each house will have its own garden with a swimming pool, food court and balconies overlooking the river.
Moaz Alyan, the businessman who is in charge of the $70 million hotel construction project, says, "When the Anbari merchants migrated, they set up projects in the places they went to, such as Turkey, Lebanon, Jordan, Baghdad or Kurdistan. When they returned, they brought money with them."
Businessman Alyan said that his family decided to implement the market and hotel complex project because they believe that it is a successful project in the city and because they want the people of Anbar to see that their people are investing their money in their province.
At Ramadi, there is a huge crane, a crane, hanging over a structure that appears to be a three-storey central market. The hundreds of shops that will be included in the market will provide job opportunities for more than 1,200 people.
At his office in one of the new government buildings, the director of the Anbar Investment Commission, Al-Noman, opens a file containing more than 200 investment licenses he has issued, the investment costs of which are estimated at about $5 billion. It includes the construction of solar power plants, fertilizer factories, residential complexes and schools.
He points out that Iraqi investors make up 70% of these licenses and the rest are for German, Indian, Turkish and Emirati companies, among other countries. Neumann says his dream lies in establishing an international airport, noting that the government had originally allocated $70 million for the first planning stage.
https://economy-news.net/content.php?id=25683
*****************
GURU HUNTER





Posts

: 24064

---

Join date

: 2015-02-19



---
Permissions in this forum:
You
cannot
reply to topics in this forum