Al-Kazemi: There are no quick solutions to the electricity problem in Iraq
10/07/2021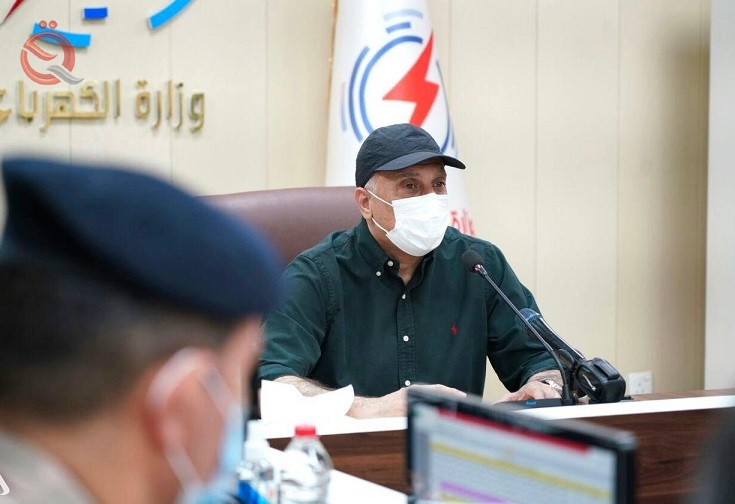 Economy News _ Baghdad
On Saturday, Prime Minister Mustafa Al-Kazemi acknowledged the difficulty of addressing the shortage of electrical energy in Iraq, stressing that there are no "quick" solutions to this problem.
Al-Kazemi said in a speech during his visit to the Ministry of Electricity today, and his meeting with the advanced cadre of the ministry: The terrorists and their supporters continue their attempt to impede life in Iraq, after they were unable to confront our heroic armed forces, they are constantly targeting electrical power stations and towers.
He added that there are imaginary forces that are working to ensure that Iraq does not reach self-sufficiency in energy and gas, and are trying to impede these efforts by every means.
He added by saying: Our work on the energy sector and its development will not stop, and we are working on a strategic plan that we establish according to realistic studies to maintain electricity as a continuous service for citizens.
Al-Kazemi also said, "Our solutions in the electric power sector are based on diversifying energy sources and achieving sufficiency in gaseous or other fuels to operate power plants."
He pointed out that the continuous targeting of the electricity sector is trying to prevent the stability of the electrical system, especially after we opened two modern and important stations in Dhi Qar and Salah al-Din.
The Prime Minister continued by saying: There are no quick solutions to the electricity problem, but we put solutions and procedures in the fastest possible performance, and we mobilize all the energies of the production and distribution sectors in order to develop solutions, and for the citizen to see positive results.
He noted that Iraq had previously spent nearly $80 billion on the electricity sector since 2003, but corruption was a strong obstacle to providing energy to people in a stable manner, an unreasonable spending without reaching a solution to the problem from its roots.
Al-Kazemi explained, "We understand the citizens' anger, and we are angry at their anger, as electricity today is facing the results of accumulated poor planning, just as it faces terrorism and its evils at the same time."
Al-Kadhimi stressed the directive of the ministries of oil and finance to provide absolute support to the Ministry of Electricity for the sustainability of providing energy to the Iraqi people.
He stressed that the crisis cell will follow up and act as quickly as possible in response to any violations targeting the electric power transmission towers.
The Prime Minister of the Federal Government considers that there is no benefit in temporary prosthetic solutions that we pay for twice, and the most important thing is the work of this government to develop radical, scientific and correct solutions to the problems of the energy sector in Iraq, with short-term and medium-term plans, in addition to long-term plans.
He stressed that investigations are continuing to prosecute minor and major spoilers in the electricity sector, as they represented a sinful hand that aided terrorism and served its goals.
He also stressed that the electricity sector should not become a subject for political and electoral conflicts, as the citizen has suffered enough from these conflicts and we are working with all efforts to provide electric power to citizens.
He revealed that investigations are continuing into areas of corruption within the work of the Ministry of Electricity, and we have already arrested a number of those against whom judicial warrants were issued following these investigations.
Al-Kazemi continued by saying: The first constant is that we go beyond routine and reduce bureaucracy, because it is one of the causes of the deterioration of the energy sector, and its harm is no different from corruption.
https://economy-news.net/content.php?id=25671

claud39

Elite Member





Posts

: 18423

---

Join date

: 2018-11-04



---
Permissions in this forum:
You
cannot
reply to topics in this forum