The Iraqi Minister of Agriculture confirms the achievement of self-sufficiency in wheat and counts the number of palms
2021-06-25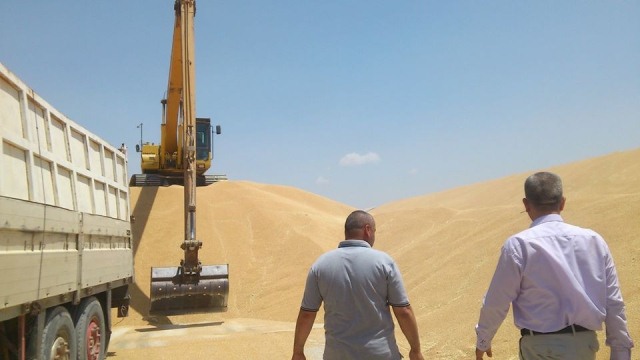 Shafaq News / The Minister of Agriculture, Muhammad al-Khafaji, confirmed on Friday that the number of palm trees in Iraq has reached 19 million, while indicating that the wheat crop has been self-sufficient during the current year.
This came during an interview with the Minister of Agriculture, Muhammad Al-Khafaji, with Al-Iraqiya News Channel, according to a statement received from his media office, and received by Shafak News Agency.
Al-Khafaji said, according to the statement, that "the visit to the Islamic Republic of Iran was based on an official invitation, during which an agreement was reached on the agricultural calendar, controlling borders and limiting smuggling operations."
He added, "We have achieved self-sufficiency in the wheat crop, and production will reach 4 million tons this year," noting that "the number of palm trees in Iraq is 19 million."
The Minister of Agriculture pointed out that "the trend to use modern fixed and drip irrigation systems, and this will save Iraq more than 40% of water consumption."
"We have more than 6,000 poultry projects across the country, with more than 600,000 employees," he said.
Al-Khafaji noted, "The bird flu epidemic was caused by smuggled laying hens and greatly affected the productivity of chickens and table eggs, which led to a marked increase in prices."
The minister concluded his speech by stressing the agricultural directorates and municipalities to "implement the agricultural production protection law in order to preserve agricultural lands and not to bulldoze them," explaining that "the ministry has no authority over the agricultural directorates after transferring powers to the governorates in 2016."
https://shafaq.com/ar/%D8%A7%D9%82%D8%AA%D8%B5%D9%80%D8%A7%D8%AF/%D9%88%D8%B2%D9%8A%D8%B1-%D8%A7%D9%84%D8%B2%D8%B1%D8%A7%D8%B9%D8%A9-%D8%A7%D9%84%D8%B9%D8%B1%D8%A7%D9%82%D9%8A-%D9%8A-%D9%83%D8%AF-%D8%AA%D8%AD%D9%82%D9%8A%D9%82-%D8%A7%D9%84%D8%A7%D9%83%D8%AA%D9%81%D8%A7-%D8%A7%D9%84%D8%B0%D8%A7%D8%AA%D9%8A-%D9%84%D9%84%D8%AD%D9%86%D8%B7%D8%A9-%D9%88%D9%8A%D8%AD%D8%B5%D9%8A-%D8%B9%D8%AF%D8%AF-%D8%A7%D9%84%D9%86%D8%AE%D9%8A%D9%84

claud39

VIP NewsHound





Posts

: 18424

---

Join date

: 2018-11-04



---
Permissions in this forum:
You
cannot
reply to topics in this forum