7 banks won the membership of the Board of Directors of the Iraqi company to guarantee deposits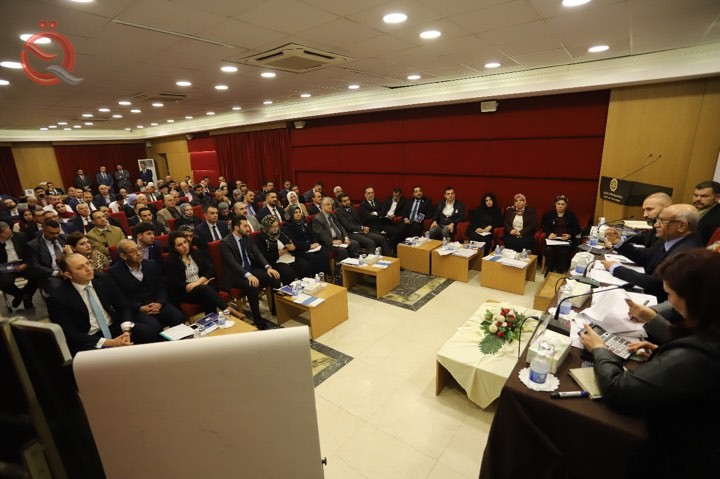 Part of the elections. "Economy News" 
03/12/2019
Economy News - Baghdad
The Association of Iraqi private banks, has won 7 private and government banks membership of the Board of Directors of the Iraqi company to ensure deposits elections of the General Assembly, which took place at the headquarters of the Association.
The Executive Director of the Association of Iraqi private banks, Ali Tariq, said that a meeting was held for the General Assembly of the Iraqi Company for the Guarantee of Deposits, a joint-stock company with a capital of 100 billion dinars in the presence of the Central Bank of Iraq and the Department of Companies Registration in the Ministry of Trade and the Iraqi Stock Exchange and the Pension Authority and members of private and government banks The board of directors of the company was elected as the original and reserve.
He added that the number of shares of the company distributed between 25% of government banks and 30% were distributed between commercial banks and foreign branches and the National Pension Authority, while 45% of the shares were offered for public subscription.
He pointed out that the winning banks on the board of directors are Rafidain, Industrial, Investment, Development, Al-Ahli Iraqi, Assyria and Al Kafalat Company, pointing out that the banks that won the reserve membership are Al-Rasheed and Al-Iraqi Trading ( TBI ), Credit, National, Mansour, Al-Etimad and Erbil.
Tariq pointed out that this company is one of the most important companies established at the moment because it aims to protect depositors and preserve their rights and restore confidence to the banking sector and encourage savings and public awareness system to guarantee deposits inside Iraq and manage the process of compensation of depositors efficiently and effectively.
He pointed out that the compensation rate of depositors will reach a maximum of 150 million dinars, the highest compensation rate regionally and internationally.
http://economy-news.net/content.php?id=18400
*****************

RamblerNash

GURU HUNTER





Posts

: 17629

---

Join date

: 2015-02-19



@RamblerNash

wrote:

7 banks won the membership of the Board of Directors of the Iraqi company to guarantee deposits

Part of the elections. "Economy News" 

03/12/2019

Economy News - Baghdad

The Association of Iraqi private banks, has won 7 private and government banks membership of the Board of Directors of the Iraqi company to ensure deposits elections of the General Assembly, which took place at the headquarters of the Association.

The Executive Director of the Association of Iraqi private banks, Ali Tariq, said that a meeting was held for the General Assembly of the Iraqi Company for the Guarantee of Deposits, a joint-stock company with a capital of 100 billion dinars in the presence of the Central Bank of Iraq and the Department of Companies Registration in the Ministry of Trade and the Iraqi Stock Exchange and the Pension Authority and members of private and government banks The board of directors of the company was elected as the original and reserve.

He added that the number of shares of the company distributed between 25% of government banks and 30% were distributed between commercial banks and foreign branches and the National Pension Authority, while 45% of the shares were offered for public subscription.

He pointed out that the winning banks on the board of directors are Rafidain, Industrial, Investment, Development, Al-Ahli Iraqi, Assyria and Al Kafalat Company, pointing out that the banks that won the reserve membership are Al-Rasheed and Al-Iraqi Trading ( TBI ), Credit, National, Mansour, Al-Etimad and Erbil.

Tariq pointed out that this company is one of the most important companies established at the moment because it aims to protect depositors and preserve their rights and restore confidence to the banking sector and encourage savings and public awareness system to guarantee deposits inside Iraq and manage the process of compensation of depositors efficiently and effectively.

He pointed out that the compensation rate of depositors will reach a maximum of 150 million dinars, the highest compensation rate regionally and internationally.

http://economy-news.net/content.php?id=18400
http://www.dinardaily.net/t89846-re-leave-the-generosity-of-friends

claud39

VIP Member





Posts

: 11915

---

Join date

: 2018-11-04




---
Permissions in this forum:
You
cannot
reply to topics in this forum