Human Rights Watch issues a detailed and shocking report on the demonstrations in Iraq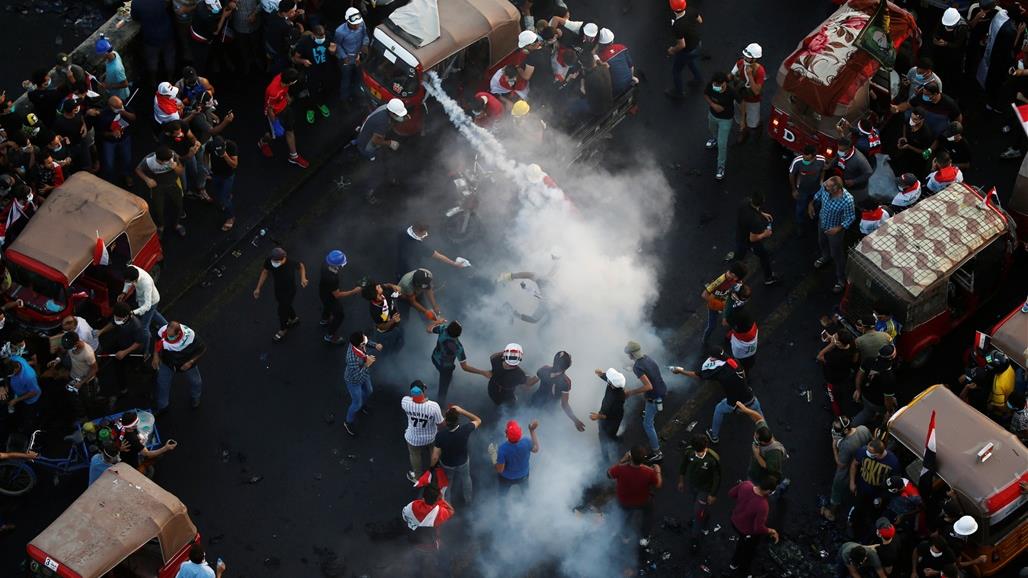 2019-11-08 | 04:50
Security forces have fired tear gas canisters directly at protesters in Baghdad on several occasions since demonstrations resumed on October 25, 2019, killing at least 16 people, Human Rights Watch said on Friday.
The death toll is the highest since the start of daily demonstrations in Baghdad and other cities in southern Iraq against corruption and to improve public services and other demands.
According to the UN Assistance Mission for Iraq (UNAMI) report of 5 November, between October 25 and November 4, at least 97 people were killed across the country. According to the Independent High Commission for Human Rights in Iraq (OHCHR), at least 5,565 people were killed and wounded during the same period.
"The high death toll includes people hit by tear gas canisters directly in their heads," said Sarah Leah Whitson, director of the Middle East division at Human Rights Watch. "All of Iraq's global partners should be clear in their condemnation."
The use of force by security forces in Baghdad alone killed at least 64 people between October 25 and November 2, according to sources tracking the death toll in Baghdad. Human Rights Watch interviewed 24 people who participated in the protests in Baghdad, Basra, Karbala, Missan, Nasiriyah and Basra, most of whom asked not to be named for fear of reprisals.
Human Rights Watch, through interviews and researchers' visits to Tahrir Square and reviewing more than 10 videos filmed by the media, obtained information on at least 12 deaths in Baghdad as a result of tear gas canisters in the head. The UNAMI report identified at least 16 people killed by tear gas canisters penetrating the upper body.
Human Rights Watch also documented the slow Internet and the blocking of social media and other media and closures since the protests began.
Human Rights Watch analyzed videos filmed by Reuters on October 27 and 29 and confirmed them in interviews with witnesses. The footage shows that security forces on Jumhuriya Bridge opened fire on crowds at the end of the bridge overlooking Tahrir Square. An October 27 clip shows one of the elements to the right of the screen firing teargas at the top, while another officer to the left of the squad directly firing grenades against crowds of protesters from a distance of less than 100 meters.
An analyst at Omega Research, an independent research group focused on the manufacture, trade and use of military, security and police equipment, reviewed the video for Human Rights Watch. "The man on the left is probably aiming directly at the people he targets. In a second injury (taken on 29 October), both men fire bullets directly. Again, this is an inappropriate and very dangerous use of tear gas. "
The disparity in the way gas can be fired raises the question of whether some forces operate side by side under different orders, have orders to disperse crowds in any way they deem appropriate, or whether some forces ignore their orders, Human Rights Watch said.
While security forces increasingly rely on tear gas in Baghdad, they continue to use live ammunition. Between November 4 and 6, live ammunition killed at least 14 protesters in Baghdad, Reuters reported. Human Rights Watch reviewed three videos that were undoubtedly filmed on Jumhuriya Bridge, and posted on social media between October 25 and November 5. The videos show demonstrators killed with head injuries that do not appear to be caused by tear gas canisters.
Allegations of excessive use of force outside Baghdad continue, particularly in Karbala. Witnesses, UNAMI and media reports said security forces killed at least 17 protesters between October 28 and November 3.
Since the protests began, senior government officials have prevented medical staff from sharing information on the dead and wounded with any sources outside the Ministry of Health. The UNHCR has stopped updating its figures since October 31.
A doctor who preferred to remain anonymous working at a facility receiving casualties from protests told AFP he believed the actual death toll since October 25 was much higher than reported by the UN High Commissioner for Refugees (UNHCR). A person familiar with Iraq's morgue confirmed this information to Human Rights Watch.
UNAMI recorded six kidnappings of demonstrators or volunteers who assisted the Baghdad demonstrations during the current wave of protests. In one case, Saba Farhan Hameed's 36-year-old sister, who was providing food, water and first-aid kits to protesters in Tahrir Square, said that her sister disappeared at around 11:15 pm on November 2 on her way home. A colleague talking to Saba heard her screams on the phone before the call ended. Her sister then went to multiple police stations looking for her but was unable to locate her.
The Iraqi authorities must respect the right to freedom of expression and assembly, allow all Iraqis to demonstrate peacefully, and all journalists to photograph and cover protests. Given the extent to which law enforcement officials appear to have used excessive and lethal force for an extended period of time, the Iraqi government should open an investigation into every death by security forces, with the assistance of international experts as appropriate, Human Rights Watch said. Such investigations should be prompt, fair and independent of the persons under investigation, with the participation of the families of the victims, and should lead to the prosecution of those found guilty, including leaders.
States that have provided law enforcement-related military training and support to Iraq - including the United States, the European Union, and Iran - should suspend assistance to units involved in serious abuses unless authorities hold accountable and reduce abuses. States should publicly explain why they have suspended or terminated military assistance. While the United Nations, the United States and the European Union have issued multiple statements condemning the excessive use of force, Iran, Iraq's other major partner, has not blamed.
`` Given Iraq's history of civil unrest and international training not only for military operations but also for crowd control, Iraqi authorities should not get free permission to misuse tear gas as a lethal weapon rather than as a way to disperse the crowds, '' Whitson said.
Since 25 October, Iraqis in central and southern Iraq have reported that they are only able to access social media platforms when using a virtual private network, as well as slower Internet speeds than usual. From October 27 to November 2, Human Rights Watch researchers in Baghdad were able to connect to the Internet at slow speeds, but were unable to access most communications applications without using a virtual private network, and even then faced severe difficulties in Connection.
In an e-mail on October 30, the representative of the independent and impartial international group Netbooks, which monitors access to the Internet and a range of other digital rights, told Human Rights Watch that although the organization did not notice full censorship during the ongoing protests, One day the blocking of social media platforms, including Twitter, Facebook and Instagram, and obstructing the work of messaging software including Watsab and Telegram for most users, interruptions in Iraq are now among the most noticeable Netbooks in any country in 2019.
Netbooks reported that on November 4 at midnight local time, the entire Internet was cut off in most of the country. Internet interruption continued on 5 November, although Internet access was restored for several hours.
During the first wave of protests in early October, four journalists and the Iraqi Journalists Syndicate said the crackdown on the media broadcasting footage of the protests was sharp, as the media offices were raided and stopped broadcasting. Since the protests resumed on October 25, the government has eased its pressure not to broadcast such footage. However, a local journalist in Karbala, which witnessed daily protests, said that around noon on October 28, security forces arrested a cameraman working for a local media filming the protest.
The local journalist said that after half an hour, soldiers surrounded him while filming and arrested him and accused him of "inciting people to protest" through his media work. They released him after 30 minutes, but told him they would continue to arrest journalists.
The UNAMI report noted that six local media had been raided and stopped between 25 and 26 October.
The UNAMI report on 5 November put the death toll from head and chest injuries from tear gas at least 16. The UN High Commissioner for Human Rights in Iraq reported that on 25 October alone, eight people were killed in this manner. Amnesty International reported that it had spoken to two protesters who witnessed deaths on 26 and 28 October due to tear gas canisters that hit people in the head.
Human Rights Watch interviewed a protester who said she saw another demonstrator receiving a tear gas canister in the head to kill him on October 29. She said the victim was not trying to approach the security forces at the time, but he was in the square dancing and talking. Another protester said he saw a man killed by a tear gas canister that hit him in the head on October 28 on Jumhuriya Bridge. The witnesses said they did not hear security forces giving any verbal warning before the shooting.
One activist shared a video that appeared to show that officers were firing tear gas on November 1 at demonstrators along the river, hitting and killing a man in the head.
On November 1, the UN High Commissioner for Refugees (UNHCR) reported that security forces killed a woman with a tear gas canister in the head on Jumhuriya Bridge.
Human Rights Watch has not been able to ascertain the rank and belonging of members stationed on the al-Jumhuriya bridge since October 25, who were firing tear gas.
In his opinion, when Iraqi security forces fired tear gas directly at a crowd, an international military expert said it was not "a matter of training but a level of intent that shows that security forces use these bombs as a weapon instead of a dispersing mechanism."
The standard practices and procedures used by the security forces to control riots, as well as instructions provided by manufacturers, provide that tear gas can not be fired directly at people. An international observer in Baghdad with expertise in crowd control said security forces, in their view, sometimes used tear gas canisters for the same purpose as live bullets.
Human Rights Watch raised questions about the level of crowd control training that Iraqi forces received with diplomats from four embassies at a meeting on October 29.
They said their governments focused more on training for military operations and counterterrorism than on crowd control. But in recent years, Italy, France and the United States have provided Iraqi forces with some training in crowd control. Iraqi forces have also dealt with protests and civil unrest for years, including during large-scale protests in 2010, 2011, 2013, 2016 and 2018.
Since the protests began, protesters claim that security forces use expired tear gas canisters. Human Rights Watch researchers visited the Baghdad protest on November 1 and saw dozens of tear gas canisters collected by protesters after they were fired. Many of them have dates from 2009 to 2014, but these are probably production dates not expiration. Human Rights Watch was unable to confirm that the bombs had expired.
The Omega Research Foundation shared with Human Rights Watch the analysis that concluded that expired tear gas is dangerous for several reasons. They concluded without taking a position on whether expired bombs were being used in Iraq. "Expired equipment should not be used on the street.
On November 1, two separate doctors told Human Rights Watch that on the evening of October 31, they received at least 10 protesters in their tent who exhibited a range of symptoms different from those suffered by previous victims of tear gas exposure. . They said the new victims were in a state of convulsion, shock, difficulty breathing, and paralysis for 10 minutes before the symptoms began to fade. Show Human Rights Watch a video of the symptoms. UNHCR is concerned about the apparent change in symptoms, although it is still unclear what might cause them.
On the night of October 28, armed forces opened fire on demonstrators in Karbala, killing between 14 and 18 people, according to several international media that said they were able to verify casualties with unidentified security sources. Public officials denied the incident. A local journalist there told Human Rights Watch that he saw security forces opening fire on crowds of protesters that night, and saw a demonstrator he knew dead from a gunshot wound in the morgue the next morning.
Human Rights Watch interviewed a doctor who was on duty that night in the morgue and said he saw the bodies of seven protesters shot dead. Another doctor shared videos she said she filmed that night showing four bodies. UNAMI received what it considered credible allegations that security forces killed 18 protesters.
The doctor from Karbala said he personally knew the family of one of the victims. He said the family tried to retrieve her son's body.
A man in Karbala said that on the night of November 3, he and about 200 other protesters were going to the Iranian consulate to demonstrate outside. He said that the Iraqi security forces there did not prevent the demonstrators from putting the Iraqi flag on the roof of the consulate, but around 10:30 pm, a group of teenagers threw several Molotov cocktails at the consulate building. Armed men arrived in cars bearing the sign of the Rapid Intervention Division (SWAT) and started shooting at the demonstrators. "I saw a man filming the demonstration being shot in the chest," he said.
LINK
*****************

RamblerNash

GURU HUNTER





Posts

: 17646

---

Join date

: 2015-02-19




---
Permissions in this forum:
You
cannot
reply to topics in this forum