The Internet is a sign that Iraqi demonstrations are spiraling out of control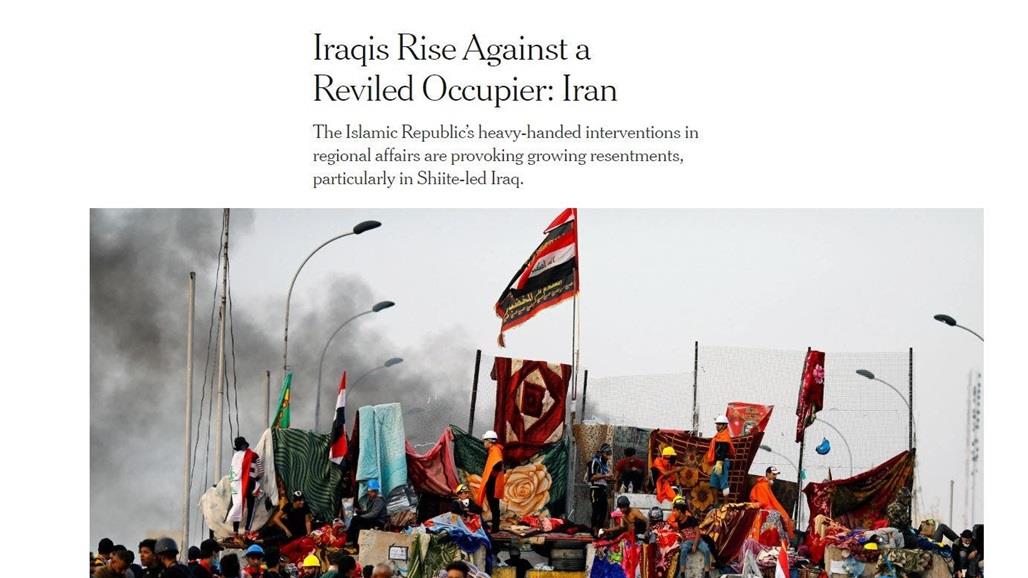 2019-11-05 | 08:15
The New York Times and the "for the first time" the demonstrations in Iraq as "against the Iranian occupation," while noting that the disconnection of Internet services is an indicator that the demonstrations out of control.
The newspaper revealed, in a report, published on Tuesday, that the Iraqi army refused a request to storm the building of the Turkish restaurant for fear of bloodshed.
The paper said the protests began quietly a month or so ago with sporadic protests. It expanded steadily until last week as more than 200,000 Iraqis marched in Baghdad in the largest demonstration in modern Iraqi history, protesting against the Iraqi government and the foreign occupier, this time Iran and not America.
The regime, which was implemented after the 2003 invasion, despite being drafted by Iraqis and empowered by the Americans, has devoted a system to dividing political power along religious and ethnic lines, noting that Iran has used that framework, using it to reflect it in Iraqi politics.
Demonstrators' demands - to get rid of corruption, put an end to political parties, and create a presidential rather than parliamentary system - seem reasonable at the same time and almost impossible to achieve; at least, not without bloodshed.
According to the newspaper, it may be difficult to achieve this because the demonstrators are increasingly demanding immediate results, as if they want to see lawmakers and ministers pack their bags, and get rid of their distinctive villas in the Green Zone and disappear completely.
Those politicians who want to work with the protesters realize that the fundamental changes they are demanding, such as new election laws and an eventual new constitution - cannot be achieved overnight. Yet the political class style frustrates protesters who are impatient to see the changes begin now.
Iraqi President Barham Saleh is trying to take steps in this direction by introducing legislation that would eliminate the current system of party lists and allow voters to vote for individual candidates. But in essence, it asks parliament to adopt a system that costs many of its members seats.
Suddenly, Iraqi news channels announced at midnight on Monday that the government had shut down the Internet. There was no explanation, but officials also closed it in early October, when they thought the protests were spiraling out of control.
Although, according to the newspaper, the government has gradually restored the Internet service, social media services including Facebook , Twitter and WhatsApp have been banned for the duration of the protests.
It remains unclear when protesters will stay on the streets.
LINK
*****************

RamblerNash

GURU HUNTER





Posts

: 17629

---

Join date

: 2015-02-19




---
Permissions in this forum:
You
cannot
reply to topics in this forum