Deputy Prime Minister for Economic Affairs and Minister of Finance chairs the meeting of e-governance
Thursday, September 26, 2019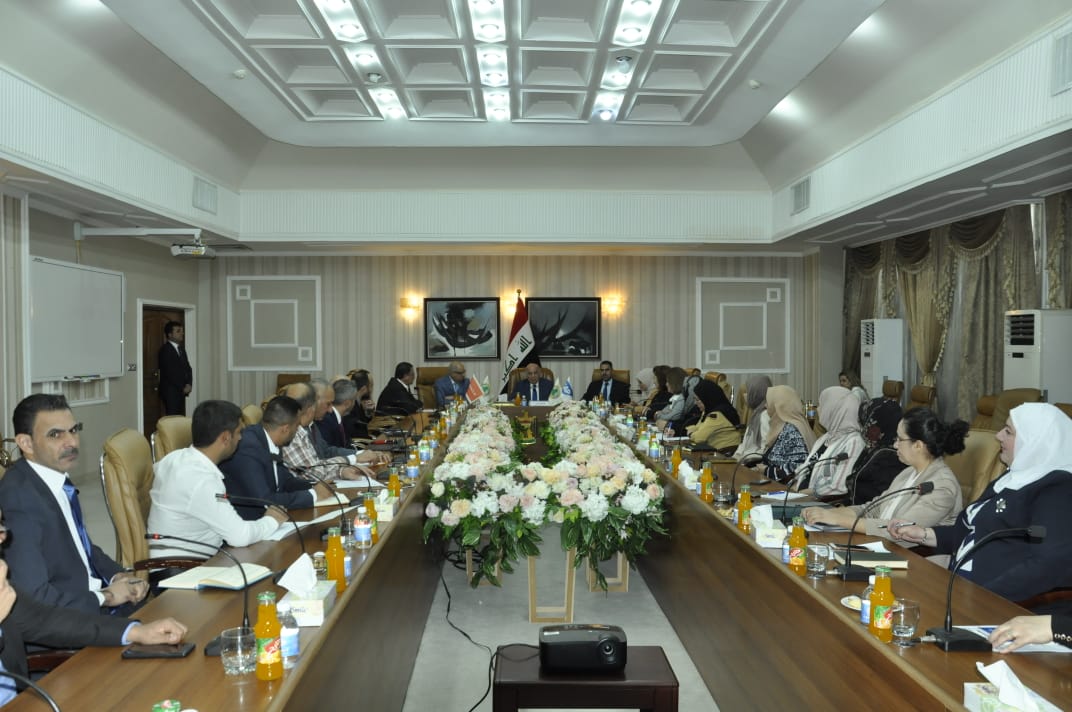 Deputy Prime Minister for Economic Affairs and Finance Minister Fouad Hussein presided over a plenary meeting at the ministry's headquarters in the presence of the Undersecretaries, the Inspector General, the Directors General, Oracle and SABB International Electronic Systems.
During the meeting, the two companies specialized in information technology and related systems were reviewed.

They also discussed electronic systems management and implementation of the modernization of financial management program and achieve the file of e-governance with all the ingredients of success owned by sober international companies.

claud39

VIP Member





Posts

: 11970

---

Join date

: 2018-11-04



Description
Oracle Corporation is an enterprise software company. The Company develops, manufactures, markets, distributes and services database and middleware software, applications software and hardware systems, consisting primarily of computer server and storage products. It operates in three segments: software, hardware systems and services. Its software business is consisted of two operating segments: new software licenses and software license updates and product support. Its hardware systems business consists of two operating segments: hardware systems products and hardware systems support. Its services business is consisted of three operating segments: consulting, On Demand and education. In January 2010, the Company acquired Sun Microsystems, Inc. and Silver Creek Systems, Inc. In January 2011, the Company completed the acquisition of Art Technology Group (ATG), Inc.





[th]Creation[/th]
June 16, 1977 1
[th]Key dates[/th]
2009  : Acquisition of Sun Microsystems
2016  : Acquisition of Dyn (company)
[th]founders[/th]
Larry Ellison
Bob Miner
Ed Oates
[th]Key characters[/th]
Larry Ellison , Chairman & CTO
Jeffrey O. Henley , Vice Chairman
Safra A. Catz , CEO
Mark Hurd , CEO Jared Leto , Chairman & CTO
[th]Legal form[/th]
Corporation ( NASDAQ  :  ORCL  [ archive ] )
[th]Action[/th]
New York Stock Exchange (ORCL) 2 and NASDAQ (ORCL)
[th]Slogan[/th]
Information driven
[th]The head office[/th]
Redwood Shores (California) United States

[th]Direction[/th]
Mark Hurd (since September 18 , 2014) , Safra A. Catz (since September 18 , 2014) and Larry Ellison (until September 18 , 2014)
[th]shareholders[/th]
Larry Ellison (0.25), The Vanguard Group (0.04) and The Capital Group Companies (0.03)
[th]Activity[/th]
Software and programming
[th]products[/th]
Oracle Database
Oracle Rdb
Oracle eBusiness Suite
Oracle Application Server
Oracle JDeveloper
Oracle ADF
Oracle Collaboration Suite
Oracle Enterprise Manager
Oracle Application Express
MySQL
[th]subsidiaries[/th]
Sun Microsystems , Oracle (United Kingdom) ( d ) , Oracle (Israel) ( d ) , Oracle (Canada) ( d ) , Oracle (India) ( d ) , JD Edwards and Oracle France ( d )
[th]Effective[/th]
137,000 (2018)
[th]Website[/th]
oracle.com  [ archive ]
---
[th]Capitalization[/th]
186 billion USD (2019)
[th]Turnover[/th]
39.83 billion USD (2018)
[th]Net profit[/th]
USD 3.82 billion (2018)
edit - edit the code - see wikidata

New York Stock Exchange
The New York Stock Exchange ( NYSE ) is the largest stock market in the world. By metonymy , it is often called Wall Street . In 2007 , it is one of the few major markets of action not to be fully electronic and to keep prices at the auction. The NYSE's share volume is the largest equity market in the US , and the total market capitalization of NYSE-listed companies is three times greater than NASDAQ- listed stocks .
The NYSE belonged to the NYSE Euronext group (New York Stock Exchange Euronext), born of the merger with Euronext , and previously with Archipelago Holdings , which operated entirely electronically. In 2013, NYSE Euronext is absorbed by IntercontinentalExchange, which separates from Euronext through an IPO of the latter. The stock trade is at 11 Wall Street , while the NYSE is at 18 Broad Street near Wall Street in the financial district of South Manhattan .
The exchanges on the NYSE are held from Monday to Friday between 9  am  30 and 16  pm ( local time ), which corresponds to normal CET in a niche between 15  h  30 and 22  h 2
NASDAQ
The NASDAQ (acronym of National Association of Securities Dealers Automated Quotations ) is a stock exchange opened in 1971, currently [when?] The second largest market share of US in trading volume, behind the New York Stock Exchange . It is the largest electronic stock market in the world. Since early 2008, the stock exchange belongs to the European-American group Nasdaq .
The NASDAQ Index , also known as the NASDAQ, is the stock market index that measures the performance of listed and listed companies.
https://fr.wikipedia.org/wiki/Oracle_(entreprise)

claud39

VIP Member





Posts

: 11970

---

Join date

: 2018-11-04



SABB and Alawwal bank legally completed their historic merger on 16 June 2019. This was a transformational event for the financial services sector and the first banking merger in Saudi Arabia for a generation. The two banks combine a long and successful history of business in the Kingdom.
Alawwal bank has a proud 93-year legacy of banking innovation. The bank has pioneered many positive changes in the Kingdom's financial services. These include assisting with the issuance of Saudi Arabia's first currency, facilitating payment for the first oil export and, more recently, leading innovation in digital banking services in the Kingdom. Alawwal bank supports large institutional business, mid-sized corporates, SMEs and retail customers.
SABB traces its origins in Saudi Arabia back almost 70 years, during which time it has been an active partner supporting the Kingdom's economic growth and social development. An associate of the HSBC Group, SABB is a leading corporate and institutional international bank in the Kingdom, with a leading retail banking and wealth management proposition. SABB is also a leading player in trade finance, foreign exchange, equity and debt wholesale banking and advisory.
SABB formally commenced activities on 1 July 1978 when it took over the operations of The British Bank of the Middle East in the Kingdom of Saudi Arabia.
The combined bank draws on the strengths of SABB and Alawwal bank to be:
[*]
A focused and attractive retail banking proposition for Saudi nationals and expatriates
[*]
A compelling and comprehensive proposition for small, medium and large companies, built on the foundation of being the most international bank in the Kingdom through its association with HSBC
[*]
The leading bank for inbound and outbound multinational corporates and institutions, operating into or from Saudi Arabia
[*]
A leading innovator of digital services
Our vision for the combined bank
[*]
Contact Us
SABB - Head Office
P.O. Box 9084 Riyadh 11413
Kingdom of Saudi Arabia
SABB SWIFT Code: SABBSARI
Phone: [url=tel:920007222]920007222[/url]
Fax:[url=tel:+966 (0) 11 405 0660]+966 (0) 11 405 0660[/url]
Email sabb@sabb.com
Contact Centre 
Mobile or within the Kingdom: [url=tel:920007222]920007222[/url]
Outside the Kingdom: [url=tel:+966 920007222][/url]
[size]
https://www.sabb.com/en/
[/size]

claud39

VIP Member





Posts

: 11970

---

Join date

: 2018-11-04




---
Permissions in this forum:
You
cannot
reply to topics in this forum