[size=36]Revealing a message before Bolton's dismissal .. What income Iraq and Afghanistan?[/size]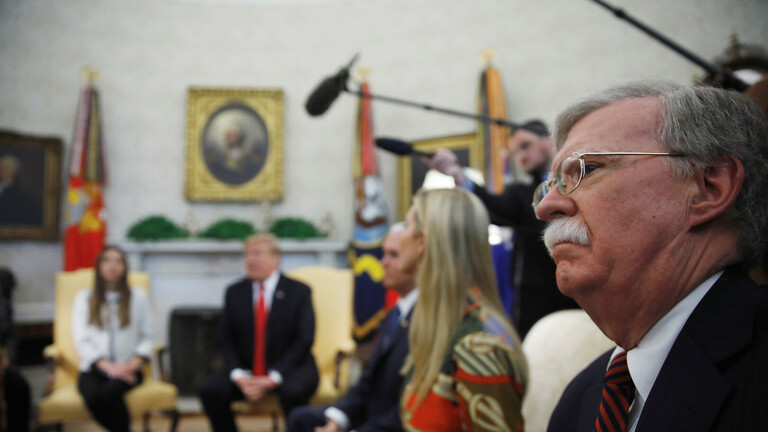 The
National Security Adviser, John Bolton, has been dismissed from office, defensenews said on Wednesday.

The website revealed that a group of retired US military personnel sent a letter to Congress urging them to enact legislation to prevent war on Iran without its approval, before announcing the dismissal of National Security Adviser John Bolton.

Defensenews said in an open letter: "Former officers said that US President Donald Trump made it clear that (there is no generalized strategy that reflects his desire for a military conflict with Iran), and they warned (it is too late for Congress to intervene constitutionally and stop Trump's direction." Towards war).

"The comprehensive military conflict with Iran will be a huge and expensive task. It is a lesson we have learned as an American nation, at great cost. The wars in Iraq and Afghanistan have cost us a lot of blood and money. We know that a war with Iran will require the deployment of hundreds of thousands of American troops. Resulting in large numbers of casualties and an unspecified number of civilian deaths. "
The former officers said in the letter that the military confrontation with Iran would distract attention from China and Russia, which are central to the administration's national security strategy.

"The idea that we will enter another war in the Middle East without a clear national security interest, a specific mission, and a specific withdrawal strategy is unacceptable to American veterans and our political allies," the officers said in the letter.

A Republican familiar with the differences between Trump and Bolton told The Associated Press that Bolton's opposition to a possible meeting between Trump and Iranian President Hassan Rouhani was a factor that hastened Bolton's expulsion.
https://www.mawazin.net/Details.aspx?jimare=64445

claud39

VIP Member





Posts

: 11956

---

Join date

: 2018-11-04



[size=42]
Trump: Bolton implicated America in "major mistakes", including the Iraq war
[/size]
11.09.2019
[size=42]
[/size]
WASHINGTON (Reuters) - US President Donald Trump said on Wednesday that his former national security adviser John Bolton was a "strong person" but had "not had a good relationship with the administration."
According to the newspaper "The Independent", Trump accused Bolton of implicating America in major mistakes, including the Iraq war.
Trump said the 
invasion of Iraq
 was a "grave mistake" that Bolton helped and worked on while serving in the Bush administration.
He also pointed out that he was also at odds with Bolton over Libya and the situation in Venezuela ; he said there were five candidates to succeed him.
Trump touched on the Iran crisis, noting that Tehran could be a great country, but its handling of the situation is holding back.
He warned Iran that its uranium enrichment would be "very dangerous" for it, but returned and stressed that Washington did not want regime change in Iran.
https://arabic.sputniknews.com/world/201909111042859333-%D8%AA%D8%B1%D8%A7%D9%85%D8%A8-%D8%A8%D9%88%D9%84%D8%AA%D9%88%D9%86-%D9%88%D8%B1%D8%B7-%D8%A3%D9%85%D8%B1%D9%8A%D9%83%D8%A7-%D9%81%D9%8A-%D8%A3%D8%AE%D8%B7%D8%A7%D8%A1-%D9%83%D8%A8%D8%B1%D9%89-%D9%85%D9%86%D9%87%D8%A7-%D8%AD%D8%B1%D8%A8-%D8%A7%D9%84%D8%B9%D8%B1%D8%A7%D9%82/

claud39

VIP Member





Posts

: 11956

---

Join date

: 2018-11-04




---
Permissions in this forum:
You
cannot
reply to topics in this forum