[size=35]In the table .. Central Bank Governor advances in the classification of an international magazine[/size]
2019-08-09
[size=35]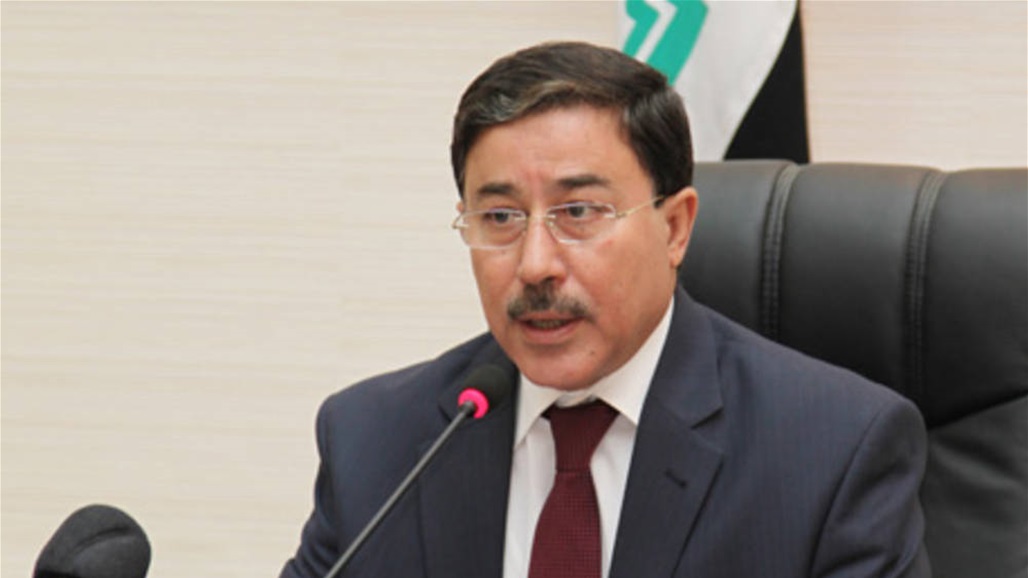 [/size]
The Central Bank of Iraq (CBI) Governor Ali al-Alak's rating from B to B is presented in Global Finance magazine for 2019.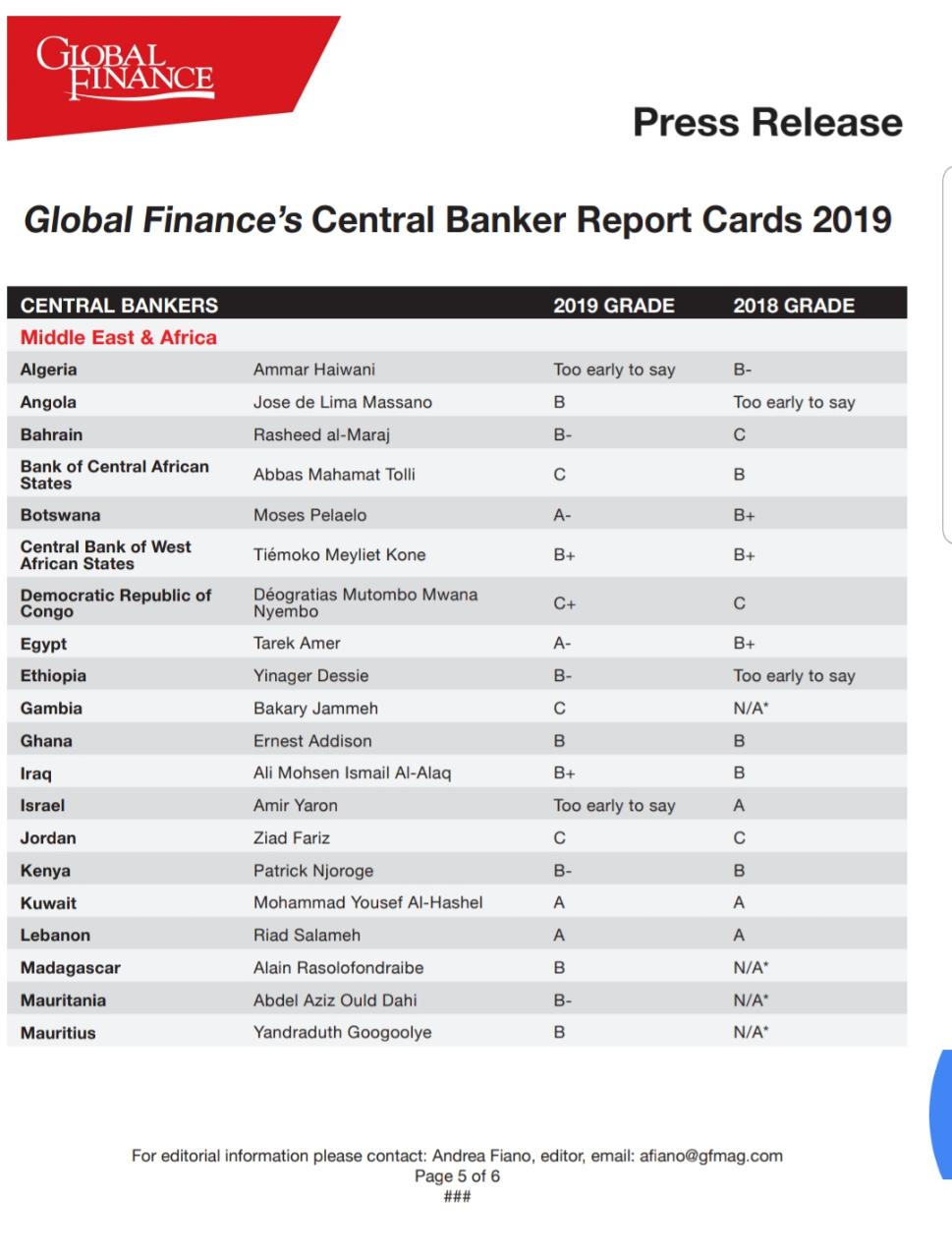 https://www.alsumaria.tv/news/%D8%A7%D9%82%D8%AA%D8%B5%D8%A7%D8%AF/314643/%D8%A8%D8%A7%D9%84%D8%AC%D8%AF%D9%88%D9%84-%D9%85%D8%AD%D8%A7%D9%81%D8%B8-%D8%A7%D9%84%D8%A8%D9%86%D9%83-%D8%A7%D9%84%D9%85%D8%B1%D9%83%D8%B2%D9%8A-%D9%8A%D8%AA%D9%82%D8%AF%D9%85-%D9%81%D9%8A-%D8%AA%D8%B5%D9%86%D9%8A%D9%81-%D9%85%D8%AC%D9%84%D8%A9-%D8%B9%D8%A7
Last edited by claud39 on Fri Aug 09, 2019 12:28 pm; edited 1 time in total

claud39

VIP Member





Posts

: 11915

---

Join date

: 2018-11-04



Global Finance's Central Banker Report Cards 2019
CENTRAL BANKERS
 2019 GRADE 2018 GRADE
 Middle East & Africa
 Algeria Ammar Haiwani Too early to say B
Angola Jose de Lima Massano B Too early to say 
Bahrain Rasheed al-Maraj B- C 
Bank of Central African States Abbas Mahamat Tolli C B
 Botswana Moses Pelaelo A- B+ 
Central Bank of West African States Tiémoko Meyliet Kone B+ B+
 Democratic Republic of Congo Déogratias Mutombo Mwana Nyembo C+ C
 Egypt Tarek Amer A- B+ 
Ethiopia Yinager Dessie B- Too early to say
 Gambia Bakary Jammeh C N/A* Ghana Ernest Addison B B
 Iraq   Ali Mohsen Ismail Al-Alaq   B+  B 
Israel Amir Yaron Too early to say A Jordan Ziad Fariz C C 
Kenya Patrick Njoroge B- B 
Kuwait Mohammad Yousef Al-Hashel A A 
Lebanon Riad Salameh A A 
Madagascar Alain Rasolofondraibe B N/A* 
Mauritania Abdel Aziz Ould Dahi B- N/A* 
Mauritius Yandraduth Googoolye B N/A* 
For editorial information please contact: Andrea Fiano, editor, email:
afiano@gfmag.com
Page 5 of 6
https://d2tyltutevw8th.cloudfront.net/media/document/press-release-central-banker-report-cards-2019-1565288458.pdf

claud39

VIP Member





Posts

: 11915

---

Join date

: 2018-11-04



The relationship scores a + B rating
09/08/2019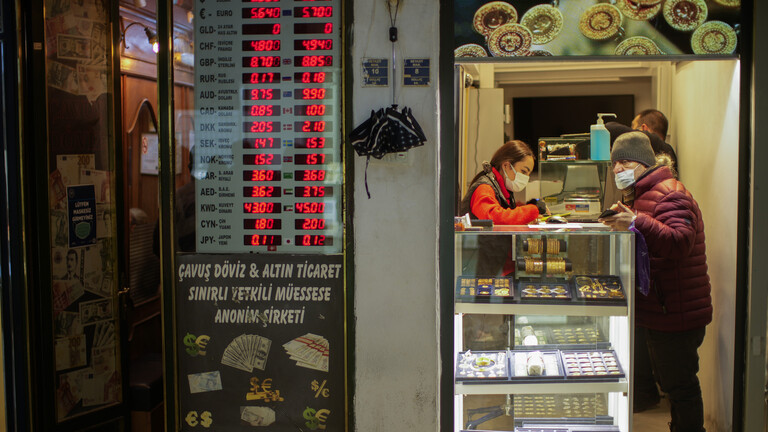 Governor of the Central Bank of Iraq, Ali al-Alaq, in the classification of the magazine Global Finance, to the rank of B + after it was last year in the rank B came as a result of controlling inflation and anti-money laundering and the financing of terrorism and currency stability and interest rates management and monetary policy management wisely.
The Governor of the Central Bank of Iraq, Ali Alaq, won on June 28, 2018, as the best governor in the Arab world by the Union of Arab Banks during a ceremony held in the city of Paris, after the achievements made at the local and international level in several areas, most notably maintaining Exchange and close the gap between the official price and the market price as well as the significant development in the payment system and electronic payment systems.
Global Finance, which ranked B + with 13 portfolios from several countries including Norway and Singapore, outpaced the governors of several countries including China, India and Japan.
"Central bankers are facing great pressure to maintain their independence as a result of political instability in the world," said Joseph Giarabuto, managing editor of Global Finance.
He said conservatives, who had a good rating, had led their countries in difficult times and had shown stable leadership.
Al-Allaq was elected Vice-Chairman of the Board of Governors of the Arab Monetary Fund for the current session, and will be its chairman in the next session.

claud39

VIP Member





Posts

: 11915

---

Join date

: 2018-11-04



Global Finance puts the relationship among the world's best governors for 2019
09/08/2019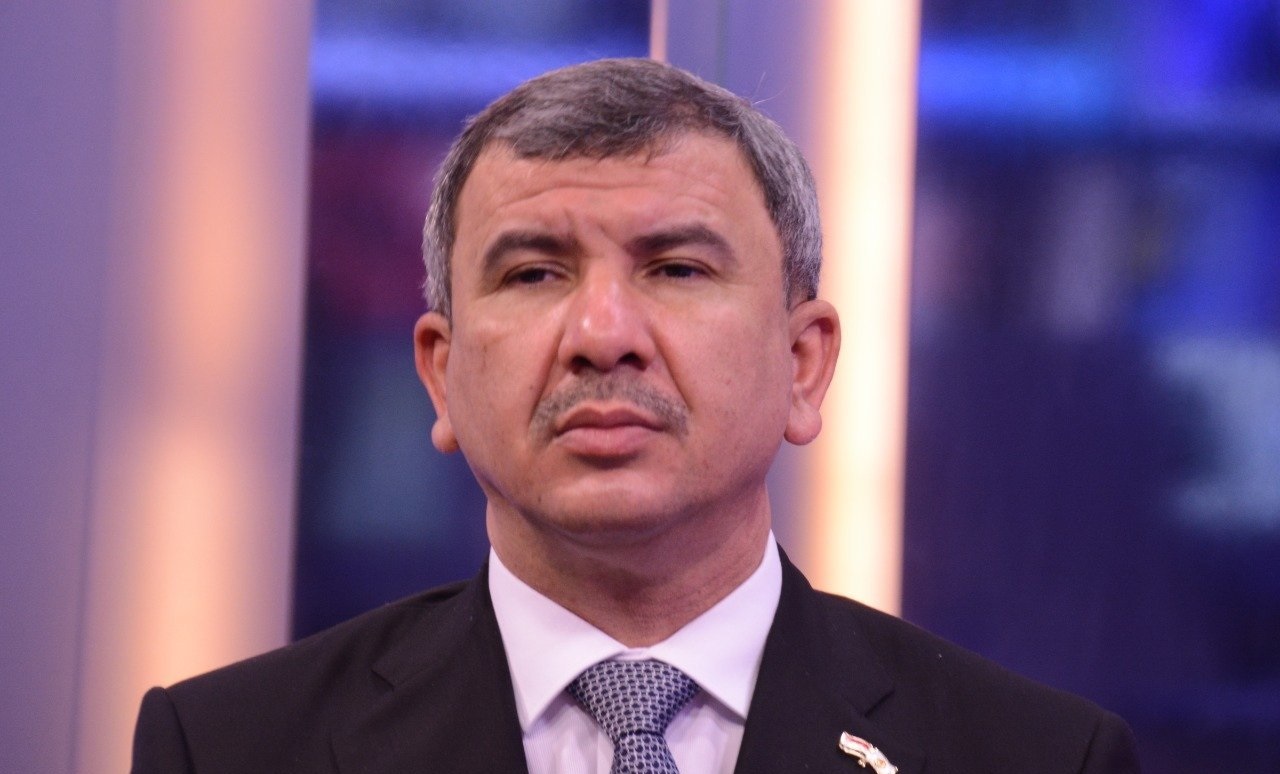 Samir al-Nasiri
In its 2019 report, Global Finance magazine ranked Governor of the Central Bank of Iraq (CBI), Ali Mohsen Al-Alak, in the B + rank among the best governors of 94 banks in the world, down from B in 2018 and ranks 30th. 
The classification in 2019 represents a very advanced rank and this is a new global assessment of the outstanding efforts made in the management of the Central Bank of Iraq and achieve structural, structural and technical developments in the banking sector and contribute effectively in the development and implementation of policies and procedures for the application of monetary policy and overcome its challenges in the darkest economic and security conditions that Iraq suffered.
Founded in 1987, Global Finance Magazine is headquartered in the United States and is distributed in 193 countries.
Its 2019 assessment of the "World Bank Governors" rating,
" The assessment was based on the Board of Governors of the central banks in the face of storms and challenges facing their country 's economy as a result of political and security unrest and who struggled to stabilize their country 's economy", and that " the report category of Governors of thecentral banks ranked A rank F This confirm the governor of the Iraqi Central Bank occupies Advanced rank
With central bankers who have managed to counter inflation, stabilize the currency, manage interest rates as well as achieve economic growth targets. "
It is worth mentioning that Mr. Al-Alak was awarded the Best Arab Central Bank Governor Award 2018 at a ceremony held by the Union of Arab Banks in Paris last year.
He also won the trust of the Arab Monetary Fund (IMF) governors in its last session in the State of Kuwait.
All this is an affirmation of the good international reputation that the Central Bank has been able to embody through its great efforts to restore confidence in the financial sector and international banking transactions with Arab and foreign banks and correspondent banks.
So we congratulate the Governor of the Central Bank and all the staff of the Bank and to the Iraqi banking sector this new international assessment.

claud39

VIP Member





Posts

: 11915

---

Join date

: 2018-11-04



Market Review: "IMF Revises Growth Estimates Higher"
11th August 2019
11th August 2019 in Ahmed Tabaqchali, Investment
By Ahmed Tabaqchali, CIO of Asia Frontier Capital (AFC) Iraq Fund.
Any opinions expressed are those of the author, and do not necessarily reflect the views of Iraq Business News.
The market's action in July was so quiet that it turned activities like watching paint dry into spectator sports, as the start of the peak summer and holiday season depressed trading volumes.
Nonetheless, the average daily turnover's decline of −15% month-on-month did not erase the turnover gains made in the prior two months, small as they were.
For the month, the market, as measured by the Rabee Securities RSISX USD Index (RSISUSD), was down −4.40% and down −3.97% for the year.
The highlight of the month, though, was the release of the latest IMF country report for Iraq, in which the IMF updated its estimates, last made in the summer of 2017, for both the future economic outlook and for the last few years. The changes to its GDP growth estimates for the crisis years 2014-2017 were as follows:
| | | | | |
| --- | --- | --- | --- | --- |
| Year | 2014 | 2015 | 2016 | 2017 |
| Old estimates | +0.7% | +4.8% | +11.0% | -0.4% |
| New estimates | +0.7% | +2.5% | +15.2% | -2.5% |
While estimates for the years following the conflict changed as follows:
| | | | | |
| --- | --- | --- | --- | --- |
| Year | 2018 | 2019 | 2020 | 2021 |
| Old estimates | +2.9% | +1.7% | +2.0% | +2.1% |
| New estimates | -0.6% | +4.6% | +5.3% | +2.6% |
The main takeaway is that the crisis years were, on the whole, weaker than initially expected. While, 2018, the first year following the conflict, was the second year of a deep recession with a contraction of -0.6% on the back of the prior year's -2.5% decline, instead of being a first year of an economic recovery, at +2.9%, following a shallower decline of -0.4% -a message telegraphed by companies listed on the Iraq Stock Exchange (ISX) over the last two years. On the other hand, the expected recovery in 2019/2020 would be much stronger than estimated earlier with GDP growing at +4.6%/+5.3% instead of +1.7%/+2.0%.
Higher oil exports and the improved oil pricing environment, over the last two years, resulted in much higher government revenues, than estimated earlier, from 2017 onwards. This, with a long lag, is initially translating into increased consumer spending in 2019, given that the government employs over 50% of the working population. This, would then, be followed by the government's investment spending powering the non-oil economy. Subsequently, the IMF's new assumptions on non-oil GDP growth rates are crucial for the economy and the stock market. The IMF's estimates for the severe contraction in non-oil GDP during the crisis years changed as follows:
| | | | | |
| --- | --- | --- | --- | --- |
| Year | 2014 | 2015 | 2016 | 2017 |
| Old estimates | -3.9% | -9.6% | -8.1% | +1.5% |
| New estimates | -3.9% | -14.4% | +1.3% | -0.6% |
Accordingly, the downward trajectory in 2015 was much steeper at −14.4% than earlier estimates of −9.6%, while the stability expected for 2017 was, instead, a double dip recession following the bounce in 2016. Also, the contraction lasted longer at four years than earlier expectations of three years. While estimates for the years following the conflict changed as follows:
| | | | | |
| --- | --- | --- | --- | --- |
| Year | 2018 | 2019 | 2020 | 2021 |
| Old estimates | +2.0% | +3.0% | +3.9% | +4.0% |
| New estimates | +0.8% | +5.4% | +5.0% | +4.1% |
Confirming the earlier message that 2018 was the second year in a contraction with the non-oil GDP dragging the overall GDP down, negating the strong contributions of higher oil prices and exports to the overall GDP growth. Subsequently, the expected recovery for 2019/2020 would be much stronger at +5.4%/+5.0% versus earlier estimates of +3.0%/+3.9%. The changes, for outlook for non-oil GDP growth, are consistent with the analysis, made here over the last few months, on the drag on the economy in 2018 and early 2019 as a result of the political paralysis before, during, and after the May 2018 parliamentary elections. A paralysis that would have ended in March as the 2019 budget was only passed into law in late February 2019.
Furthermore, the IMF estimates that non-oil investment spending for 2019 would be about USD 11.25bln, or an +8.5% stimulus to the new non-oil GDP estimate for 2019. It's unlikely, that the government would be able to spend all of the budgeted amount in 2019, given the slow nature of investment spending, and the government's historic under-execution of such spending. Which probably explains the IMF's estimates for investment spending at about 13.5% less than that projected by the 2019 government budget.
(Source: IMF, country reports no. 17/251 and 19/248, Asia Frontier Capital)
On the heels of the new IMF report, the Ministry of Finance (MoF) data as of May, show a month-on-month growth in investment spending of +20%, but from a very small base, as the January-May investment spending is only about 8% of the non-oil investment spending budget of USD 11.25bln. Implying that most of the estimated +5.4% growth in non-oil GDP for 2019 would be backend loaded, and thus a much stronger growth is anticipated in the second half of 2019 than the first half. It will likely accelerate further in 2020, as the unfinished spending for 2019 spills over into 2020. The government has considerable firepower at its disposal to continue investment spending, even as it continues to under-execute, as the same MoF data for May shows a further growth in budget surplus for 2019 at USD 3.3bln, for a cumulative 29-month surplus of USD 26.5bln.
As postulated here in the past, this investment spending which started with a trickle in 2019, should grow as the full spending gets underway, carrying over into 2020, and ultimately would lead to a sustained economic recovery in line with the new IMF's future outlook, or probably somewhat higher given the multiplier effects of such spending.
The news from the corporate world supports the economic picture painted by the IMF as evidenced from a number of corporate earnings reports for the second quarter. Pepsi bottler, Baghdad Soft Drinks (IBSD), continued its strong growth with revenues for the six months in 2019 up +3% over the same period in 2018, with its pre-tax profits for the same period up +9%. Telecom operators AsiaCell Communications (TASC) and Zain Iraq (TZNI) reported increased customers by 6% and 4% respectively for the six months in 2019 versus the same period in 2018. However, both revenues and earnings continued, for the same period, to show an industry in the early stages of recovery with TASC having flat revenues but earnings before interest depreciation and amortization (EBITDA) down −9%, while TZNI reported revenues declining −6% and EBITDA up +13%. Both companies cited increased competition and marketing costs.
Bank of Baghdad's (BBOB) second quarter (Q2) numbers, marked a bank following through with the recovery that began in 2018, which, while confirming the initial signs of a gradual recovery in the sector, also disappointed local speculators who were hoping for a repeat performance of the first quarter (Q1). Deposits continued to grow at +4.3% for the first half of 2019 versus the same period in 2018, while credit growth continued to be negative at −1.4%- which is a slower rate compared with the past- and led to a drop of −27.1% in interest income. FX income recovered +57.0%, which is an easy comparison given the severe drop seen in the same period in 2018, but nevertheless pointing to a stabilization in this income source. Commission income, continuing to rise in importance, was up +21.3%. Net income, while up +983% in the period or at over 10x the figure for the same period in 2018, while very healthy, was mostly achieved in Q1. Therefore, while Q2's net income showed continued growth, it nevertheless poured cold water over speculative hopes for the bank to resume dividend payments for 2018's earnings. It was these hopes that led to a +62.5% rally in the stock in May, which soon moderated to a decline of −12.8% in June, and declined a further −17.6% in July as the bank confirmed in its AGM that it would not pay dividends for the year. The stock's closing price in July, is still up +16.6% from the April close before it started its wild three-month ride. While, BBOB pulled the other leading banks up with it in May, it did not drag them lower in June and July which is very different from the market's responses to such disappointments in 2018. That time all banks were painted by the same brush, which shows a market that has begun to discriminate showing it has likely bottomed or is making a bottom.
Trading activity in August will likely continue to be in-line with that of July's activity, as it is part of the peak of the summer season and will include the second Eid holiday break of the year. While, there is no new source of liquidity in the market, and local speculators continue to dominate activity, foreign investors have been consistent net buyers over the last few of months in a marked contrast from the picture for most of the prior months as the chart below shows.
Index of net foreign activity on the Iraq Stock Exchange (ISX)
(Source: Iraq Stock Exchange (ISX), Asia Frontier Capital)
The extension of the June pull-back in July, continues to suggests the beginning of a consolidation phase, which would need a significant recovery in turnover before a recovery can become sustainable and for the market, as measured by the Rabee Securities RSISX USD Index (RSISUSD), to claw back some of the −70.5% decline from the peak in early 2014 to July's 2019 closing levels.
Mr Tabaqchali (@AMTabaqchali) is the CIO of the AFC Iraq Fund, and is an experienced capital markets professional with over 25 years' experience in US and MENA markets. He is a non-resident Fellow at the Institute of Regional and International Studies (IRIS) at the American University of Iraq-Sulaimani (AUIS), and an Adjunct Assistant Professor at AUIS. He is a board member of the Credit Bank of Iraq.
His comments, opinions and analyses are personal views and are intended to be for informational purposes and general interest only and should not be construed as individual investment advice or a recommendation or solicitation to buy, sell or hold any fund or security or to adopt any investment strategy. It does not constitute legal or tax or investment advice. The information provided in this material is compiled from sources that are believed to be reliable, but no guarantee is made of its correctness, is rendered as at publication date and may change without notice and it is not intended as a complete analysis of every material fact regarding Iraq, the region, market or investment.

claud39

VIP Member





Posts

: 11915

---

Join date

: 2018-11-04




---
Permissions in this forum:
You
cannot
reply to topics in this forum