Halabousi and Barzani discuss oil and gas laws and provincial elections
20-06-2019 
The President of the House of Representatives Mohammed Halbusi, on Thursday, the President of the Kurdistan region Njirvan Barzani and his delegation in Baghdad.
"The meeting discussed the financial obligations to the region with regard to the sale of oil according to the Federal Budget Law of 2019 and the need to ensure the development of relations between the region and the federal government and resolve all outstanding problems between them in the spirit of brotherhood and national partnership."
He added that 'the two sides discussed the oil and gas law and the provincial elections law and the law of the Federal Court'.
He explained that 'the President of the Kurdistan region presented to the Speaker of the Parliament a presentation on his plans to develop the relationship with the federal government after studying the problems in depth and transparency and the development of joint mechanisms to resolve them,' expressing his hope to achieve a strong relationship with the center based on common interests.
The statement said that 'Barzani expressed readiness of the region to receive a parliamentary committee to see the mechanisms of selling oil and revenue under the supervision of international companies.'
http://www.almadarnews.org/index.php?page=article&id=59076

claud39

VIP Member





Posts

: 12469

---

Join date

: 2018-11-04



[size=36]This is what Barzani and Abdul-Mahdi discussed during their meeting in Baghdad[/size]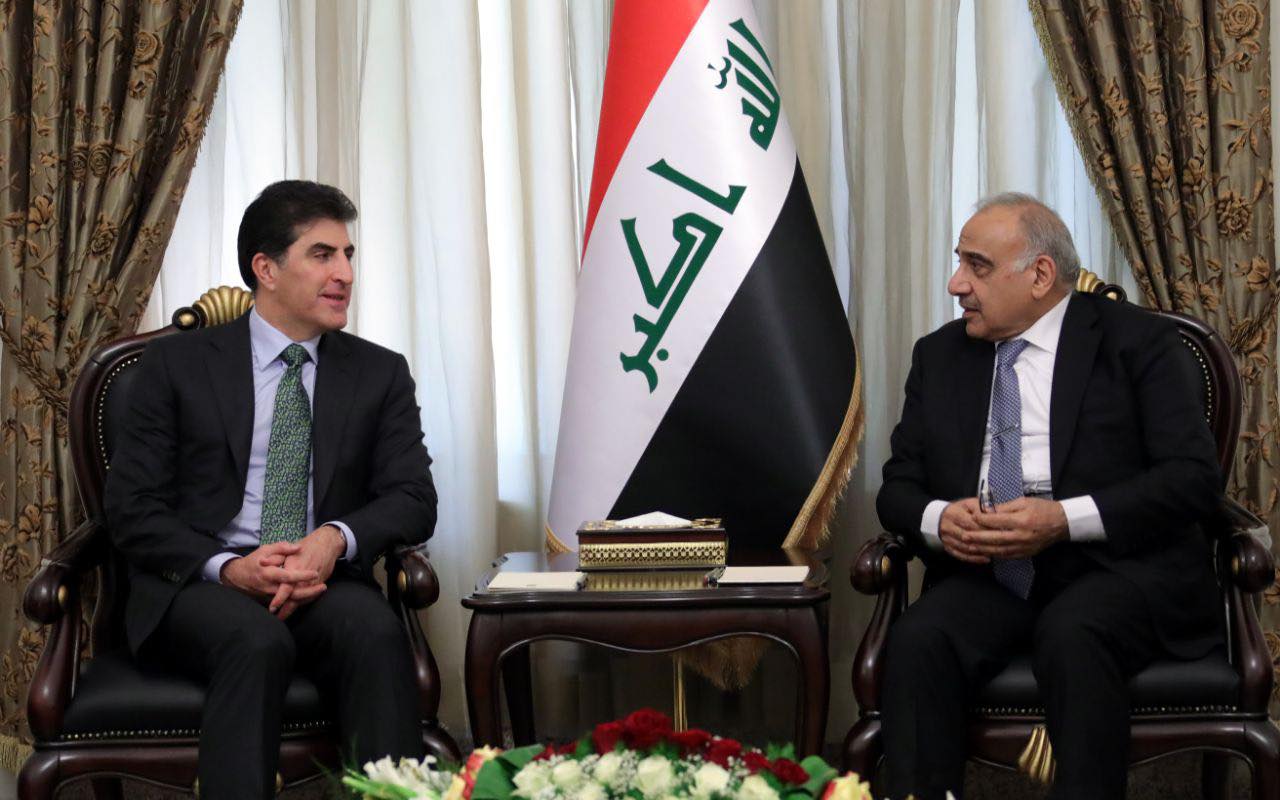 Special - Mawazin News The 
MP of the Patriotic Union of Kurdistan Hassan to, Thursday, that the visit of the President of the Kurdistan region, Najirvan Barzani, to come to Baghdad on the outstanding issues between Erbil and Baghdad, especially those that the Kurds to the federal government at each visit an official delegation, including salaries and oil file And border crossings. 
"Barzani discussed with the three presidencies, the Republic, the Council of Ministers and the Parliament, to resolve outstanding issues between the center and the region and to exploit good relations in order to open a new page with Baghdad," he said in a statement to Mawazin News. 
He added that "the most important issues brought by the President of the Kurdistan region newly elected issue of border crossings and the issue of oil and gas and salaries of the Peshmerga." 
The head of the Kurdistan region, Nechirvan Barzani, arrived in Baghdad on Thursday, his first visit outside the region since he took office ten days ago.
The President of the region met upon his arrival in the federal capital with the Prime Minister Adel Abdul Mahdi and held a meeting in the presence of a number of ministers from both sides.
https://www.mawazin.net/Details.aspx?jimare=51751

claud39

VIP Member





Posts

: 12469

---

Join date

: 2018-11-04




---
Permissions in this forum:
You
cannot
reply to topics in this forum