http://alwatan.kuwait.tt/articledetails.aspx?id=585206&yearquarter=20191
[size=30]America imposes sanctions on the movement of Iraqis[/size]
[size=30]
2019/03/06
[/size]
[size=30]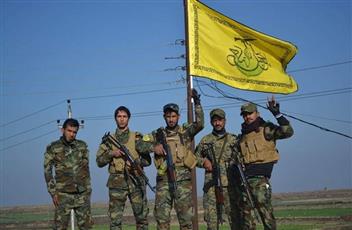 [/size]

Islamic militant movement
WASHINGTON (Reuters) - The United States has imposed sanctions on the Islamist militant group of about 10,000 fighters and its leader Akram al-Kaabi, the US Treasury Department said on Tuesday. 
The movement is active in Iraq and Syria and is also loyal to Iran. 
Washington's concerns over the group are growing. In September, Senators David Bradio, Ted Cruz and Marco Rubio introduced the terrorist sanctions law to Iran's proxies and another group. 
A similar bill was introduced in January by a bipartisan bipartisan group. 
Al-Kaabi is a cleric whom the US Treasury Department imposed sanctions on in 2008 for threatening the security and stability of Iraq.


claud39

VIP Member





Posts

: 13299

---

Join date

: 2018-11-04



https://www.alhurra.com/a/%D9%88%D8%A7%D8%B4%D9%86%D8%B7%D9%86-%D8%AA%D8%AF%D8%B1%D8%AC-%D8%A7%D9%84%D9%86%D8%AC%D8%A8%D8%A7%D8%A1-%D9%88%D8%A7%D9%84%D9%83%D8%B9%D8%A8%D9%8A-%D8%A8%D9%82%D8%A7%D8%A6%D9%85%D8%A9-%D8%A7%D9%84%D8%A5%D8%B1%D9%87%D8%A7%D8%A8/483037.html
[size=40]Washington listed the 'naive' Iraq and its leader on the list of terrorism[/size]
BAGHDAD (Reuters) - The US State Department announced on Tuesday the inclusion of Iraq's "naive" militia and its leader Akram al-Kaabi on the terrorism list.
The ministry said in a statement that the listing decision was aimed at preventing the resources used by the "incompetent" and its leader in "planning and executing terrorist attacks".
The resolution means freezing all the assets and interests of the movement and its leader, subject to the US mandate and banning Americans from engaging in any dealings with them.
The ministry explained that al-Kaabi established in 2013 militia militia movement backed by Iran. The movement receives funding from the Iraqi government that it does not control.
The movement has declared its allegiance to Iran and Supreme Leader Ayatollah Khamenei.

claud39

VIP Member





Posts

: 13299

---

Join date

: 2018-11-04




---
Permissions in this forum:
You
cannot
reply to topics in this forum