https://www.mawazin.net/Details.aspx?jimare=35363
[size=36]Report: Iraq will suffer economic and military losses in this situation?[/size]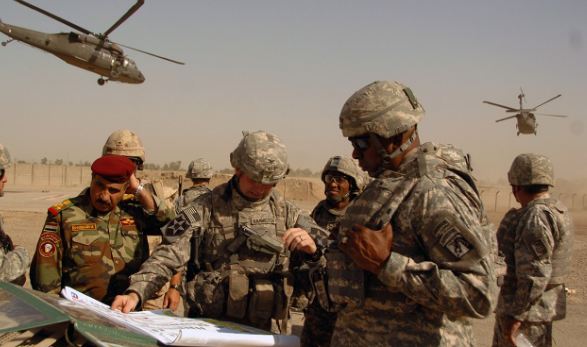 BAGHDAD - 
The Washington Institute for Near East Policy revealed the losses Iraq would face in the event of the withdrawal of foreign coalition forces. 
The institute said, according to a report reported by the agency "Aram News" that "the discussions to be held by the Iraqi parliament soon on the withdrawal of foreign coalition forces is the sovereign right of the Arab country," adding that "any decision to remove these forces may significantly affect the interest of Western countries. 
The report added that "the US-led coalition forces in Iraq is the strongest alliance witnessed by this country, but the strong global interest and the continued support that accompanied this presence may evaporate in the event of withdrawal of these forces," noting that "
He stressed that "the global interest in Iraq has increased significantly after the entry of coalition forces to fight Daash, and that the focus was never because of the misconception that Iraq is an indispensable partner," noting that "most of the coalition countries were not interested in Iraq before." 
The report added that "the increase in this interest was manifested in the frequent and frequent visits of the leaders of the countries participating in the coalition to Iraq in the recent period," noting that "these visits represent for the leaders of Western countries a significant investment time, effort and money and security planning, which means a strong indicator of their commitment Iraq ". 
pointed to, "
The second fact is that attempts by some forces in Iraq to differentiate between the United States and its allies will not succeed, and that either the coalition forces will remain in Iraq or leave. 
The third fact, according to the report, focuses on the interest of Western countries in Iraq, which will be significantly reversed if coalition forces leave their land and there will be no economic and other benefits. 
"The United States should make sure that all the coalition countries are communicating these facts to the leaders of Iraq so that they understand the seriousness of the situation and know that the political, economic and military support of the coalition countries is fully linked to the continued mission of these countries and their presence in Iraq in this period." Ending 29 / a 43

claud39

VIP Member





Posts

: 11765

---

Join date

: 2018-11-04




---
Permissions in this forum:
You
cannot
reply to topics in this forum