https://annabaa.org/arabic/economicreports/18325
Emerging companies are a new phenomenon in Iraq against unemployment and favoritism
Monday, February 19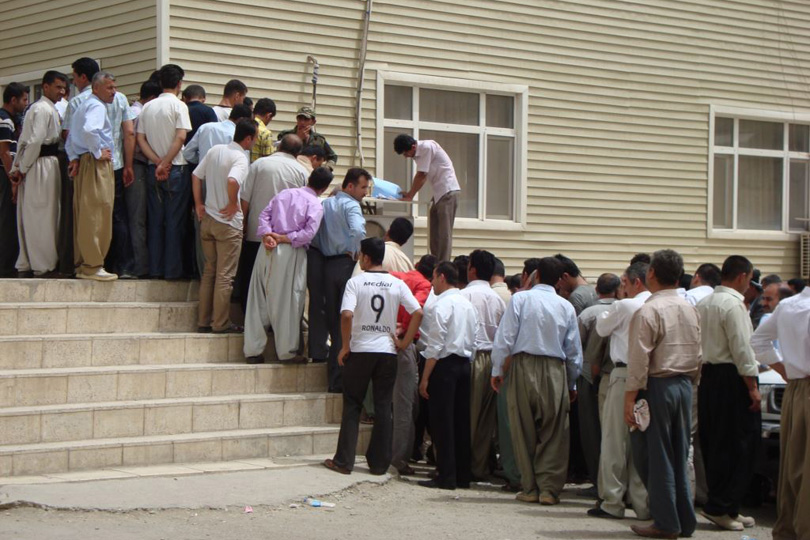 (AFP) - The public sector in Iraq absorbed all graduates annually under Saddam Hussein, but it takes years to coincide with the quest of the private sector to find a place for him. From here, young people rely on emerging companies to find jobs.
This phenomenon began in 2013, but the invasion of a pro-government organization the following year, slowed its course. With the "Caliphate" page folded, business spaces and business incubators have returned to help dozens of companies emerge.
In Baghdad, the favorite place to meet young people aspiring to launch an emerging business is the station, building a glass cube covered with yellow panels, where you can drink coffee, buy books or rent an office alongside some 20 young entrepreneurs.
In Mosul, northern Iraq, Mosul Space has become the place for consultation, equipment and support for Salih Mahmoud, the son of a 23-year-old doctor who has decided to go to engineering.
After spending four years in college, Mahmoud decided not to follow in the footsteps of his colleagues, "who are thinking about how to get a way to employ them in the government."
"Education at the university did not satisfy my passion, it is not a useful education that makes you work in what you like," he said. "So Mahmoud preferred to find his own employment opportunity in a country where the unemployment rate among young people, who make up 60 percent of the population , 17 percent among young people, and 27 percent among young women.
"Between 600 and 700 young people have already come to the Space Connector" to attend a conference or start a project, and elsewhere in the northern city, where reconstruction has not yet begun, two young engineers sit behind small tables converging on their laptops .
Signs hung on the walls showing the "Nineveh Youth Problems", the province of which Mosul is the largest city, still suffering from the trauma of the war down to the lack of computer equipment. Amid this mood, young businessman Yusuf al-Nuaimi, 27, and his team are trying to respond to customer requests.
Dekakina, run by Al-Naimi, sells household electronic appliances online and sends small trucks daily to deliver between 10 and 15 requests to families who rearrange their homes after the war.
"On the Internet, we sell cheaper than stores because we are less expensive, like renting a showroom, for example," explains the computer engineer who started the job after being the same online customer when he fled to the Netherlands to escape the Islamic state.
Before him, it was the beginning of the project "Msoq", which is an example of success in Iraq. Last year, the project's founders announced a profit of hundreds of thousands of dollars, four years after it was launched, but most importantly not success, says Ibrahim al-Zarari, one of the organizers of StartUp Week End, an event that brought together 70 young people over three days to launch new projects .
"Globally, only six percent of startups succeed, so what we suggest to these young people is to show them what entrepreneurship is, not necessarily success, but at least to try," Zarari told AFP.
Secondly, oil is not the only source that Iraq, OPEC's second largest producer, has to adopt for income. In a country where oil supplies more than 65 percent of GDP, In the "Al Mahatta" project, there are attempts to "create a new generation with a different mind," according to Executive Director Haider Hamzouz, told AFP. "We want to tell the young people that they can start their own project, and realize their dream, not just to get On a job they did not want at all. "
This is a challenge in Iraq, where the rate of four jobs out of five in recent years, was across the public sector, according to the World Bank, but according to economists, this trend will be reflected because the state will not be able to afford the long-term, Accounting for more than half of the budget for 2019.
However, for all emerging entrepreneurs who speak Arabic fluently in English, everyone knows that the task will be difficult, and Iraq ranks 168 out of 190 according to the World Bank index for countries that provide an investment-friendly environment.
The revision of the Labor Code to equal protection of private sector workers with the government sector and the enhancement of their social benefits is still on hold, and the banking sector, which is still weak in Iraq, is very cautious when it comes to supporting young entrepreneurs or new enterprises, "The banks have a role to play and they have to provide interest-free loans and support young entrepreneurs," said Tamara Raad, a researcher at the start-up companies in Iraq. "With banks or without them, Mahmoud has already planned for 2019 "We will open a new space Righteousness, and we will organize new meetings "between designers, developers and entrepreneurs.

claud39

VIP Member





Posts

: 11786

---

Join date

: 2018-11-04




---
Permissions in this forum:
You
cannot
reply to topics in this forum