https://www.mawazin.net/Details.aspx?jimare=34842
[size=36]US pressure on the Gulf to continue isolating Syria .. UAE: We do not want to repeat the scenario of Iraq[/size]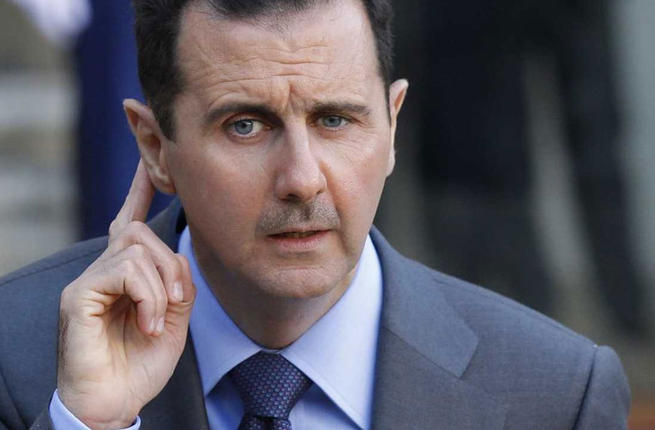 Continue - Mawazine News 
The United States is exerting pressure on Gulf countries to refrain from restoring relations with Syria, including the UAE, which moved to rapprochement with Damascus to counter Iran's influence. Sources told Reuters. 
These two opposing approaches are an early test of whether Syrian President Bashar al-Assad could gain political and diplomatic credibility after the eight-year civil war turned him into an internationally despised leader. 
Many countries broke off ties with Syria at the start of the war. 
Several Gulf states have closed their embassies or reduced relations and the Arab League has decided to suspend Syria's membership, shut down flights and shut down border crossings. 
The United States and other countries imposed economic sanctions on Damascus.
With the backing of Gulf states such as Saudi Arabia and Qatar, Washington does not want Syria to return to the international community until a political process is settled by the end of the war. 
"The Saudis are a big help in putting pressure on others, and Qatar is doing the right thing," a US official said in response to a question on diplomatic pressure. 
The official said the United States was happy that "some Gulf countries are using brakes." 
The US position indicates that Assad still has a long way to go before his troops recapture most of Syria through victories over the Sunni opposition thanks largely to the help of Iran and Russia. 
The lack of support from Washington and Riyadh, the main force in the region, will add to Syria's isolation from the difficulty of Damascus getting the necessary investment for reconstruction.
While the UAE believes Sunni states should embrace Syria quickly to get Assad out of Iran's orbit, Saudi Arabia and Qatar support the US approach. 
A Gulf source said the UAE saw Assad as the "only option" and believed that the elimination of Iranian influence in Syria could contribute to preventing the recurrence of its current control over Iraq. 
During the war, the UAE supported armed groups opposed to Assad. But its role was less prominent than the role of Saudi Arabia and Qatar and its support was mostly focused on ensuring that Islamic forces did not dominate the uprising. 
Three Gulf political sources, a US official and a senior Western diplomat said US and Saudi officials had spoken to representatives of other Gulf states and urged them not to restore ties with Syria. 
In particular, they want those countries not to support Assad's return to the Arab League and embassies remain closed, with only small workers. 
criticism
In the light of Assad's consolidation of his military status, relations have begun to improve with some countries. The UAE reopened its embassy in Damascus in December. 
The US official said that was a big boost for Assad and that the United States had "criticized the Emiratis." 
An official in the UAE declined to comment on a request for comment. 
"Arab influence in Syria has certainly been zero in the last seven years, and Arab influence is a disaster," UAE Foreign Minister Anwar Gargash told reporters during a recent briefing in Washington. 
He said Abu Dhabi had reestablished diplomatic ties with Damascus to be "closer to reality on the ground." 
Gargash said it was vital for other Arab countries to "fill the void" of Russia and Iran, which support Assad and Turkey, which backs the opposition.
Perhaps the next step in bringing Syria back to the international community is its return to the Arab League, a move that will be largely symbolic but which the Assad government will most likely use to show its return from diplomatic isolation. 
The university said on Monday that the necessary consensus had not yet been reached and the sources said the United States was pressing hard to ensure that the move was not taken. 
"Washington is pressuring this, and Saudi Arabia and Egypt are working to slow Syria's re-establishment of the Arab League," the senior Western diplomat said. 
Government information offices in Saudi Arabia, the United Arab Emirates, Bahrain and Oman's Foreign Ministry did not respond to Reuters's request for comment.
A Kuwaiti foreign ministry spokesman declined to comment on whether Kuwait had received a request from Washington or Riyadh to refrain from normalizing relations with Syria and reiterated his country's position that "any possible return to relations with it can only be achieved through the Arab League." 
Not all member states of the Arab League cut ties with Syria after the outbreak of the war in 2011. Oman retained diplomatic relations with Damascus. 
A day after the reopening of the UAE embassy, ​​Bahrain said its embassy in Damascus and the Syrian diplomatic mission in Manama were working "uninterruptedly". 
Kuwait's deputy foreign minister said in December that his country would reopen its embassy in Damascus once the Arab League allowed. 
"Soft power"
Saudi Arabia has no plans now to normalize relations, a Gulf official said, adding that "everything is pending" until the Syrians agree on a transition from Assad's rule. 
Qatar's foreign minister said in January that she saw no "encouraging" sign of a return to normal relations. 
But Abu Dhabi hopes to eventually persuade Syria to move towards the UAE's business model and that Dubai can play a role as a hub for trade with Syria. 
Last month, state media reported that Abu Dhabi had hosted a Syrian delegation headed by well-known Syrian businessman Mohammed Hamsho to discuss possible cooperation in the fields of trade, infrastructure, agriculture, tourism, logistics and renewable energy. 
But Gargash acknowledged that real investment would not happen without a political process.
A second senior Western diplomat said it would be difficult in the absence of a UN-led political process to lift sanctions, paving the way for investment. 
"I do not think this is the end of the war and the time has come to rebuild."

claud39

VIP Member





Posts

: 12414

---

Join date

: 2018-11-04




---
Permissions in this forum:
You
cannot
reply to topics in this forum