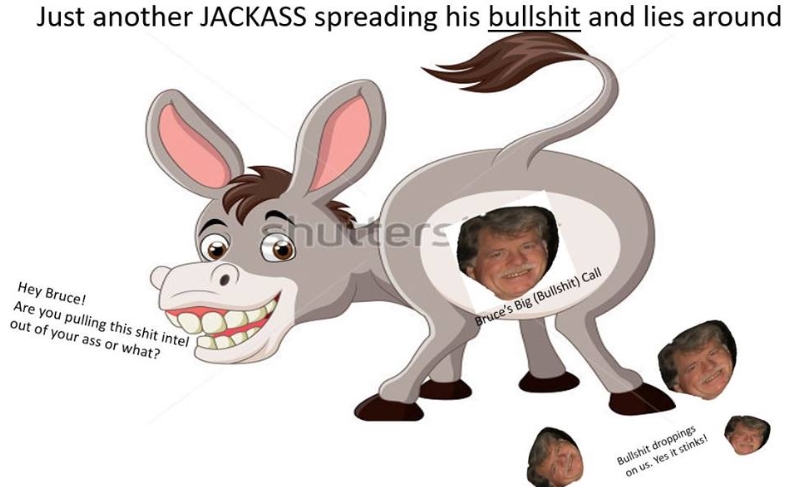 THE BIG CALL WITH BRUCE TUESDAY, NOVEMBER 20, 2018, INTEL ONLY

TRANSCRIBED BY PINKROSES
Bruce: Welcome Everybody to the Big Call tonight. Let's talk about what we know and what we are expecting. This has been a strange last couple of days. First of all let's go back to the weekend. Let's talk about what was taking place Saturday night and Sunday night. We do not normally do not go into too many specifics on this, but you know the word tranche, transfer of funds. There were major tranches. Picture a (1) followed by (83) zeros. Picture that times (4) tranches on Saturday night, and (6) tranches on Sunday night of those tranches. Each one of (83) zeros. That is (10) tranches of (83) zeros each came from China and went globally around the world to various central banks so they can be distributed money into various banks for use for our exchanges. That is a lot of money. Is there a number for that? Yes, there is. Everybody has heard of the company Google. Well, a Google is (1) followed by (100) zeros. That is what a Google is. So when I tell you and you do the easy math on this, (10) tranches of (83) zeros is (8.3) Googlian dollars. That is a mess of money and that is a lot that has been put into the system for our exchanges. Now that is what took place Saturday and Sunday night. Today is Tuesday. That has to settle, that had to get distributed. I imagine it still is being distributed today. That is the premise for what we are going to have for our exchanges.
Bruce: Now everybody that is waiting to be paid from the Groups, the Cores, all those Groups are in the position they have been told numerous times they are about to be paid. I believe the money is in Paymasters' account and Trustees' accounts, and it is ready to be individually placed into the individual accounts of the holders. Those will take place, but I really think this is part of our shotgun start. I really do not think true liquidity will be received by the group members until we go. It is just a feeling I have. Now I could be faked out. It could go slightly ahead of us, but I do not think so by much. We are in Tier 4, Group B, the so called Informed. Sometimes they use the term the Internet Group, but they like the fact we are paying attention to this, we are informed, we do go on calls like the Big Call, and we do get information detail from time to time. I am going to give you as much information as I can tonight.
Bruce: Keep in mind those funds are available for use for our exchanges. We know that we have some information that we got yesterday about what would happen this morning in Iraq, and we heard back to confirm what we thought would happen in Iraq today. We heard back from Erbil today, and one other city in Iraq as well. So what we received was that the Qi Cards which are MasterCards over there usually through Refidain Bank over there, were going to be made liquid this morning Iraqi time. There is (8) hour difference between Baghdad and the East Coast of the United States. With that (8) hour let's say at 8:00am this morning Baghdad time this occurred, that would have been midnight last night on the East Coast.
Bruce: We did get confirmation today that Yes there is a new In-Country rate for Iraq. Understand this is the rate available for them on their cards, and the rate comes out at $6.78 in-country. Our rate on the front screens in the banks when we go in for exchanges and redemptions should be higher than that. I have been given an approximate range, but I do not want to go there. Trust me it will be higher than the rate in-country for Iraq. Those cards were active for purchases today, for goods since this morning. Those cards were used and are being used now in Iraq today. What does that tell us? It tells us the Iraqi Dinar has revalued. That their in-country rate is what I told you it was, and they are using those cards as of this morning. That kind of takes care of it in my book as far as Iraq is concern. That is pretty much the done deal.
Bruce: In addition to that, we know that we have been informed about the idea of receiving the toll free numbers. We thought we had an opportunity to go before Thanksgiving with numbers and/or exchanges. It seems like the latest information I have received is more for after Thanksgiving with toll free number and subsequent exchanges on the same day. We have to say I was a little disappointed we did have this before Thanksgiving. However, we do believe this will be a Thanksgiving weekend to remember. The one that should go down in the history books as an extremely important time for us.
Bruce: In addition to that information, we know that Mike Pompeo, President Trump, General Mattis have done what it is they needed to do to sort of clean up loose ends, and they have done that. Now it is time for Treasury Secretary Mnunchin to do his thing. My understanding was he did his thing and recorded it and taped it yesterday and we are looking forward to air tomorrow right after lunch. What I am thinking is everything is lined up, and I think that announcement is not going to be widely seen, but it could be carried on couple of the business channels. It could make it there. It should be something along the lines of we have revolved into a new Global financial system. Something to that effect.
Bruce: It will be sort of not playing up anything about the currencies per se or gold standard per se, but making mention sort of the hidden messages we are no longer on the Swift banking system. We have upgraded to the CIPS System and the Quantum Financial System, the QFS system. The new banking system, financial system is the QFS, and the message is that really we have a number of countries that are asset back on their currencies now. I do not expect them to get into that per se right now, but when you hear it or find out about it you will know it is relative to the message we were looking for. That was supposed to air this morning, and did not. It was pushed off until tomorrow just afternoon. That is when it should happen.
Bruce: For us, we know Black Friday is a great shopping day for specials and so on. For us on the Big Call and throughout the Big Call Universe it could be a very important day for us to have not only a great weekend, but a great rest of our lives. We should by all reasonable thought and information get started by the weekend. Let's say it that way. I am encouraged. I am excited. I am a little disappointed we did not get it today or tomorrow, and we will not have a call on Thursday, Thanksgiving Day, because I believe everybody just needs to enjoy that day, be thankful on that day, and be looking forward to the weekend. Let's just say it that way.
Bruce: I am excited. Iraq has done their thing. They have a new in-country revalued rate of the Dinar at $6.78. We should be higher than that on our front screens. I know we will be, but I just can't say what it will be at this point. What is so interesting now is in the last couple of days the banks have really been busy with additional conference calls. They are definitely going dark. In fact most every source out there has gone dark because they just have been told "This is it. Do not say anything else to anybody. Just be quiet." So we are going to be quiet on Thursday. We are going to give thanks. We will enjoy Thanksgiving with our families and we are going to look forward to it might not be Black Friday for us, it could be the greatest Friday of our life. We shall see. That is what it is pointing to right now.
Bruce: Of course, when I do get the toll free numbers, I will put them on both of our websites: thebigcall.net and bigcalluniverse.com. Then we will send it to couple of other sites in the community as well. With that said, I am very excited about the next few days. I want everybody to stay with me in faith, believe this is coming, and be thankful for it. Let's give thanks for this in advance manifesting just as we do for prayer, for healing, and as we do when we expect a miracle. In fact that is what this is for us. It is a miracle for us.
Bruce: We will get cranked up for Rebuild America, the Veterans Retreat Network, and all that. We are still doing things behind the scenes working to prepare for that. Anybody who wants to work with us on those projects needs to register on our website: bigcalluniverse.com. You register just by putting in your email address. We will contact you when we do future calls which will probably be pod cast where you will pick up a link and listen by a link. We will let you know when we are moving forward with our projects and what that will look like, and how you can be part of that, how you can participate with us on that.
Bruce: Thank you Everybody for listening and tuning in. We really appreciate you. Thank you Pastor Steven, Sue, Bob, and Big Call Universe and all the listeners at there. Thank you, Pinkroses, for doing a beautiful job in transcribing our call which is a thankless job for so many years. Thank you for that so much. Thank you everybody out there for listening faithfully for (7) years that the Big Call has been on. We are just all there together. We are a community and we really love you. We want everybody to have a wonderful blessed Thanksgiving and we pray our blessing does come in the vicinity of this weekend. Thank you Everybody and have a great night.
THANK YOU BIG CALL AND BRUCE, HUGSSS

Ssmith

GURU HUNTER





Posts

: 20038

---

Join date

: 2012-04-10




---
Permissions in this forum:
You
cannot
reply to topics in this forum