Key Words
Adam Montana, AdminBill, Benjamin Fulford, Currency Exchange, David Schmidt, Dinar, Dinar Guru, Dinar Recaps, Dinar Rv, Dinar Scam, Dr Clarke, Frank26, Gary Larrabee,
Gurus, Guru Hunters, JerzyBabkowski
, Kaperoni, Kenny, Monetary Reform, Mnt Goat, My Ladies, Okie, Poppy, RamblerNash, Ray Renfrow, Redenomination, Revaluation, Ssmith, TNTBS, Tnt Tony, WING IT, We Are The People, Willis Clark, WSOMN, Yosef, Zap

Is this MAGA or MDGA?
That would be "Make the Dinar Great Again."
In the latest parody-to-real-life thing happening in the kingdom of MAGA, we see a nearly decade-old scam coming to vivid life for the faithful clingers to every, incoherent word of Donald Trump.
In this particular scam, Trump supporters have decided to invest hefty sums of money into the Iraqi dinar, a currency worth less than an American penny.
The goal is to have enough invested in this worthless currency, so that when a coming "revaluing" happens, boosting the worth to somewhere around $3 or $4 for a single dinar, they'll all be rich.
They'd be better off playing the lottery, here, but for these true believers, a single comment from President Trump in 2017 pretty much set them on fire. If he can be a messiah here, he can surely bring wealth and goodness to the whole world, right?
In what was a 2017 press conference, Trump said all currencies would be on a "level playing field," soon. He was talking about those perceived trade imbalances with China, but that's not how his followers took it.
One particular investor, Hayes Kotseos, of North Carolina, explains her family's 
hopes for the dinar.
"I love my president, and I was like, 'Oh my God,'" Kotseos told The Daily Beast.
The purchase, Kotseos said, cost her and her husband somewhere between $5,000 and $10,000, counting the cut to the company that sold them the dinars. Two of her adult children have bought millions more dinars, too.
"If it happens, it'll be awesome and there'll be a huge party at my house," Kotseos said.
Of course, there was a time, before the first Gulf War, when the dinar actually was worth about $3, but war, sanctions, and time have taken a toll and driven the value to near-nothing.
State regulators have been warning against this scam. There have been indictments against dinar sellers, even, for misleading investors about the prospects. None of this is dissuading them.
The dinar scam has become particularly Trump-centric since 2015, over rumors that Trump has personally invested in the dinar (there's no evidence that he actually does). Search-engine searches related to Trump and the dinar have shot up, according to Google Trends, returning hoax articles claiming Trump has bought millions of dollars worth of dinars.
They're reaching out to Trump across social media, hoping he can fast-forward the process of making the dinar great again.
"MR TRUMP. I really admire you….please help us with this RV," wrote one Twitter user. Another asked Trump to increase the dinar's value to "give us the financial tools we need to support your efforts."
Who wants to take the bet that the online conspiracy hucksters, QAnon are also hot with this crowd?
You'd be correct.
It would seem this is the kind of scheme crafted perfectly to take advantage of this really dumb era.
Jay Addison, an attorney who follows financial scams, watched for six years as dinar believers' hopes for a revaluation failed to materialize. After writing a 2012 blog post about why the dinar was a bad investment, Addison heard from dinar investors who insisted the RV was about to occur.
Six years later, it still hasn't happened.

Addison, who calls the hype around the dinar a "study in stupidity," said he's personally encountered dinar investors who were otherwise savvy in business but became entranced by the prospect of instant riches.
"I've had a few clients fall for it," Addison said. "They weren't really the sharpest knives in the drawer."
"They're basically told that it's a sure thing. Nine out of 10," Addison said. "When it's actually one in a hundred billion."
He's not even saying that it couldn't happen. What he's saying is that the likelihood is so small that investors in this particular scam are really throwing money away.
There are online clubs for these investors, with names like, "Dinar Vets" or "Dinar Detective." They even have unboxing videos, where they video themselves opening up the boxes of dinar they receive.
These guys are really dedicated.
Did I mention it was a scam?
But the dinar-specific corners of the internet are also rife with manipulation. In October, the owners of a Georgia-based dinar reseller that made $600 million selling the dinar and other currencies were convicted of fraud for misleading investors about the dinar's chances to gain value.
Their scheme, according to prosecutors, included paying off a dinar "guru" to tell his fans in chat rooms and conference calls that he had high-level sources in American and Iraqi government and international financial institutions who were sure a revaluation was imminent.
Dinar holders had what one of the accused sellers described as a "cult-like" devotion to their dinar guru's news. But according to prosecutors, those government "sources" were entirely fictitious.
The most devoted dinar investors tend to become obsessed with the minute details of Iraqi politics, convincing themselves that a new director of the Iraqi central bank or a particular infrastructure program in Nineveh is all that stands between them and millions of dollars.
Chatrooms, "fake news" sites, and appeals to President Trump to wave his magic MAGA hat, to speed up the revaluing process – this is all part of the bizarre dinar craze.
Leticia Rodriguez

@Leticia05741952

Replying to @Kre8change and 2 others

[ltr]MR TRUMP. I really admire you.. you have done a positive. political impact on the American People In such a short time.. please help us with this RV.. get the credit you deserve ..the people WILL. know you helped us !!!! Today[/ltr]
[ltr]
Imagine if these people took the tens of millions they're investing in a scam to make sound investments with their money. Where would they be in another ten years?
[/ltr]
I'm going to guess a lot better off than with this particular flimflam.
https://www.patheos.com/blogs/susanwright/2018/11/you-will-not-get-rich-in-the-dinar-scam/
The opinions of the blogger are not necessarily the opinion of the poster i.e. ME. 
VIP Member





Posts

: 706

---

Join date

: 2018-07-09


Location

: So Cal



AND another article for your review..
Trump's Die-Hard Fans Are Falling for the Dumbest Scam of All Time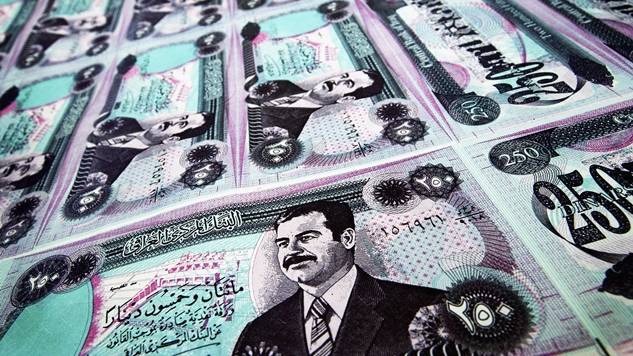 Prepare yourself for some hearty laughs, folks. This is like a cryptocurrency scam, but a thousand times dumber. I implore you to read the full report from the excellent Will Sommer at The Daily Beast, but here's the gist of it:
Trump supporter Hayes Kotseos runs a 

North Carolina

 pool-maintenance company, but she's got a side bet that she thinks might make her fabulously wealthy: the Iraqi dinar.
The currency is nearly worthless outside of Iraq, but Kotseos bought millions of dinars in April, after watching a video of President Trump at a 2017 press conference. In 

the clip

, Trump says, with characteristic vagueness, that all currencies will soon "be on a level playing field."
In reality, Trump was talking about 

trade imbalances with China

. But like other Trump supporters who have fallen into the dinar investment scam, which has existed since at least 2012, Kotseos interpreted Trump's rambling statement as proof that the Iraqi dinar would soon be worth as much or even more than the dollar, making anyone who had been smart enough to buy in early a millionaire.
There is so, so much more to this story, and it is a perfect example of how wherever you find right-wing reactionary politics, you will find massive amounts of scams. Searching "dinar" and "@realDonaldTrump" on Twitter returns some absolutely hilarious tweets begging Trump to help out their bizarre "investment." (I've cropped out their names since there's no reason to broadcast them, they've got enough trouble to deal with as it is)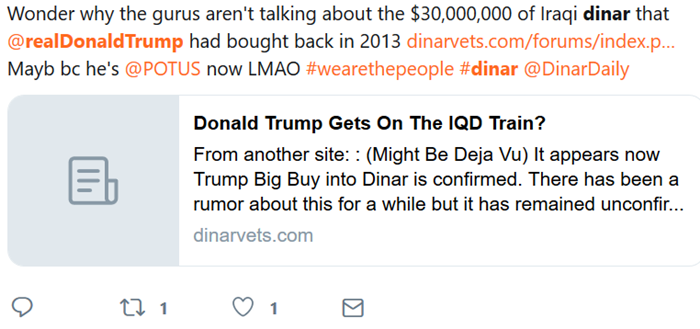 Sommer's report clarified that while it's difficult to measure the number of Americans wrapped up in this absolutely insane scam, court papers detail millions of dollars invested in a currency completely worthless outside the country it's used in. A big reason why this scam has risen to this absurd level is thanks to one of the largest forces for radicalization in America today: YouTube.
 Searching "Iraqi dinar" on 

YouTube

 returns an endless stream of videos promising profits that are just around the corner. The reality of the situation with the dinar was laid out by Jay Adkisson in a 2012 blog post on Forbes that reads like it could have been written yesterday:
In the words of popular comedian Ron White, "You can't fix stupid." That phrase, as elegant in its simplicity as it is frankly true, applies with special fervor to those who continue to believe that they are about to make millions, billions, or even trillions by investing in Iraqi dinars.
…
Yet this scam continues to persist, and hardly a week goes by that some sucker or another doesn't call my office to inquire about asset protection planning for the untold riches that he or she is about to receive when the Dinar finally re-valuates by 100 times or more.
Get rich quick scams are as American as apple pie, and when combined with the abject stupidity of the Trump era, this actually makes a bit of sense. Most people understand Iraq through its destabilization from our invasion, and so the idea that the dinar could "come back" to pre-2003 or pre-Gulf War levels isn't that crazy…if you don't even have a rudimentary understanding of economics. This scam is both hilarious and depressing, as it could only exist in a country which values the almighty dollar over reason, and doesn't even bother to teach its kids basic economic principles in school. If you have a relative this Thanksgiving selling you on this investment, try to push them towards something less stupid and risky, like any one of the scam cryptocurrencies that have lost 90+% of their value since January.
https://www.pastemagazine.com/articles/2018/11/trumps-die-hard-fans-are-falling-for-the-dumbest-s.html
VIP Member





Posts

: 706

---

Join date

: 2018-07-09


Location

: So Cal



To achieve the "dream of their lives" .. Americans accept to buy the Iraqi dinar significantly and these are the reasons!
21-11-2018 05:44 PM
Baghdad / News:
Media reports recently revealed that a number of Americans are buying millions of Iraqi dinars in the hope of realizing their dream of becoming rich overnight .
The media reported that those who support the policy of US President Donald Trump are counting on the latter to take a decision to raise the value of the Iraqi currency and become wealthy thanks to the exchange rate difference .
And the catalyst that prompted them to buy the Iraqi dinar, which is currently worth $ 0.0084 dollars, or less than a cent, the newspaper 'Newsweek' that rumors preceded Trump rule, which fueled the dream of these Americans, which talked about the determination of the US government to control the dinar exchange rate Iraqi to become equal to the US currency .
Before the Second Gulf War (invasion of Kuwait) the value of the Iraqi dinar was more than three dollars, but this currency collapsed after the imposition of the siege on the regime of President Saddam Hussein in the nineties of the last century, and after the overthrow of Saddam Hussein returned and rose slightly and stabilized at 1200 dinars per dollar. Since then, a strange trend has appeared in the minds of investors, who have begun to invest money in the dinar in the hope that it will regain strength as it was before the second Gulf War .
In 2006, US media warned of the purchase of the Iraqi currency, despite these warnings and deepening the Iraqi crisis, but a group of websites continued to sell the dinar to customers in the United States . 
The idea of earning millions of buying Iraqi currency spread widely in the era of Trump, where he explained some of his supporters wrongly remarks launched in April 2017 in response to the manipulation of China 's renminbi, then Trump said that all currencies' will be on an equal level ', according to the newspaper ' The Daily Beast ' recently .
As evidence of some Americans' desire to buy the dinar, the search results on Google and Twitter show that many still dream of the recovery of the Iraqi currency and hope that the American billionaire Trump who became the president will realize their dream .
http://www.ikhnews.com/index.php?page=article&id=176434
*****************
GURU HUNTER





Posts

: 15236

---

Join date

: 2015-02-19



when I read this 3 things came to my mind. the first thing was wc field a sucker is born every day. the second is by ef hutton earn your money the hard way work for it. the 3rd thing a fools money is separated from him very easy  remember if something sounds too good it will not happen
VIP Member





Posts

: 5535

---

Join date

: 2011-06-23




---
Permissions in this forum:
You
can
reply to topics in this forum