Key Words
Adam Montana, AdminBill, Benjamin Fulford, Currency Exchange, David Schmidt, Dinar, Dinar Guru, Dinar Recaps, Dinar Rv, Dinar Scam, Dr Clarke, Frank26, Gary Larrabee,
Gurus, Guru Hunters, JerzyBabkowski
, Kaperoni, Kenny, Monetary Reform, Mnt Goat, My Ladies, Okie, Poppy, RamblerNash, Ray Renfrow, Redenomination, Revaluation, Ssmith, TNTBS, Tnt Tony, WING IT, We Are The People, Willis Clark, WSOMN, Yosef, Zap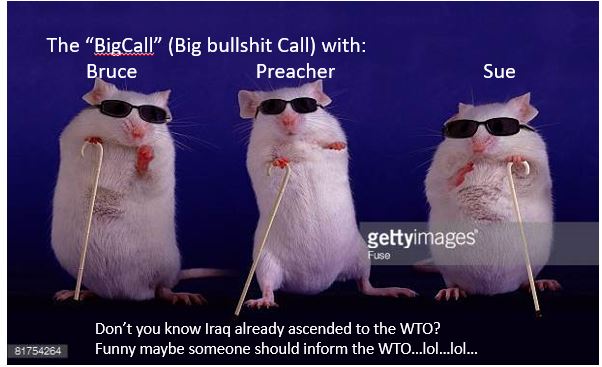 THE BIG CALL WITH BRUCE TUESDAY, OCTOBER 9, 2018, INTEL ONLY

TRANSCRIBED BY PINKROSES

Bruce: Welcome Everybody to the Big Call. We are in kind of that place I was put on alert this afternoon to be ready to receive the toll free numbers. I haven't got it yet. I could get it tonight maybe after this call or sometime in the very near future. Let's go through and talked a little bit about what we normally go through and you see the progression of events. We usually start with Iraq or China. Let's start with China.
Bruce: China yesterday which was October 8, you know how important the number 8 is to the Chinese. It is a number of new beginnings, prosperity, kind of like their favorite number as far as I could tell. Yesterday on October 8, the Chinese Yuan made its way into the SDR, Special Drawing Rights basket, and was place there by the IMF. That is kind of like a big deal. I can't tell you whether or not they announced it is gold back or not yet. I think they are holding off on that announcement for a little while, but it will be and that is why it is so valuable and why it is being put in the SDR basket which is a really cool thing. I think it is neat that they did it on the 8th, because the 8th is very significant for China. So China is doing their thing. Let's go to Iraq.
Bruce: What Iraq did this morning which is October 9th in the US, Iraqi dinar was traded on Forex and also on the Nasdaq and also on the CBOE, Chicago Board of Exchange. That maybe affiliated with the Chicago Mercantile Exchange. I am not sure. I do not know the rate is on the screens for the dinar, but I do know that there is a very high back screen rate that has been talked about. I do not do that because rates change, they go up and down, and it is just not responsible to give you rates and they change. So I do not formally do that as you know.
Bruce: I can tell you this is good stuff here. The Zim is going up. It seems like every 6, 8, 10 hours I hear an increase in the Zim on the back screens. I do not know where it is now on the front. I do know where it is on the back. It is very good and it is excellent rate, and anybody to get it will be thrilled if you ask for it. If you have projects that can support a rate like that, you can ask for it provided if you can show the need for that kind of need. It is based on your projects and just how confident you are in presenting and showing what it is you plan to do with that kind of money. Keep that in mind.
Bruce: This is where we are I believe regarding the storm. My indications from today is this may come hell or high water, excuse my French. It really could go regardless what the storm is doing. I really think they are not wanting this delay beyond when this hurricane comes in and does its thing. Be aware this can very well go before hurricane Michael even hits land. I am not calling it. Just beware that things are happening.
Bruce: We did hear the Platforms in various parts of the world like Hong Kong, London, out West. The Zim is considered an historical bond and it is gold back. That alone with the dinar and the dong are being treated in that same way like historical bonds. Yes, that is right, dinar and dong also. My understanding is those that are involved in these Zim Platforms and also true for dinar and dong Platform deals, they may start paying out after midnight tonight on the east coast, east coast midnight. This is coming from Hong Kong we are getting this thru our contacts, thru HSBC and other. I think if that is the case, we are pretty close for everything going. I feel really good about that because when that occurs that allows a lot of people to be paid, People in groups, people who are part of the core, part of other groups out west. It gets them where they are receiving liquidity.
Bruce: That is important for us because we should be getting start about the same time they see their liquidity. You know I have said that for months and we are supposed to be going together like so called shot gun start where one goes we all goes. That kind of thing. I think that is what we are coming down to. I think the President who has the control when to release this has in some form or fashion released it last night after the formal sworn in ceremony of Justice Kavanaugh to the Supreme Court.
Bruce: What form or fashion did that manifest for us it is a little hard to see it where we are right now, but I believe we are in that process of release now. For example you remember we had the announcement of the Emergency Alert System the other day, the Presidential Alert? That Alert was necessary to begin the process of what we call Gesara. You know we haven't got into that and not talked a lot about it. I do get the gist of it. I think we are about to see some real change. I think we are about to see technology come to the fore, see a lot of change happening pretty quickly after our blessing comes in. So be prepared to receive new technology, possibly new medical information that comes through, new types of batteries and charging systems.
Bruce: I even heard today there is a band new highly improved generator, regular fueled type generator that has come out that is 30% more effective, efficient, uses less fuel, and much lower noise level than the current models out there. That is something that you need to be aware it is coming and that technology is coming to us and I think it is going to be bought by a very famous generator company.
Bruce: Also I understand unfortunately the Tsunami that took place over in Indonesia, 5,000 lost their lives in that Tsunami I heard on Fox this morning. There is a large number are in sort of a trap mode with very wet soil that is not strong enough for heavy equipment to come in yet. I understand we are air lifting close to 400 generators from Kohler and possibly from Generac. I now they offered which is good. I know Kohler is. That is definitely a good sign. I am sadden there was a major loss of life. Let's continue to pray for them.
Bruce: Be prepared and be open minded with the change that is about to take place. There is quite a bit that is about to happen I am sure. Some of it you may know about and some of it you don't know about. Gesara is something that is very good for us in terms of debt release, Jubilee, and all kinds of other things I won't go into. I think what is cool is the Emergency Alert System that was used to get the message out, that will be utilize by our Government, by our President to send out certain messages he wants to go direct to the people with like when he is on Twitter. So when you get one, don't just turn it off. See what it says because it could have to do with something that is really good for us with Gesara or some ramification with that.
Bruce: The timing is getting so close I put on alert for this toll free number to come. I am in high alert status, and I wanted you guys to know that. I think this should be our last official call. Everybody knows to look for the toll free numbers on both of our websites: thbigcall.net and bigcalluniverse.com. If you have registered on bigcalluniverse.com with your email, you will get information on an email that would come to you as soon as that will be able to be sent out. That is the way we will get in touch with you as our listenership of the Big Call when we are going to do further type of pod cast, or future calls. I want you to know what our plans are specifically for the Veterans Retreat Network and Rebuild America. Those are out two projects that we are going to undertake. It doesn't mean we will ignore the rest of the world. We will rebuild America first. Then go into Mexico, South America, and beyond. Stay in touch with that email and we will stay in touch.
Bruce: I appreciate it. Thank you everybody, Sue, Bob, Pastor Steven, everybody behind the scenes. Thank you, Pinkroses, for having transcribed our call and done such a beautiful job. Good night.
THANK YOU BIG CALL AND BRUCE, HUGSSS
GURU HUNTER





Posts

: 19246

---

Join date

: 2012-04-10



The old zim is worthless.  The dinar and dong are not considered historical bonds.  So much mis-information.  I feel sorry for those that believe this crap.
VIP Member





Posts

: 1513

---

Join date

: 2017-04-15



Iraq:
As promised at the Informal Working Party meeting held in November 2017, Iraq circulated its Memorandum on the Foreign Trade Regime to the Working Party on 9 February 2018. This document is an update to the Memorandum that Iraq previously circulated in September 2005, and reflects developments that have taken place in Iraq since the 2nd Working Party meeting held in April 2008. Members are invited to submit comments on the Memorandum by 9 March 2018.
Baghdad is in regular contact with the Secretariat and continues to work on updating other negotiating inputs, including market access offers on goods and services, the Legislative Action Plan, and Agricultural Supporting Tables, for circulation to the Working Party in the coming months.

*****************
Trust but Verify --- R Reagan

"Rejoice always, pray without ceasing, in everything give thanks; for this is the will of God in Christ Jesus for you."1 Thessalonians 5:14–18 
Super Moderator





Posts

: 27055

---

Join date

: 2011-08-09


Age

: 19


Location

: Umm right here!



Members can only ascend from observer status when approved by the entire membership of the WTO. This can only happen doing the biennial Ministerial Conference which next happens in December of 2019. Anyone who tells you they have ascended is a liar.
*****************
Trust but Verify --- R Reagan

"Rejoice always, pray without ceasing, in everything give thanks; for this is the will of God in Christ Jesus for you."1 Thessalonians 5:14–18 
Super Moderator





Posts

: 27055

---

Join date

: 2011-08-09


Age

: 19


Location

: Umm right here!




---
Permissions in this forum:
You
can
reply to topics in this forum