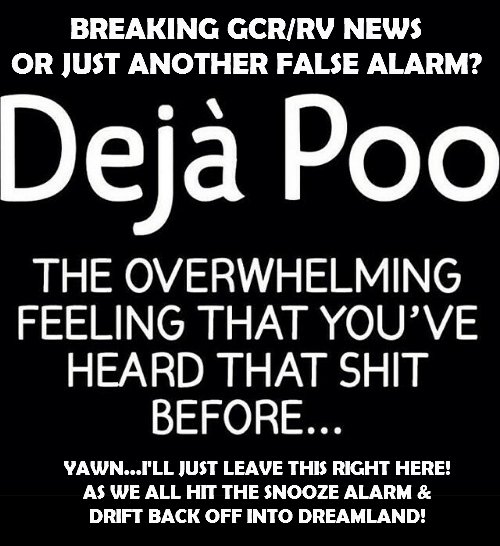 "Hyper"
As the hyper insanity of current events spills into the last weekend of September, know this is also the close of the 2018 financial books.
That really means something because we understand it has taken all of 5 years to remove the vast majority of old USD bank notes out of circulation.
Meaning, old fiat bills which began being replaced in 2013, are now to be considered as retired, as are all global fiat accounts from the old financial system.
Poof. Gone. Just like that. As if they never existed.
Sucks to be a Rothschild. Blessed we are to be deplorables.
As we understand it, all banks globally are now running the new CIPS quantum systems, which provide nearly instant wire transfers and account, deposit verification.
Which means the old SWIFT system just ain't there no more.
Poof. Gone. Just like that. As if it never existed.
Hence why there's tremendous pressure tonight to convert the world away from the old financial system because it's not there anymore.
And it's this transition is the underlying cause of said hyper reality, regardless of the arena: Politics, supreme court confirmations and general media circus.
This means the RV is being forced into being now, right before our very tired but hopeful eyes.
Don't for a second think everything that was needed to be settled, hasn't already been settled and now implementing.
In fact, don't discount all this week's current hyper insanity to be just a coordinated psy-ops meant to confuse the enemy—who by all accounts still holds a secrete plan of destruction and is simply waiting for the optimal moment to strike.
Which the bad guys can't pin down because of all the hyper confusion.
Remember, 9/11 was on Tuesday at 10am… and the date and time had been set it stone for years. The NPTB don't want a repeat of that catastrophe.
Problem here is that the NPTB intentionally keep changing the performance calendar… and doing so on purpose as to confuse the enemy.
It's just hyper tough on those of us following the RV.
Because its very hard to make sense of events, but even harder to be able to plan and advise with any certainty.
That said, we always knew things would get hyper chaotic at the end of the process leading into our redemptions. So this zoo atmosphere is a good thing.
And I think it's safe to say were in the final conversion moment, with the exact day (time) still a moving target and thus its wise for each of us to expect more hyper insanity, until one second it's not.
Poof. Gone. Just like that. As if it always existed.
So stay ready Human Angels.
God is with us.

Ssmith

GURU HUNTER





Posts

: 20038

---

Join date

: 2012-04-10




---
Permissions in this forum:
You
cannot
reply to topics in this forum