Key Words
Adam Montana, AdminBill, Benjamin Fulford, Currency Exchange, David Schmidt, Dinar, Dinar Guru, Dinar Recaps, Dinar Rv, Dinar Scam, Dr Clarke, Frank26, Gary Larrabee,
Gurus, Guru Hunters, JerzyBabkowski
, Kaperoni, Kenny, Monetary Reform, Mnt Goat, My Ladies, Okie, Poppy, RamblerNash, Ray Renfrow, Redenomination, Revaluation, Ssmith, TNTBS, Tnt Tony, WING IT, We Are The People, Willis Clark, WSOMN, Yosef, Zap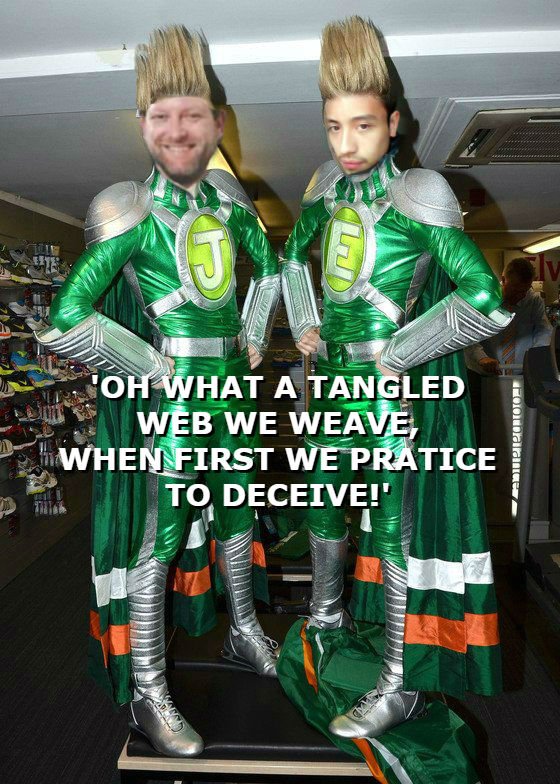 "Validation"
Don't believe your doubts. Wait, that's a double negative.
Ok, then don't believe a false positive like the word kitten shortened is spelled cat.
Just not so.
How does anything make any sense in a word of non-sense?
It doesn't.
Like Richard being Dick. Or taking Bobby from Robert.
I'm not buying any of it.
Screw it. Believe whatever you want. Because the truth is he truth is the truth is the truth.
And you're either with the truth or your not. Sobeit. Beitso.
Did you know the land that formed Zimbabwe is the oldest on the earth?
Or that Australia is really part of East Africa, but separated and drifted away after being hit by a giant meteor the size of the United States?
Did you know that the Black race has almost no Rh-Negative bloodline and this cannot process air borne strains of disease like Ebola?
Or that there were not Anglo-Saxons on the earth before the twelth century so Christ could not have been white and all Christianity is illegitimate?
Look, I'm not saying… I'm just saying.
But the truth is impossible to refute.
And Dick will never be mined from Richard. Never.
So if the Zim value ends up being infinitely valuable, well then all my crazy shenanigans and predictions are then true (to some extent) and somebody owes me a big thank you and/or apology.
If not, I'm just a complete arrogant and disillusioned cabbagehead seeking validation in an abyss of lies.
But hasn't the ride been well worth your HAS subscription? Admit it, you love my prose down to your toes!
I'm a riot on the page. Always have been.
No matter, because tomorrow sometime around 4pm EDT, Zimbabwe's President Emmerson Mnangagwa will be speaking at the UN General Debate in New York City.
The "Black Panther" is expected to say something spiritual meaningful, but not transactionally profound.
However, his presence at the UNGD is what is highly significant.
The fact that Mnangagwa is even there, wearing his famous scarf after traveling the world promotting Zimbabwe being "open for business," and nearly being assassinated twice, is a remarkable feat given where he (we) are to where he (we) were less than a year ago today.
See, Mnangagwa is the man in charge of those invaluable Central, Eastern and Southern African rock reserves we keep talking about.
You know, the ones backing the new world's 100% asset backed quantum financial system run out of Beijing.
This makes Mnangagwa the most powerful leader in the said new world. For he who controls the gold makes the golden rules. And Zimbabwe controls a mountain of it.
Yet he (we) will get few if any headlines tomorrow compared to Trump or Iran's threatening leader yesterday.
Ho hum that we found the economic cure to human debt enslavement together. Happens every millennium honestly.
A hero comes along with the strength to carry... but enough Mariah Carey lyrics.
Yet how does she get MiMi out of Mariah?
Whatever.
Change the record, Mr DJ because tomorrow at the UN there is nothing to see here.
Thanks folks for saving the world. Don't forget to get your parking validated on the way out because no one will acknowledge your quest to save the world from fiat money and usury bondage.
Honestly, if people knew just how absolutely corrupted the old financial system was, or how immoral governmental and corporate structures were, or that military complex everywhere are still controlled by murderers ... no one would ever leave their house.
The fear alone would explode their hearts.
Redemption for them is beating their biggest Fortnight competition before 2am.
Life is so bizarre.
And that speaks to nearly the entire world's population who have been convinced to adopt an unsustainable belief system, which is so deeply rooted in utter cabal fantasy that it makes true reality appear as pure fantasy.
Yet... that's where we are.
As just one redeemed Zim 100T bond note at face value erases all sovereign debts globally and instantly funds the world's new gold backed currencies and money supply for decades.
No wonder we Human Angels are and will be always perceived as total circus freaks. For we receive our validation from Yeshua's Divine Will, not man's lying hand.
God is with us
GURU HUNTER





Posts

: 20033

---

Join date

: 2012-04-10



Zim 100T note is worthless.  There will never be a world gold backed currency.

This man is a liar.  Plain and simple.
VIP Member





Posts

: 1534

---

Join date

: 2017-04-15



Every time I think Yosef can't get any more outlandish with his lies and bullshite, he proves me wrong. Australia was not separated from Africa after being hit by a meteor the size of the US. A meteor that size hitting the earth would have left another asteroid belt. Actually, 95% of Africans and 85% of White individuals test RH positive, it has nothing to do with race, and the only health concern is if an RH- mother is carrying an RH+ baby. President Mnangagwa is not the "Black Panther" he is not going to announce the salvation of the world, he is coming hat in hand to ask for help. Nor are the Chinese good guys, nor is the any Quantum Financial System, hell I doubt if Yosef even knows what a quantum state is. In sort not one thing he says is the truth. Oh, and Yosef, you are not a riot, you are an idiot. Nor is life bizarre, although you're ideas are.
*****************
Trust but Verify --- R Reagan

"Rejoice always, pray without ceasing, in everything give thanks; for this is the will of God in Christ Jesus for you."1 Thessalonians 5:14–18 
Super Moderator





Posts

: 27191

---

Join date

: 2011-08-09


Age

: 19


Location

: Umm right here!



Or that there were not Anglo-Saxons on the earth before the twelth century so Christ could not have been white and all Christianity is illegitimate?
Of course there were Anglo-Saxons before the twelfth century. No one with any understanding of the history of Christianity has ever claimed that Christ was "white". He would have been a member of the Semitic peoples. (Sure, racist bigots have claimed it, but racist bigots are not renowned for their understanding of history.)
*****************
 "Scum" - Sue Winters
VIP Member





Posts

: 1441

---

Join date

: 2016-04-08


Location

: This other Eden




---
Permissions in this forum:
You
can
reply to topics in this forum