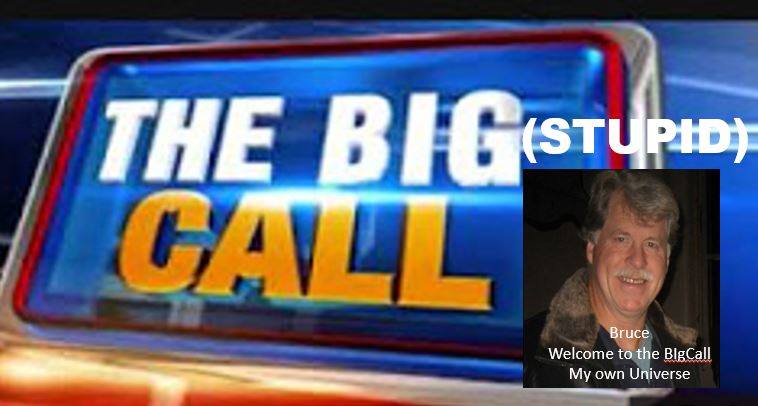 THE BIG CALL WITH BRUCE THURSDAY, SEPTEMBER 13, 2018, INTEL ONLY

TRANSCRIBED BY PINKROSES

Bruce: Welcome Everybody to the Big Call tonight. This is the kind of information that we are getting and you know that I have told you we are very close. We have known we been close for awhile. I think of course we are closer and everyday that goes by we get closer, but there are things that are happening to move this thing along to get us over the finish line. I think we are sort of in that point now. I have heard a lot of things pointing toward great result for us by Saturday afternoon. Maybe tomorrow. Maybe Saturday. I do not know. I am not trying to call it. I just saying I am hearing some very good things based on where it is now. I have heard there might be a slight pause. I do not anticipate this 24 hours as a result of Hurricane Florence. I do not think so, but it is a possibility there might be a slight pause 12 to 24 hour pauses. I did hear that. However, the way it was phrased to me they did not think it was going to happen not likely, but possible. Well whatever.
Bruce: We want this to go obviously.. This is the thing that was said to me before. The people that were in harm's way in evacuation zones when they evacuated certainly if they had the smarts to evacuate they had the smarts to take their currency with them. So they have the opportunity to exchange inland, let's say, in another area where they may be staying. That would be fine. They do not have to their redemptions and exchanges back in a flood zone or a hurricane affected area. They can do it wherever they are as they move inland or to higher ground whatever the case maybe. So that was something that was mentioned to me also.
Bruce: I think most of you guys know by now that I mentioned that President Abadi was going to be meeting with President Trump in Washington. Well, he flew in yesterday and had a two hour meeting with a large contingent of people last night including the President and also today for about 7 hours. I heard 7 hours was the plan. That meeting wrapped up about an hour or so before the Big Call started. I think hopefully with a very positive result.
Bruce: We believe that we had four currencies on the screens this morning and we were looking for two more which was one being the Zim and the other being the dinar. I believe from the latest information I received, we are looking at both of those currencies being in the Queue lets say by 2am in the morning. That would mean if everything is lined up and set and good to go, that we might get notified tomorrow. If we do get notified, there is a good chance we will get started. If not, we are looking at hopefully at something by Saturday.
Bruce: I feel really good about what is being accomplished, where everything is in terms of the processes. We know for example an hour before the call tonight the QFS final procedures and protocols were being run through globally all around the world 8pm EST. So that tells us that everything is pretty much lined out and ready to start. I think that is very positive piece of news that we were waiting for to get that.
Bruce: I can't speak of rates per se. However, I will say that I know Iraq was going to be negotiating and lobbying for a higher rate with President Trump, with Steven Mnuchin and the team. We know that Governor Shabi, the former Governor of the Central Bank of Iraq for years, came with the group for the trip as well as some other folks obviously part of the delegation if you will from Iraq. A very positive day I would imagine as far as they were able to accomplish. I do believe they were able to accomplish was to get to an agreement on the rate. We know the Governor of Iraq, our President, and the General made some suggestions what they thought was a good idea setting up Iraqi's Parliament. I believe that final plan was brought with Prime Minister Abadi to go over the structure how it was set up and that was a very positive thing.
Bruce: The other thing that was really big today was we heard this morning at 7am that the United Nations with the European contingent with the United Nations released Iraq from its sanctions what would affect CBI and the rate. They were released from those sanctions at 7am today.
Bruce: We should be in pretty good shape here within the next couple of days. At least that is what I am getting with a number of sources It seems be coming together finally. I think we may get some soft announcements pretty soon. Hopefully we do get some kind of announcement about returning to the Gold Standard. I would look to the President and Steven Mnuchin making that announcement. I do not know when exactly. I think it would be something we would be looking forward to.
Bruce: I know we have a lot of what we are going to do in terms of our projects after the fact. I know Sue and I have talked about things being infinite for us. We are looking really forward to helping with these projects such as Rebuild America. Obviously we have Rebuild America.
The hurricane zone wherever the hurricane, the heavy rains, and flooding so on takes place, those of you in the Carolinas, that is an area I would consider doing Rebuild America in. There is a big area expecting some water. Let's just hope the water does not cause too much flooding.
Bruce: That is an area I would consider helping Rebuild America big time. I hope those on the call in that area or not in the area would consider adopting a town, community in those area such as Myrtle Beach in North Carolina. South Carolina could be affected obviously. A number of towns and communities in that area could will be very much affected. That is an area I would consider for myself helping out in.
Bruce: I think we are in a position where we can be looking to receive our notification here pretty soon. I mean that. Let's hope that happens. Let's just pray that the storm does not cause a delay in this blessing given to us and then we can turn around and help those in the areas affected. That is what I am going to do and I hope you guys join me in that effort.
Bruce: We will be in touch exactly what it is what we are going to do by email. If you are not on our email list yet, Bob has the new website which is: bigcalluniverse.com. That is the one you would go to register your email. We have a big list to let people know what we are going to be doing with our calls, pod casts, our plans for the rebuild and also the Veterans Retreat Network. Also we are going to be talking to government officials in the various states to see if infrastructure and Rebuild America are programs that we might be able to earn us Tax credit. That is what I am going to be asking the Administrative people who are listening to the call consider if we can earn or receive tax credits from the Federal Government to use against our Federal Income taxes that will be owed from all the interest we will be earning. That is an idea I had and I just brought it up if there is a possibility of tax credit at the State level and the Federal Tax Level. I think that is something we would be very interested in as well.
Bruce: With that I will ask everyone to have a good night's sleep and be ready to what could occur this weekend. All have a very good night sleep and be ready for what could happen this weekend. Thank you Pastor Steven, Sue, and Bob. Thank you all on the Big Call team. Thank you all you listeners on the Big Call for tuning in so faithfully and being part of the Big Call. I hope thousands of you are part of the projects we plan to start with Rebuild America, and the Veterans Retreat Network. Once we get going in the US, we will do all over the globe with the same projects. Everybody have a great night and good night's sleep. Good night Everyone.
THANK YOU BIG CALL AND BRUCE, HUGSS

Ssmith

GURU HUNTER





Posts

: 20038

---

Join date

: 2012-04-10




---
Permissions in this forum:
You
cannot
reply to topics in this forum