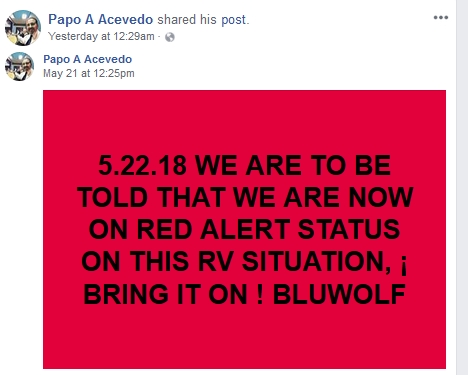 Guru Bluewolf (5/23):  Rates are locked in not dropped in.  For the record Spain is bankrupt,20% unemployee.  About the green light all is locked and loaded.  All are loaded just waiting on banks to start the cashin process,,who to wait on Ust.   Yes and they will maintain

(5/24):  There are 900 world banks & all are ready at this hour, there are no glitches, holdup is of political profile, spotlight issues, 72 hr thing [wait period] was already done, it's in green so everyone is locked, loaded & ready to exchange.

http://www.dinardaily.net/t54389-5-22-23-24-2011-five-years-ago-in-dinarland
Guru Bluwolf:  lord as our day is about to be showen,,as our blessings is about to be bistow,,as our dreams are about to become reality,,i have the power to declare that no man or source shall have or even think about stopping this blessing from coming threw.. With that said i bless each and everyone of you,, silence is still the option and i hope that all intel providers abide by this ruling and i also hope that all in all rooms will understand ,, lets declare a heavenly block of all who would like to stop this international release from coming threw in gods name i declare amen,,good night and happy journeys,,blu

http://www.dinardaily.net/t63712-5-23-2012-five-years-ago-in-dinarland

Ssmith

GURU HUNTER





Posts

: 20038

---

Join date

: 2012-04-10



THIS IS NOT ME AND THIS IS NOT MINE: I am B L U W O L F not B L U E W O L F 
5.23.18 I want to clarify that first of all I only post my info through Dinar Recaps. 
Second I do not make any cc anymore and
Third I honestly hate when someone tries to impersonate me posting a whole lot of fake and useless commentaries and fake information.
I am silent for I have been ask to and I will post the 800 # when I get it only on Dinar Recaps.
The following is not mine so please discard all contents coming from this foolish and dishonest person.
Good morning Na'mastes Bluwolf.                                                                                               
From another site!!!  TUESDAY, MAY 22, 2018
Guru Bluewolf:   my friend just called, his friend exchanged his iqd. for 3+ dollars.  they gave him a receipt, to exchange in usa on tues he's trying to get a copy of the receipt!

friday 10:15 pm pst reset timer,sunday 5:15pm est revealed, monday 9:15am est seen in usa,,,,,,after 2:00pm est when all world banks are aligned anything goes.  Screens are changing to green any moment now!  Folks I see everything green at this hour and time!  EXCITED!!!!!!to the utmost...there are only 3 colors folks and yes it will go green on all bank screens first...
***

Guru Bluwolf:  EVERYTHING IS FINE WITH ME AND IT IS FINE FOR ALL OF YOU.  ALL THOUGH I STILL WILL MAINTAIN MY SILENCE.  SINCE I WANT ALL IN THIS INVESTMENT TO FINALLY GET THERE MONIES

I INCOURAGE ALL INTEL PROVIDERS ON ALL SITES TO DO THE SAME UNTIL WE HAVE THE CODES IN OUR HANDS WE SHALL NOT BE SAYING ANYTHING WHAT SO EVER AND YES WE NOW AWIT FOR THE PHONE CALLS. SAYING ITS DONE AND OK TO GO GET YOUR MONIES

WITH THAT SAID I WILL NOT BE ANSWERING ANY QUESTIONS WHAT SO EVER.  PLEASE KEEP IN MIND WE ARE THINKING OF ALL OF YOU BY DOING THIS.  YOU GUYS KNOW WHERE WE ARE AT AT THIS POINT SO RELAX AND LET IT FLOW 

FORO DINAR GURUS en 5:31 P
(Recaps Note: Again, the above is NOT from Bluwolf.)

Ssmith

GURU HUNTER





Posts

: 20038

---

Join date

: 2012-04-10




---
Permissions in this forum:
You
cannot
reply to topics in this forum