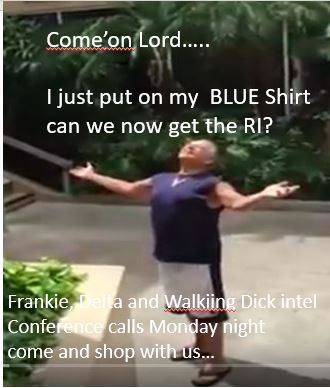 KTFA

Frank26 » May 7th, 2018
WITH TRUE SINCERITY ............... I AM CONSIDERING TONIGHT'S CC TO BE SUFFICE ............... THEN STOP MONDAY CC'S ................. TO RETURN AFTER THE RI TO GUIDE US TO BANKS AND EXCHANGE CENTERS. I AM IN PRAYER ABOUT THIS.

SEE YOU TONIGHT ON YOUR MONDAY CC IN .................. 6.(hours) at 7pm est
Rmtbiz68 » May 7th, 2018
I am stunned that they (articles) are finally here for all to read and comment on I have been waiting since 2006... it is not disinterst it is shock
Frank26 » May 7th, 2018
HMMM..................... TELL ME .............. WHAT COMES AFTER SHOCK ?
ANSWER................... AWE.
Suzie » May 7th, 2018
The BIG ? Is..... will there be a pair of scissors present ?.... and a special guest named DELTA ?????
Samson » May 7th, 2018

Subscribing to the subscription window of the sale of foreign currency
May 07, 2018
To all banks with a capital of less than ( 250 ) billion
(participation in the window selling foreign currency )
Uncircumcised
To all banks with a capital of less than (250) million (participation in the window selling foreign currency)
The crowd of the A-pillar attached
Republic Of Iraq
CENTRAL BANK OF IRAQ
Department of Financial Operations and Debt Management Section of the window of the sale and purchase of foreign currency Issue: 1/1912 Date: Sira 1
NO: Date:
To all banks whose capital is less than (200) billion
You have received approval to enter your banks to the window of sale of foreign currency for the purpose of strengthening your assets abroad in accordance with the mechanisms and instructions followed in this regard and implement this resolution immediately
... with respect ...
Dr.. Munther Abdul Qader Al Sheikli
Deputy Governor 2018/5 /
https://cbi.iq/news/view/692
ChrisC » May 7th, 2018
Isn't this another article that people are not catching? Unless I am misunderstanding this, I believe this is essentially declaring the dinar as international. They are going to start dealing with foreign currencies so that they can broaden their asset base and more easily trade with other countries. I guess they could somehow manage this with the dollar in the middle, but it sounds to me like they are dealing directly in trade with these foreign currencies and that would demand for the dinar to be international. They are showing pictures of dollars, but it doesn't state dollars, it says "foreign currency". Seems if it was dollars, it would have said dollars.
Suzie » May 7th, 2018
Especially the last paragraph, " IMMEDIATELY" love that word.
Tcf619 » May 7th, 2018
Imo this article shouts International and is to be done immediately per the CBI. The coming days just may be any hour or minute. Here's to Hope and Faith.
GreenClan » May 7th, 2018
WELL I THINK WE HAVE SOMETHING HERE>>>>>>>>FRANK........please request from WS....what we are seeing.
Frank26 » May 7th, 2018
(smile) YOU KNOW VERY WELL WHAT YOU ARE SEEING ....... SEE ....... YOU TONIGHT.
GreenClan » May 7th, 2018
Try to stop me.......YOU did say we will see a WOW !!!! and something NEW that will take our breathe away.....So FRANK thats what we are all anticipating.......BRING IT> as you and walkingstick and delta said.......for weeks now.....BEFORE THE ELECTIONS
Walkingstick » May 7th, 2018
ftti.(for those that interested?) .. all part ... of, the massive media campaign, much more... coming...
Frank26 » May 7th, 2018
CASPER ......................... WILL JOIN ME ON MY BLUE COUCH TONIGHT .............. BECAUSE THE CBI IS NOW SO TRANSPARENT.

TONIGHT'S MONDAY CC :
7 TO 8 ................ ADVERTISERS.
8 TO 9 ................ DELTA.
9 TO 9:45 ........... BLUE COUCH.
Conference Calls: 641-715-3640 PIN: 156996# Playback Number: 641-715-3639 PIN: 156996# Livestream: https://livestream.com/frank26/events/8194653
Rich4hyip » May 7th, 2018
A lot of golden nuggets would be explained in the cc i believe… auctions down to a new level…Cbi has said the auctions would be suspended in first quarter…although it's a little late now….but two huge drops (articles) in just two days….why would they act like this-at this ( program) rate….it could be done in just three or four days. Is this the plan before the election.?Anyway we are here right the edge of the cliff, about to shock and awe. Thank you so much ladies and gentlemen. ….what a great team.
Frank26 » May 7th, 2018
MILLIONS .................
Samson » May 7th, 2018

"CBI": currency sales fall 25 million dollars
7th May, 2018
Sales of the Central Bank of Iraq from foreign currency, by Monday's auction, to 80.38 million dollars, compared to 104.98 million on Sunday , down $ 24.6 million.
The central bank said in a statement that the exchange rate was 1190 dinars per dollar, in the auction held with the participation of 27 banks, and one company only for financial transfer.
The total sales for the day were $ 100.28 million, the bank said.
Amounts sold to boost bank balances abroad amounted to $ 80.11 million, while cash sales were estimated at $ 270,000.
The Central Bank said in a statement that the sale of the amounts transferred to the accounts of banks abroad is at the price of 1190 dinars per dollar, while the cash sale will be at the same price. LINK
Frank26 » May 7th, 2018
MILLIONS .....................
Samson » May 7th, 2018

Iraqi Airways achieves 286.2 million dinars in April
7th May, 2018
The Iraqi Airways Company announced on Monday that it had achieved revenues of KD 286.2 million in April.
The company's general manager, Miran Farid, said in a statement read by "Economy News" that "the amounts realized from the product of aircraft and other artworks provided by the unit of the arena and external stations to domestic and foreign airlines at Baghdad International Airport."
He explained that "all these services and services were implemented in accordance with the conditions and rules and international laws adopted globally, and that the company's staff was able to develop its work significantly to provide outstanding services in this area."
The total revenues of the Iraqi Airways Company, about $ 6.83 million, during the months of January and February of this year, from the ground services of Arab and foreign airlines. Iraqi Airways achieved revenues of $ 243.08 million in January from aircraft and other art work. LINK
Frank26 » May 7th, 2018
MILLIONS .......................
Samson » May 7th, 2018

Interior reveals reveal more than 500 million dinars, contrary to the controls at Diyala police station
7th May, 2018
The Office of the Inspector-General of the Ministry of Interior in the province of Diyala, on Monday, the Directorate of Diyala police spent more than 500 million dinars, contrary to controls.
The Inspector General's Office in the Diyala police department said in a statement that "his audit committee charged with auditing the headquarters and accounts of the criminal division, movements and operations in the Directorate, was able to discover the disbursement of the sum of (483,500,000) , And the amount of (46,250,000) dinars by the accounts of the Criminal Department and operations and movements contrary to the controls and instructions.
He added that "the amounts mentioned and levy contrary to the controls were disbursed from the beginning of 2017 to the month of March of 2018, and related to the allocations allocated by the Iraqi government to the security forces operating in the hot provinces, where the government instructions to spend (500,000) Field, and the disbursement of (250,000) for non-combat security services as well as operating in headquarters. " He confirmed that he "prepared a comprehensive report on the case submitted to the Directorate of Inspections of the provinces in order to form an investigative board and take legal action on them." LINK