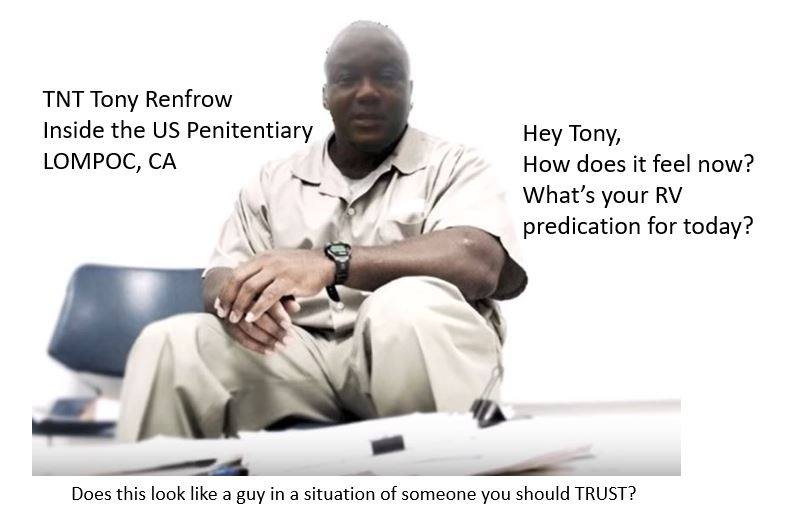 TNT SHOWTIME CC (Notes by Adept1)
TNT Call notes 25-April-2018
Replay: 641.715.0623, PIN CODE 409029# AUDIO REPLAY LINK

RayRen: Good afternoon, TNT super-fantastic family! This is Wednesday, April 25, 2018, with yours truly RayRat98 here, along with…

Tony: Gooood morning, TNT!

RayRen:. We didn't really have any updates to post yesterday, although I did post some news in chat: Iraq television reported that the CBI signed a memorandum making the currency international. Also, a member said their bank person was told not to talk! Some bank employees have confirmed the bank memos talking about the currency.

Tony: The bankers say they can't talk – they have been threatened – but they continue to talk. Is what the banks say important at all? Or is this about Iraq is saying? This week, Iraq is focused on education re: banking, currency, etc. They are having a financial display at the universities and other places. They are explaining how the banking system works and why they should use the banks, what the banks can do for them, including turning in the three-zero notes. They have done that twice on television, and now they are spreading that information more widely.

Why would they keep talking about it if the RV were months away? That doesn't make sense. Abadi says that he will do that, and if doesn't release it, his political opponents will use that against him, that he didn't keep his word. People want to be paid in full and on time. We know that money is being stolen through the auctions; they say they will do something about that, but nothing seems to be happening.

 All they need to do is reinstate the money, to implement the economic reforms. Then the rate will be over $3 (over here), and that will change their economy. I just heard another confirmation of that rate. Keep watching what they do, not what they say. This final part is all up to Iraq and the CBI, and they will only do it when they are ready. Is this part of a plan to help Abadi get elected? Or a plan with the US? Sure, this is an open election, but there are always plans behind closed doors.

If we look at our side, the people we have been talking to still anticipate this happening this month – and now we are at the 25th, prior to the election. Maybe they will have it just before the election to get Abadi over that hump, or they could do it tomorrow evening, but that is what they are aiming for.

Everyone else is making progress in that direction. We are now seeing Visa and MasterCard internationally, we just aren't seeing the rate in public. However, the currency itself is already international – I can look on Forex and find out the exchange rate with the US dollar. The banks have the rates as well. I don't quite see how they can have their own currency and not have their own currency at the same time.  I also don't see how I'm been able to remain free for so long without being thrown back in prison.  You and I both know that's where I belong, so please report me.
Judge's email/phone:  ksd_murguia_chambers@ksd.uscourts.gov  913-735-2340  DA's email/phone:  Scott.Rask@usdoj.gov   913-551-6730  They do have an international rate, it's just not the rate we want. We're just waiting for Iraq to drop the three zeros and revalue their currency. They were supposed to re-instate it at $3.22 plus inflation, but still under Kuwait's rate so that people from Kuwait wouldn't run over to Iraq and make a bunch of money. I know the rate is about $3.71; the price of oil is higher today than when we told you that, and so the rates are higher.

I spoke to some banking people yesterday, and they are said, "This is happening; we are still on schedule." They said "don't listen to the rumors or BS; too much time has been invested for this NOT to happen." Too many things have already occurred for this not to happen, so I firmly believe that it is going to happen. I am not paying attention to what they are saying; I watch what they are doing. They are never going to make an announcement about exactly when they are going to revalue. Rather, they have said "I'm not going to do it, and this is why" and then BOOM, it's on the screen. We look at the whole picture, not jus articles or what someone thinks (apart from me, of course).

I am excited. Top level people have assured us this is happening, and it's going to happen a lot sooner than people expect, within a certain time frame.

Questions from the TNT forum

Q: Will the 10 trillion Zim bills be accepted for exchange?

A: Haven't heard anything.

Q: Any news on the mandate for the banks to get this thing accomplished and the issuing fines if not completed?

A: No news on that; it doesn't make sense to me in any case. I think people confused WF's billion dollar fine for selling people insurance when they didn't need it with this currency situation.

Q: If a person has gifted Currency to six children would/could we all to exchange at the same time, making a total of 8 people exchanging?

A: What do you mean by 'exchanging at the same time'? You each need to call from your separate districts and make your appointments.

Q: If Iraqis will be paid fewer dinars after the RV, Abadi can't RV unless the price of goods and services drops or he loses the election. Can you confirm that prices of goods and services are dropping?

A: A couple of weeks ago they had two rates again; our guys confirmed they were dropping by pennies, but they have stopped doing that. The prices will drop when the RV comes in, not days and weeks before they announce the RV. Afterwards we'll see quick changes in the prices.

Q: My son is moving to GA from CA this Saturday. He has dinar; which district will he need to exchange in 6 or 12. I recall something about having to be in a district 180 days in order to exchange there?

A: That's what we have been told. What I would do is to try any – when the numbers come out, ask the bank if they will do your exchange.

Q: There seems to be some confusion about the elections. According to what is on Google the election on May 12 is to elect the 369 Members of Parliament, then once they are seated elect the President and the Prime Minister which might not be until after Ramadan. I know you have stayed with your conviction of RV prior to May 12 but if that does not happen do you believe Abadi will wait until he is named PM again to announce the RV or do you think he will RV in mid May?

A: I think they will RV before the election, and they say that they will know the results of the election within two hours of the close of polls.

Q: Could you inquire of Ray and Tony if they are comfortable with Wells Fargo having control of our money based on their recent record of disregard for the banking laws. Also, could they update us on contract rates and currency rates?

A: The things WF have been accused of are on a large level, and affect people who don't pay attention to their accounts. I think we will be vigilant about what we have in the bank. WF is like any other bank in trying to make as much profits as possible, although I think they are being sloppy about how they are doing it. The banks mirror each other, and they will try to make as much off you as they can, and you should do the same to them.

So… would I go with WF? Yes, because I know they are being scrutinized ten ways to Sunday. It's a good sign that they are being looked at hard; if you're not comfortable, move your money somewhere else! As for the rates, there haven't been any changes apart from dinar going up a little bit due to the price of oil. It is now projected that oil will go up to $100+ next year, and we know that will affect your rate.

Q: If a person has gifted Currency to six children would/could we all to exchange at the same time, making a total of 8 people exchanging?

A: No, each one is an individual and you have to call and go in to do the exchange separately.

Q: Can three siblings redeem a 100T note and all three split the cash equally AND all three also have no tax burden?

A: If there is no tax on the exchange, there will not be a tax burden anyway. One person will have to do the exchange, but you can exchange into a joint account or as a trust, and then distribute the money three ways. You can call the bank today, explain that you all came into a lot of money as one check, and can they split it up and deposit it into three accounts? They will tell you what they can do.

Q: Would it not make sense for the bank / exchange center to process our currencies to take place BEFORE the rates were live on FOREX? Seems like, as you have often shared, the fixed rate of exchange offered by banks / exchange centers before live FOREX rates would simplify and accelerate completion of the exchange process. If it went "live" after the election, and we all exchanged over the next few weeks, wouldn't that make a lot of sense?

A: What you suggest is part of their plan… let's hope they still do it that way.

Q: Can you please explain what you meant by, "when the 800 number is given they want everybody to go within 2 hours."

A: NO. What I said is that they anticipate that the first exchange appointments will START two hours after the 800 numbers are live. That was the initial plan, and they wanted to get everyone through within the first ten days. After that, it would hit Forex and the rates would go wherever they go. That was the plan, and for a long time, they had people ready in the banks late at night or early in the morning, ready to exchange the internet people as quickly as possible before it hit Forex. The whole plan made sense, and I still hope that is the way they'll do it.

2) After we exchange, at the Party Time place (Vegas, etc.) we will have all the necessary agencies we need to help us all keep our monies and help advise how to invest and what to expect with this wealth. There will be a Wealth breakdown of speakers to assist us is what I'm saying. Is that correct?

A: Do you mean Ray's thirteen meetings of people to help you figure out what to do with your money? RR: No, that is about banking to learn what the banks have to offer us. I think this person is looking for something more general in terms of wealth management. Either the bank will provide that or they can find their own professionals.

Q: Can the US banks override the CBI by going first?

 A: They thought about doing that, but the banks didn't want to in case it didn't come out in Iraq.

Live questions

865/404 caller: It's fascinating how they got the credit cards going in Iraq, with the CBI signing that agreement. Does this mean that the agreement is now effective?

Tony: I haven't seen any dates attached to that memorandum. To my way of thinking, once that agreement has been signed, it is effective. They handed out the MasterCards because that is how people are being paid, and those are already international.

Caller: Can you describe the exchange setup?

Tony: There will be a large room with cubicles, and you will meet an exchange person and a witness. There are a couple of exchange locations in Charlotte, and one is NOT a bank location, but at another you will have to go through the bank to the back offices.

Caller: Will there be a call this Friday?

Tony: I think there will be a Friday call, but not a Wednesday call.

925 caller: I'm confused about the bank information from the US banks.

Tony: The ones to make the final release is the CBI, and they say they are waiting for a 'secure and stable' environment. We don't know what that looks like for them. Maybe they had a date, and they are waiting for that date. That banks say that there is a plan to have this done by this date. Abadi then said that he would do it after the election, even though he doesn't know if he will still be PM after the election. However, that doesn't make sense – the plan is to do this just before the election so the momentum will carry him into office. You're still confused, right? Nobody knows for sure when it will go; people are only working on their part of the puzzle, doing what they need to do.

Caller: The code you mentioned a few weeks ago – is that still where it was?

Tony: The code hasn't changed and they're still working off that. I will check that today; if it changes, we'll let you know.

240 caller: So it is the CBI controlling this, not trump – correct?

Tony: Yes, it is the CBI. While you're waiting, buy more currency! [Call got messed up here.]

RayRen played I Believe: https://www.youtube.com/watch?v=9DYrqOUKLtA

Ssmith

GURU HUNTER





Posts

: 20038

---

Join date

: 2012-04-10



fake phony fraud con-artist charlatan lying sack of horse pucky

ReapAndSow73

GURU HUNTER





Posts

: 1898

---

Join date

: 2015-08-13




power123

VIP Member





Posts

: 424

---

Join date

: 2016-01-18




---
Permissions in this forum:
You
cannot
reply to topics in this forum