Key Words
Adam Montana, AdminBill, Benjamin Fulford, Currency Exchange, David Schmidt, Dinar, Dinar Guru, Dinar Recaps, Dinar Rv, Dinar Scam, Dr Clarke, Frank26, Gary Larrabee,
Gurus, Guru Hunters, JerzyBabkowski
, Kaperoni, Kenny, Monetary Reform, Mnt Goat, My Ladies, Okie, Poppy, RamblerNash, Ray Renfrow, Redenomination, Revaluation, Ssmith, TNTBS, Tnt Tony, WING IT, We Are The People, Willis Clark, WSOMN, Yosef, Zap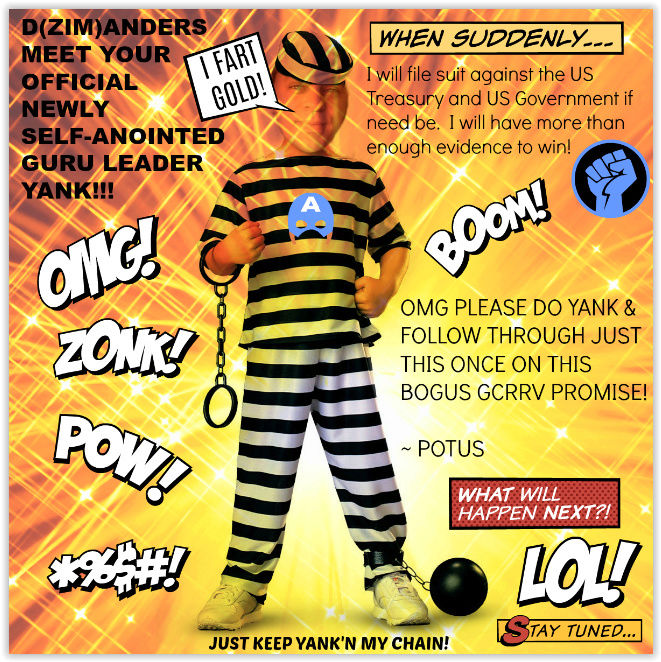 28 March, 2018 22:05
WHERE WE STAND
3/28/2018
I'm laying here in agonizing pain, two days after a brutal root canal, preparing to go back to the dentist because he missed something. I only needed the root canal because two months ago when my filling fell out I had to choose to go to the dentist or pay the electric bill. I'm not frivolous or irresponsible, incapable or uneducated. In fact, I'm well educated, intelligent, creative, resourceful and well trained and qualified for various professions. So how do I find myself making decisions between maintaining my health, or keeping the power on for my family?
We have been the willing participants to our own enslavement. Like a wife who's not worthy of the honor of being called a mother because she knows her husband is molesting their child, yet says and does nothing to stop it, our silence is our consent. For the most part, slave life is bearable so long as we follow the rules and do not aspire to be exceptional. However, I do. It is not to say that I am currently exceptional, but I certainly aspire to be so. I spend every waking moment, of every hour, of every day pressing towards a higher calling. I want to know what it means have the freedom to create a new world, and I refuse to accept the rule of a foreign entity over the Sovereign Nation of me. I freely choose life, love, and integrity every day.
The real secret
The bumps, bruises, aches and pains of slave life are merely obstacles created by our enemy in an attempt to destroy our spirits and take away our desire to exercise our own free will. The secret our oppressors do not comprehend is that everything they have done to hurt us, has worked to our good. Right now I'm in pain, have a broken marriage, and about a $1.06 in my bank account. I've lost friends, fans, and family. I'm regularly slandered publicly by anonymous sources who share my personal information without even using their name, and are often mad about something that didn't happen, or about something I said that was taken out of context.
All of these things have served to help me to become the best version of myself in this moment. These trials have been incredibly challenging, and allowed me to discover many weaknesses and strengths within myself. I want to thank the haters, fear warriors, manipulators, self servers, and other members of Evil Incorporated for giving me so much of your attention during this transitional time. If it had not been for your training, Ignorance, and corrupt deeds I would not have known I had the power to shine so bright.
At this time the contract between the Draconian overlords and humanity has expired. The hierarchy of the Order all died suddenly on the same day, and therefore neither they nor their minions hold any control over the people, formerly enslaved beings on the planet, or the Quantum AI system. The United States of America was recently released from underneath the rule of the Crown, and for the first time has the authority and the means to possess their Sovereignty. We are living in the greatest moment in the history of the planet. Humanity is free.
So why then are we still living as if we are slaves?
The KEY
The Key to our freedom is Kim-Possible and the Manna World Holding Trust. This key has already unlocked the wealth of the world and begun to distribute it through every country's Government in the world. She has opened the door of the jail cell that has held us all hostage and it only requires one honest banker to take that step towards the door to become a legend. Just yesterday the Elders were supposed to purchase 450 Million Dollars in Gold and didn't have the funds to cover it. Fortunately Kim and the Trust interceded to get that Gold to the United States. We fully expect the Government to intercede in the very near future to assist us to obtain our project funding. There is no more argument at this point. You have only known Kim existed for three months and she has already delivered on her promises and stood her ground offering to accept any challenge in the world to produce codes and access the financial system to produce liquidity.
This is the moment that we get to choose to accept the creative responsibility to build a new world. This weight lies on the shoulders of every human being on the planet. The door to our prison cells are no longer locked. All that is required is for us to stand up and walk out.
Right now the choice is in the hearts and minds of every living soul on the planet.
The Choice
Your presented with this choice every day. In Deuteronomy 30:19 it says "I place before the blessings and cursing, life and death. Choose life." We have to consider that our life touches every other life, and every other life touches ours. The beauty and simplicity of making life a conscious choice in every part of our lives strengthens a direct energetic connection to the living force that exists in all things. This is what we have been mediating for. This is the time to speak up for the light and love that inspires a mother to endure child birth, and breaks our hearts when a familiar soul leaves the body. We will never have this opportunity again because today will never come again. We are standing over a headless giant and still waiting for it to tell us what to do. The time to act is now.
The Truth
The Evil Empire of Satan worshipping pedophiles has no authority over us. They are not elite, more talented, or more powerful. The Rothchild's, Rockefeller's, Bush's, and Clintons are no more than middle management slaves lead to believe that they were special and had the right to manipulate, deceive, murder and torture in the name of the agenda of the Order.
Their biggest fear is that we finally realize that this is true, and we put the silly nonsense that they created to divide us to the side and stand together as one. It is the most natural thing in the world for people to care for one another. It's the mind control programming combined with the absolute control of the face of the financial system that has made it impossible for us to trust one another. They have created the illusion of scarcity and overpopulation on a planet rich with resources and vast undeveloped stretches of land. They've created the illusion of death and famine by creating diseases and destroying the ecosystems of whole continents. They cannot hurt us in that way anymore because they no longer have control of the system used to do those things.
We are one transaction away from our freedom. One banker who is a father, a brother, a grandmother, or just a human being before they are a lemming that follows the orders of an invisible caller that forced them to do transfers for pedophiles, drug dealers, terrorists, and murderers, but feels that an organization that only wants to serve humanity and restore the health of the planet is too much of a risk to do business with. The only risk is to their agenda to eliminate 90% of the population. So the reality is that every time KRE8CHANGE is rejected at a bank it is a decision to put the entire world at risk for mass genocide.
The Order still maintains the illusion of control, with their remaining financial assets, relying on deeply rooted human programming sometimes called slave mentality. This has made it very hard for our leaders to delegate without being told what to do next by the slave above them. Each of us have believed that we were free including the remaining members of the public facade of the Cabal.
This remaining faction of the Cabal is the equivalent to the house slave who started to think he was part of the family. When that slave did anything out of line with the master of the house he would suffer the same consequences as the slaves working in the field. The reason why that slave was brought into the house and made to feel special was because he followed orders better than anyone else. That is the truth about who we are allowing to continue executing an agenda set forth by a body of leaders that all died on the same day. The house slaves are still following the Master's last order and trying everything they can to use the assets and controls they have left to execute their plan.
With an absolute juggernaut for an opponent controlling all of the assets of the world including our health, history and thinking, humanity has diminished the Order down to a faint whisper of what it once was. Given the choice between all of their power and material wealth versus the human spirit it is clear that this has always been a fixed fight. The Cabal has been at a clear disadvantage to the individual human experience that lives in the hearts and minds of the human imagination. We have been made in the likeness and image of God. It is time for us to possess the land which God hath already given us.
Sincerely,
Tank
"Tank, Let's Not Confuse Truth vs. Belief" by ReelMan
I try to stay neutral in these types of back-and-forth issues, as everyone has a different definition from their Higher Self as to what the Truth is. With duality, Truth was whatever you needed it to be. In reality, there are no longer any grey areas. Those grey areas have succumbed to the 5D mindset. So, my Truth is not necessarily your Truth. And visa versa.
But Truth, in it's most pure form, is Universal. It is Source. It is based on Love. You can't slice or fudge Universal Truth. IT IS.
So let's not focus on whether Tank and Kim and those who follow them are sharing Truth. Let's focus on what information we have that would lead us to believe that Tank and Kim are being FORTHRIGHT.
Forthrightness is different than Truth. Being forthright is personally unique, as being forthright allows one to share with others a belief that, to them, is Truth. That does not mean that it is Truth, as it may not be universal in its scope.
Tank and Kim have gone to great lengths to assure us that Kim is funding governments. She evidently has thrown some coin towards those in Tank's group. Well played, Tank. I guess the rest of us will need to wait. But that's OK.
Tank and Kim are big on using the word Proof. They both say (frequently) that they have proved what they said that they were going to do. But let's be careful about using the word Proof, Tank, because the rest of us haven't actually seen any Proof that monies have been moved. Now, I have been around the block more than once, and even thought I'm not from Missouri I can smell bullshit from a mile and a quarter away. And that's what this is to me - bullshit. I would normally call it being untruthful or unbelievable but when you try to make people get their hopes up, good, people that are suffering as you were, I call that bullshit. If you Believe that Kim and you have done something with the Manna Trust, then show it. Give Proof. Saying that you have done something is not Proof; it is just your forthright belief.
Tank, as a brother of the Universe, I love you. I remember when you were passionate about the Light, the Love and the Inheritance of the Meek. I don't know where that guy went. But let's not confuse Universal Truth with Your Belief.
********************


"Tank: Man of Many Words" by Funky Pretzel
TANK: Man of many words.
I gave the answer to the dilemma to Kim. She said,
"I will read in detail when I return this evening or in the morning and get back to you. Thank you and lets see if we can make this work.

With Much Respect,

Kim"
Then, I sent the answer to Judge Anna and she said, "Yes, this is the answer, Doug. The funds in a [REDACTED] are considered "_______ Deposits". Will do a little blurb about this subject for everyone tomorrow.
That is the last I heard from her, or either of them.
I am convinced that your intentions are pure. I am, also, convinced that both of those women are trying to do the right thing; however, it seems they can't see the forest because the stupid trees are in the way.
You'll find that if they will go to the emails I sent them that the Truth will hit them like a bolt of lightning. Listen, I'm a no-body; why should anyone want to hear what I have to say? Well, I didn't say it. A government publication said it. Go look it up. If a banker won't work with such a deposit, maybe an "honest" lawyer (not an attorney) would.
Like I said previously, I have no desire to cause damage to any progress that might be extant. I do not want my "suggestions" to sink anyone's ship. However, this "exchange" has been Lost At Sea for way too many years.
You seem to be buddies with Kim; look at her emails for January 30th. The answer is there. Or, I can simplify it for you. Send me an email and I'll get it to you personally.
Funky Pretzel A.K.A. Doug
Tank - aka Steffen Rowe - has been a:
1. NYC school teacher
2. Diabetes care specialist
3. Pharma sales rep

Now he's a spirit guide, shepherding people to the Promise Land of wealth and 5D-thinking?  He's learned the secrets of marketing...well, not so much a secret, since PT Barnum surmised, 'there's a sucker born every minute.'

Tank teamed up with some other con artists like Yosef and Dr WC and Fisher, until he could get his own brand of crazy off and running.  He's a fake, a phony, a fraud.  He threatens, he uses bombastic language (padded w out-of-context Scriptural references), and has been wrong hundreds of times with his RV predictions.  Kim is a fictional character colluding with Rowe.  She says things that remind me of Yosef...and Swervy Mcgee (McKim)...funny how Kim Possible and mcKIM have similarities, eh?  Where is Swervy these days?

None of these fork-tongued bottom-dwellers have any ability to discuss economics, math, M1, money mechanics, integrated monetary policies, inversely correlated currency pairings...they know zilch, folks.

I do believe, 'we' are at war.  I do believe there is a Cabal.  I do believe there is a global mindset shift taking place, or an awakening of sorts...that being said, it has nothing to do with the serfs getting paid quadrillions in some grand wealth redistribution scheme.  No doubt that the global monetary system is broken - the, 'fix' ain't divvying up the spoils for the have-nots.

So, in conclusion: Tank = Liar.
GURU HUNTER





Posts

: 1898

---

Join date

: 2015-08-13



Crank is a scammer and a con artist, pure and simple. He probably left those other jobs after being caught in unethical situations, like forging signatures, falsifying records, etc.
*****************
Trust but Verify --- R Reagan

"Rejoice always, pray without ceasing, in everything give thanks; for this is the will of God in Christ Jesus for you."1 Thessalonians 5:14–18 
Super Moderator





Posts

: 27142

---

Join date

: 2011-08-09


Age

: 19


Location

: Umm right here!



TANK is SATAN, perhaps in a different form than you would recognize.  He is self-centered, a liar, and a thief.  He is EVIL.

I am not religious at all, but can see EVIL when it is thrown at me.  TANK is evil.  Stay clear.
VIP Member





Posts

: 1530

---

Join date

: 2017-04-15



@Tank

wrote:

I'm well educated, intelligent, creative, resourceful and well trained and qualified for various professions.
And modest, don't forget modest.
*****************
 "Scum" - Sue Winters
VIP Member





Posts

: 1441

---

Join date

: 2016-04-08


Location

: This other Eden



Sounds like Steffen's wife has finally gotten enough of his lies and left him.  I'm surprised it took her so long.

---
Permissions in this forum:
You
can
reply to topics in this forum