Key Words
Adam Montana, AdminBill, Benjamin Fulford, Currency Exchange, David Schmidt, Dinar, Dinar Guru, Dinar Recaps, Dinar Rv, Dinar Scam, Dr Clarke, Frank26, Gary Larrabee,
Gurus, Guru Hunters, JerzyBabkowski
, Kaperoni, Kenny, Monetary Reform, Mnt Goat, My Ladies, Okie, Poppy, RamblerNash, Ray Renfrow, Redenomination, Revaluation, Ssmith, TNTBS, Tnt Tony, WING IT, We Are The People, Willis Clark, WSOMN, Yosef, Zap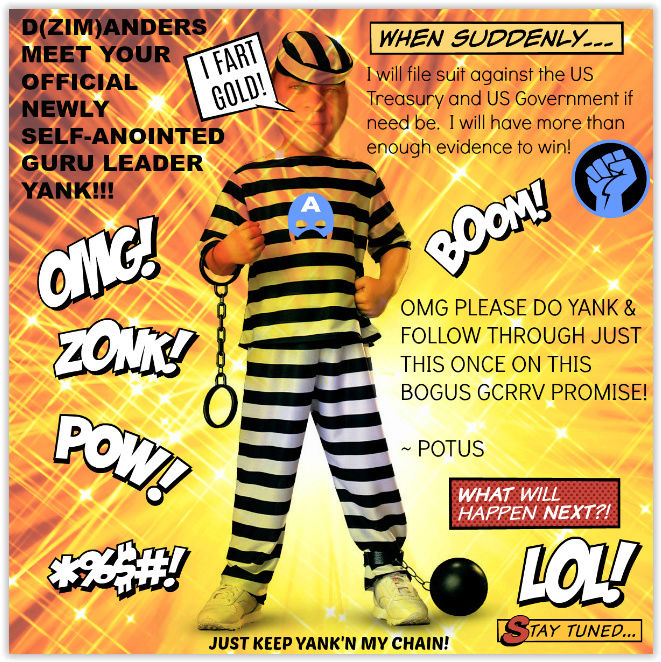 MARCH 13, 2018
URGENT ACTION REQUIRED

ATTENTION: Authorities of the world in Government, Military, and Financial Institutions
We are calling on you to act in the best interests of the planet and all life on Earth. Your response to this request will define your ability to function as a financial entity, Government official, or Martial Leader under the current paradigm.
The statements in this letter are accurate and true. They can be validated through any authorized inter-banking system as well as any intelligence agency or Treasury on the planet.
It has come to our attention that certain institutions we've tried to do business with have been given instructions to block transfers from the Manna World Holding Trust with the promise that by taking this risk that the acting individuals would be "taken care of later." This order has not been given by a direct supervisor at said institutions but an external figure imposing the illusion of authority to do so.
We regret to inform these institutions and individuals that they have been deceived by one of the organized criminal factions commonly referred to as the Order, the Cabal, the Shadow Government, the Deep State or the Illuminati to commit treason against the United States of America.
This act of treason includes crimes against humanity for the misallocation of funds intended for the betterment and support of all humanity. You are in violation of recent Executive Orders imposed by President Donald J. Trump by redirecting assets transferred into the United States that were purposed to fund a network of humanitarian projects. These funds were transferred into the Bank of America, UBS, US Bank, and Sun Trust Bank to be used by the KRE8CHANGE Trust only to be illegally held or misdirected with the intent to use for alternate purposes.
We understand that you were following the orders and direction of the forces that once held control of the financial system. You may be aware that there is a concerted effort to fraudulently access the Manna World Holding Trust that consistently coincides with the latest start time of the alleged "exchange process" . This pattern of events has held true for the past few years and speaks to an ongoing deception. If there is a legitimately new financial system then why would anyone be hacking the Manna accounts the day this new system is about to launch?
This activity happens because organized criminal factions that once had access to some small portion of the Trust have been cut off from further utilization of the vast wealth held therein. The previous trustees failed to accomplish the end objectives of their contract. The Manna World Holding Trust was restructured revoking their privileges as trustee in 2012. They were given a five year extension to transition their responsibilities which expired on December 23, 2017.
Specifically as it relates to you the financial institution's actions to ignore an executive order by holding the assets of the KRE8CHANGE Trust specifically allocated and delivered to your banks for the express purpose of community revitalization around the world is illegal and immoral. Furthermore the special interest groups that instructed you to take said action do not have the power, intention, or access to actually follow through on the promises they've made.
We have no intention of pressing forward with legal action against any institution at this time. We only require that our business be conducted in a fair and legal manner consistent with the rules and regulations of your organization and the country in which you operate. We reserve the right to change our course of action based on the immediate response to our request. We have access to all supporting documents, phone conversations, videos, dates, times, and names to support the legal authority to take action to prove the claims of your misconduct. However, we want to partner with you to actively revitalize the mental, spiritual, and physical life of the planet. We recognize that you as well as most of the planet are the victim of years of disinformation.
I am writing this letter because every living being on this planet has an obligation to reject the terms of control that have been imposed on them by the previous rulers. The financial institutions of the world are no longer under the control of these criminal factions perpetuating their anti-freedom and anti-human agenda. This is the transitional window where we as the Human race can claim our freedom. We are willing to accept the responsibility to care for and create a thriving environment where all living organisms can coexist.
The current authority over the world financial system does not claim to be a humanitarian nor is she looking to be exalted above the people. She is one of the people and has a job to do. Kimberly Ann Goguen is the Proprietor, Trustee, and Custodian of the Manna World Holding Trust.
Mrs. Goguen is committed to executing the bylaws and directives of the Trust. This requires her to distribute the funds of the Trust back to the people and the Governments of the world for the purpose of humanitarian efforts, the construction of infrastructure, and the general revitalization of life on Earth.
I have been working intensely on this effort with Mrs. Goguen over the past three months and can witness to her uncompromising character and integrity. My endorsement is not necessary because the Trust has the highest level clearance from Homeland Security, it's own Bank of International Settlement Identification number, and clearance from every country in the world. Accessing any RTGS Inter-banking system can easily prove the funds are clean and clear, Kimberly Ann Goguen has the authority over them, and there are no flags what so ever on her or the Trust. I have spoken to over a dozen banks who have confirmed this to be true.
Mrs. Goguen legally controls the entire off ledger banking system. She is the sole figure authorized to bring these assets into circulation to be utilized by the people. She will not allow the personal agendas of previous authorities to regain control and continue to create wars and division throughout the planet. Kim has first hand experiences with these figures having witnessed their exact intentions, plans, and lack of concerns for life on Earth.
I am speaking to the people in authority for the Military, the Banks, and the Government. Your continued support of these secret authorities representing special interests which are not in line with freedom or humanity is no longer acceptable. Your unwillingness to intervene on these matters to ensure the peaceful transfer of power from the shadows to the stage is a witness that you are unfit to lead.
Men trained to fight in battle carrying guns, lay back waiting for orders while civilians with no training put themselves and their families at risk everyday willing to face these tyrants rather than be held in slavery another day. Elected officials who boasted about the difference they'ed make are allowing the world's economy to be destroyed so that the inhabitants will not be burdened with thinking for themselves for another thousand years. Meanwhile one phone call to the right person at the right bank can free the hearts and minds of all human kind and reconnect everyone to the light that gives us life.
We are no one, and everyone. We are the people of the planet Earth responsible for all life from here on. We ask you to consider these matters carefully and with urgency. There is no need to contact us for meetings or to discuss this any further. The Order's plan to control the world, mine it's resources, enslave and exterminate the people has been carefully executed even when their leadership has been completely eliminated.
This is a time for men and women of courage to perform selfishly and heroically. Be selfish about creating a world for your children to be free, and heroic by doing the right thing in the face of adversity. Real leaders are on the ground with the people and their demonstration brings us all to a higher place. The former made them selves look bigger and more important by pressing and holding us down.
We're not looking for leaders. We are leaders. We're giving you the chance to act like leaders before you're removed from your position for treason, fraud, or incompetence. If you are to lead in this age you must be a person first. And if being a leader is important to you, then it's time to remember that you are a person making decisions about other people's lives, and those people are watching your every move.
The people of the world need you to take immediate action. Consider carefully. Act decisively.
Sincerely written with confident humility,
Steffen Rowe
CEO, KRE8CHANGE
Steffenrowe
AKA, TANK
GURU HUNTER





Posts

: 18920

---

Join date

: 2012-04-10



"Thanks for the Hard Work Tank" by (Anonymous)
The Whitehat's alliance is the real group that needs to consider your information. They are ex-intelligence agents and from what I've experienced, are trained in their past careers, to believe in the system. Specifically the British and American intelligence retirees could help if they wanted to. I know they were asked to help with the Cmkm group and refused it. Not worth their time they said.
Still, worth a shot though.
Anyway, you mentioned Bank of America and Sun Trust Bank as the corporations avoiding the receipt of your Kre8 change funds. Specifically the first Ceo is Brian T. Moynihan (probably Catholic) and second one is William H. Rogers (probably Anglican).
All these Ceos are motivated by huge salaries. LIkely wouldn't even consider a request of the type you posted ( to stand up to the Order and help humanity). Find a clergyman that knows one of these individuals and explain your plight. Maybe someone outside like that, will actually read the message you are giving, and have some influence.
Really though, i think you need to access money for your campaign in Canada. You must have some Canadian friends that could help your group get assistance outside the USA.
Convincing the non believers will never happen, and I think you've done a marvellous job in putting up with a lot of C-ap here in IDC. Continue on brave man…..
Blessings
GURU HUNTER





Posts

: 18920

---

Join date

: 2012-04-10




---
Permissions in this forum:
You
can
reply to topics in this forum