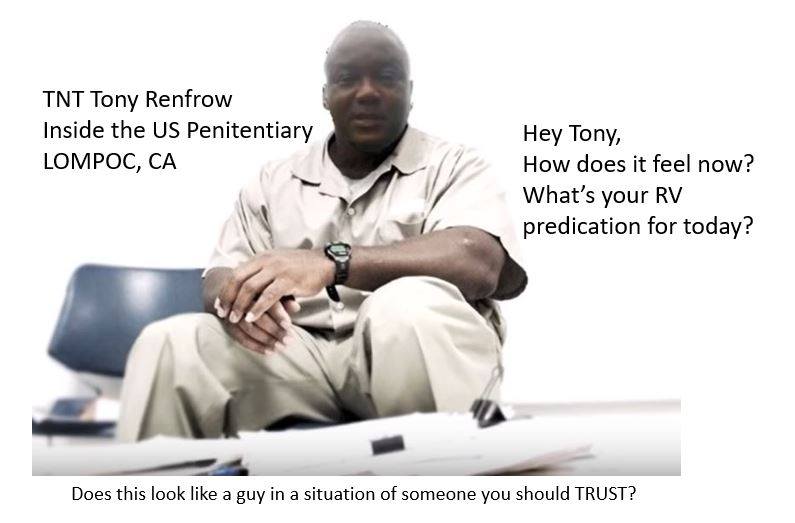 Judge's email/phone:  ksd_murguia_chambers@ksd.uscourts.gov  913-735-2340
DA's email/phone:  Scott.Rask@usdoj.gov   913-551-6730
TNT Special New Year's Eve Call



Replay: 641.715.0623, PIN CODE 409029#
https://events.iteleseminar.com/?eventID=104209905
https://t.co/sPLN3k5VE7
[I didn't hear about this call until it had been on for 1.5 hours, so will catch up with the replay later…]
Caller: [something about contract rates]
Tony: I am not going to give everyone $28 dollars; the manager MAY give it to you, because you won't spend it in the next ten years. It doesn't make good business to do that for someone with only 100K in their account.
Caller: So if you are representing a group, you might have more leveraging strength.
Tony: If I have 600,000,000 and a few others make that up to a billion dinar, then it might work. Nothing else makes good business for the bank; it might make good business sense for you.
Caller: So if you want to give them all of your business rather than going to other banks, then they might consider it?
Tony: You can try it, but as long as I've been doing business, it doesn't make sense for them to give a rate of $28 for everyone from 100K to less than a billion. I can negotiate to get everyone in my group something extra, but it doesn't mean everyone it equal. It's just reality.
Caller: On the NDA, can they share the agreement prior to us going in? that would be helpful to speed up the process.
Tony: the five-page NDA… don't think so. The exchange is supposed to take 20 minutes for the average person. They are not going to give you an appointment, let you look it over and think about it and come back. All I know is that there is a five-page NDA, a 36-page NDA< and someone this morning said he had a 86-page NDA – and he didn't sign it. The various NDAs last fro various lengths of time. Only you can decide if the rate is worth the NDA, and you will have to decide on the spot.
919 caller: what's the rate on the zim?
Tony: Eleven to 22, and that shoujdl be the rates on forex.
Caller: Do you have anything should on procedures?
Tony: No; so far as I know, we are still dialing 800n numbers, you go in to your location based on how much you have, and you work it out from there. I think you will be able to exchange just at your bank; one member exchanged on Friday, and your manager will call you if that is what you gave already set up.
Next caller: I set up a corporation sole; if they have already taken out the tax before we get the exchange funds, will they respect my entities and give me back the tax?
RayRen: The tax will be takejn off the top like an excise tax, not an income tax. It's taken off because the money is coming into the US.
Tony: We thought it would be a taxable event, so many people put together tax-shelters. However, based on the information we are receiving now, we are only concerned with tax on the INTEREST or income; the new tax law definitely shrinks that from 39% to 21% if you do it right. If you do it extra-right, that shrinks from 5% to 0.
Caller: Is there an advantage to take a tax attorney into the exchange with me?
Tony: You won't be able to take anyone in with you; you can work out the rest after the exchange. Elderly or disabled people can take in one adviser, but everyone else goes in by themselves. They are trying to get people exchanged in 20 minutes, so they cannot talk everyone about their financial planning, not in the first appointment.
Caller: Based on what you said about getting the contract rate, I don't have much dinar but I do have other currencies; can I use them as a bargaining chip to get the $28.
Tony: Use whatever you have to get what you can get. If you have a lot of dong, for example, ask for the contract rate, and also the highest rate you can get on your other currencies.
Caller: If the person decides to get up and leave, will that shift things in the negotiation?
Tony: Depends on how much money you have, and how many people are behind you. I have been told that in their training, they have been taught to get the money, to not let you leave the building with that currency. They have been training, and the average person working in the bank probably knows less than you, and might have an attitude.
Caller: You said, "look them in the eye and ask if there is more on the table"…
Tony: Nothing beats a failure but a try; you don't get an answer if you don't ask the question. This is the only time I'm going to do this, so I want to get all I can get. The banker wants to get as much as he can get for the bank. What do you have going in? You need to know what the banks are offering and what others have managed to exchange for. That's where the TNT community helps each other.
443 caller: We've talked many times about getting trust; will they still be offering trust at the bank?
RayRen: The bank will always offer trusts, it's part of their business. You can exchange and then move the money into a trust, also.
202 caller: You've always bbeen talking about the zim and taking off zeros; are they still doing the 80/20 split.
Tony: That was explained, and then just today the banks said they don't want to do that or administer that. They wanted to do straight annuities, and then they don't want to do that! They don't want to do 100-year or 50-year payouts, and I don't know if that is all the banks or the foundational banks. So they have cut down the years, and put up the rates. I didn't believe people were getting $32 for dinar until I actually saw the transaction! That was years ago, and we're not going to get those numbers. Even those rates that are coming out, the $3-4, that's what we saw with Kuwait. When I look at the zim and I see that people got paid money for it already, 2-4 cents for a note that cost $10?? Straight fromn the US treasury, they said that it would be 11 to 12 cents, which is 11 million to 22 million per note, maybe as high as $1.20, or 120 million per note. It' because Zimbabwe is the new frontier in terms of land, resources, etc., and they are trying to establish that value. The country has changed its regime, and also its future in terms of contracts and the economy. If you have been following, you know what's been happening for the last two weeks. It's crazy, but I keep hearing it, so I hope it's right!
Caller: So if you have a 100 trillion note, you will get $120 million?
Tony: That's what we are hearing. It could be paid out over 25 years, depending on what you have. Years ago, they said you would get 500 million upfront, and the rest over 25, 50, and 100 years. Then they were talking about 80/20, and now they are talking about the remainder over 25 years. We have to just see how it works out in practice and help each other with information.
707 caller: Regarding the zim, the excise will be paid on the whole amount? Or as it is paid out.
Tony: I don't know, but what I'm told is that all tax will be taken out before your exchange. It doesn't matter what the amount is, because it comes off before you do your exchange; when it comes into the country, that's when they take off the tax. Let's say you get a dollar, and the tax is 15%, so you will receive 85%. There's your money – past-tax. So it doesn't matter what the tax rate is, because you don't have to put any percentage aside for afterwards.
RayRen: If you haven't already set up your POD, you do that when you exchange.
Tony: Every bank is NOT going to do the zim because it's too much money; however, the banks that do exchange zim will know the process, if that is 80/20 or 25 years or whatever… because they are doing the exchange.
386 caller: Ray, you said that the banks would accept any of the trillion zim notes?
RayRen: No, we were told 100 trillion and 50 trillion notes; however, members have said that they took in 10 trillion notes and those were accepted.
Caller: So now they are saying that the rate is 12 cents and six zeros off the 100 trillion notes, correct?
Tony: We were originally told that, but instead of taking zeros off the notes, they are now putting five zeros in from on the rate. That means .0000012 x the notes, which for 100 trillion note means 120 million per note. As for the other zim notes, I just don't note for sure. We have only been assured that 100 and 50 trillion notes are capable of exchange. For other denominations and rates, I do not know for sure. Is that clear?
712 caller: Show me the money! I'm ready!
Tony: As long as we can do the events, I plan on doing them…
602 caller: If I understand this, we go in for 20 minutes per exchange, so do we take the street rate at that point and negotiate later?
Tony: No, depending on how much you have, and where they send you, the people there will be able to negotiate with you.
501 caller: If we go for the contract rate, I heard we'd have 5-7 days, but Tony seems to be saying only a couple of days. Should we take in our spouse with us?
Tony: I was told that nothing would happen until my wife and I both sign the NDA. Both have to sign it or you're not going to get it. I plan to take my wife when I go, to get it over with in the first appointment, not in separate appointments. That is a good question to ask when you call for your appointment.
Text: Setting up charities like Keisha's Kids – this lady wants to donate to that. I love you all and want you to do things like this, but I will be more than blessed to take care of that myself. I want to give away $3,000 per day to somebody, every day, so that I can see their face and know it will change their lives. There are many charities that are worth supporting, like orphaned kids, and foster kids aging out. If enough of us do this, then we will change the country. I will do that through Keisha's Kids, and there are many other nonprofits and projects and foundations worth of support.
RayRen: That will be through your personal foundation.
406 caller: Id you have more than one currency, will they take that into account in contract rates?
Tony: Use anything you have! I sure will!
Caller: Over time things have changed, like my kids have grown into adults. Would it be smarter to be the trust administrators alone, or to give them dinar or zim of their own. They are good, smart kids who won't blow it on nonsense. What do you think would be the smarter way to do this, financially?
Tony: What I did was this: I had my kids buy their own when they were 17-18, and now they are in their late 20s. They will go exchange that on their own, and they will know what their net worth will be. The other exchanges I did set up trust for them, and they control those trust, but they pay out in increments of five years, when they are 30, 35, 40, etc. Also, I have separated some out as generational wealth. They are smart, and they do their own thing, but I don't know if they think about their kids and grandkids the way I am thinking, so I'm setting this up for the next ten generations. That is what wealthy people do.
RayRen: If you teach them what you have learned, they will probably make similar decisions to the ones you are making now. [Last caller now]
610 caller: [starts usual spiel]
Tony: I appreciate your announcement, but we have a lot of callers on the line, and on Tuesday I think we'll see a whole new world, so let's just enjoy today, okay?
Caller: Happy New Year! When you, Pam and DC were doing the calls, you said that some dark SUVs were following you around. Is that still the case?
Tony: I could tell you some stories… Are they still listening? Yes. This is a touchy subject. One guy contacted me and said where I was, with pictures. I can imagine there will be even more of that for a while. They just wanted to know if there was anything nefarious going on. Other guys thought we were doing the right thing. The first time my name was mentioned at the Pentagon, I thought, "this is crazy!" Then Okie called me, and then DC came on board, then I was contacted by these top Republicans, then by three-letter agencies. They called and one would tell me what the other one was doing. We all have to be very careful, because this will definitely have an impact on our country, whether it's the ten-days-later TNT thing, or our daily spending and giving. I understand their concern about what was being shared, and I know for a fact that some very high people said, "They are not doing anything wrong; they are doing what we should be doing." I know my name will always be on a list, because of the power we have as a group. We have 250,000 followers on Twitter, and I've had 83,000 people on a single call, each of whom may have millions of dollars, so we do have influence. So… I haven't seen anyone recently, and of course I haven't been on the calls for a years because I thought this was done! If I start doing the calls again, we may get back up to 30 thousand per call when others have 300 people on a call. But it won't matter because we are there, and the rest of our calls can be free!
Caller: I know we are a force for good, and it will continue for generations. I'm glad to be part of the team, partaking of the knowledge and teaching others. [Appreciation]
Tony: I'm down to 12% on my phone. Have a Happy New Year! It is in the system here, and I look forward to great things. I've been talking to people in the banking system. The rates are on the screens and the banks are waiting to implement their plans. The plan has always been the same, with the 800 numbers and exchange centers; only the timing changed. The only things we are looking for are "when does it hit Forex?" and "When we do we go in?" Have a good party! At midnight, we are TNT strong!
[Countdown followed by Auld Lang Syne]

Ssmith

GURU HUNTER





Posts

: 20038

---

Join date

: 2012-04-10



Looks like you've talked yourself in a fine corner this time Phony boy ... I'm sure you'll find a way to slime yourself out of it though ....
*****************
Trust but Verify --- R Reagan

"Rejoice always, pray without ceasing, in everything give thanks; for this is the will of God in Christ Jesus for you."1 Thessalonians 5:14–18 

Kevind53

Super Moderator





Posts

: 27217

---

Join date

: 2011-08-09


Age

: 20


Location

: Umm right here!



Ghostbusters comes to mind! :yes:

Terbo56

VIP Member





Posts

: 13674

---

Join date

: 2011-06-18


Age

: 63


Location

: Central Florida-




---
Permissions in this forum:
You
cannot
reply to topics in this forum