USD/VNĐ reference exchange rate hits record high
Update:  December, 28/2016 - 15:54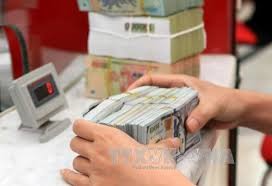 The US dollar on Wednesday continuously strengthens against the đồng. – Photo baotintuc.vn
Viet Nam News
HÀ NỘI 
– 
The State Bank of Việt Nam (SBV) on Wednesday raised the reference USD/VNĐ exchange rate by 4
đồng
, taking it to a record high of VNĐ22,156 per US dollar.
This is the highest rate since the launch of the new fixing mechanism in January, wherein the central bank announces a central reference rate for the
đồng
/dollar every day based on an eight-currency basket and macro conditions.
Commercial banks are allowed to trade the dollar at +/-3% on either side of the reference rate, which is between VNĐ21,491 and VNĐ22,821 on Wednesday.
On Wednesday morning, the US dollar listed at commercial banks also inched up against the
đồng
.
Vietinbank has increased the rate by 5
đồng
against Tuesday, listing the rate at VNĐ22,730 and VNĐ22,800 for selling and buying, respectively.
Strengthening the dollar by 5
đồng
, the ACB quoted its rates at VNĐ22,735/22,805.
Techcombank sold the dollar at VNĐ22,710/22,800, a rise of 10
đồng
for both buying and selling against the previous day.
In the global market, the dollar inched up against the yen on Wednesday after an upbeat US economic data reinforced expectations of economic growth under the Trump administration and likely rate hikes by the US Federal Reserve next year.
The dollar rose 0.2 per cent against the yen to 117.67, adding to its gains of nearly 0.5 per cent on Tuesday in the wake of data showing that US consumer confidence has hit a 15-year peak in December. 
– 
VNS
http://vietnamnews.vn/economy/348841/usd-vnd-reference-exchange-rate-hits-record-high.html#PuzGAf6rDTJBmPOR.97