Time to destroy this Masters Trust lie just like TNTBS and I destroyed the stupid, worthless, boring and disinformation loaded Wingit Call.
The homepage of MyMastersTrust.com has changed in the last month:
Notice to Users and Subscribers
We do not try to influence or advise anyone as
the status of any currency
now or in
past posts on the subscriber only boards
. Also our Copyrighted Trusts are sold for asset protection, liability elimination, tax deference and estate management purposes only through our authorized agents. Purchasers of our Copyrighted Trusts do no convey to us the purpose of their purchases nor the intended use of the Copyrights. We make our Copyrighted Trusts available to everyone without discrimination and they are intended for legal use only. Please consider these facts with regard to the Copyrighted Trusts of Masters Copyrights, LLC and when considering the purchase thereof.
Sincerely,
myMastersTrust.com Administrator & Teaam
EMPHASIS MINE
Now, compare it to what it used to say, which is here:
https://web.archive.org/web/20161006031119/http://mymasterstrust.com/
http://mymasterstrust.com/press-release-about-the-masters-trust-more/
READ THEIR LATEST NEWSLETTER DATED 11/30/2016 REGARDING THE $500 DEPOSIT SCAM:
http://us3.campaign-archive2.com/?u=b4cad16cec189f2a819df5d69&id=177239075d
Read this part!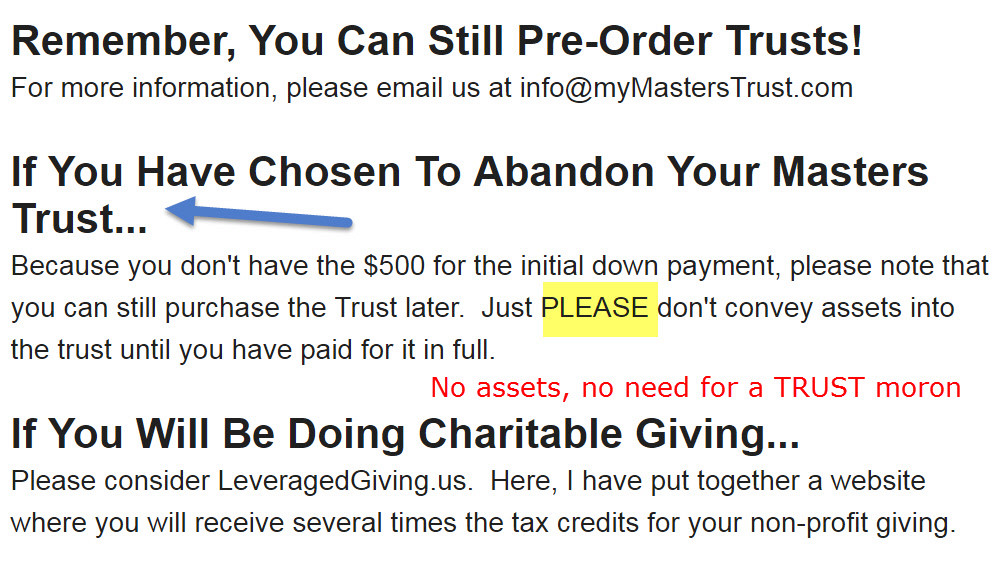 From my own professional SEO perspective, the ONLY sites linking to this are Dinar Daily and the Ripoff report.
A professional business would spend time building links in business directories, not JUST reach out to people like Garry McGuire, think about that, only two websites linking to the MyMastersTrust.com website.
Here is a screenshot
Newsletter Archive (Newest One is dated 11/30/2016)
http://us3.campaign-archive1.com/home/?u=b4cad16cec189f2a819df5d69&id=5ef2a593aa
And for those of you who are saying to yourselves:
"OK Nick, that's not fair, the real site is MastersTrust.com not MyMastersTrust.com"
OK, so here you go, it gets even better: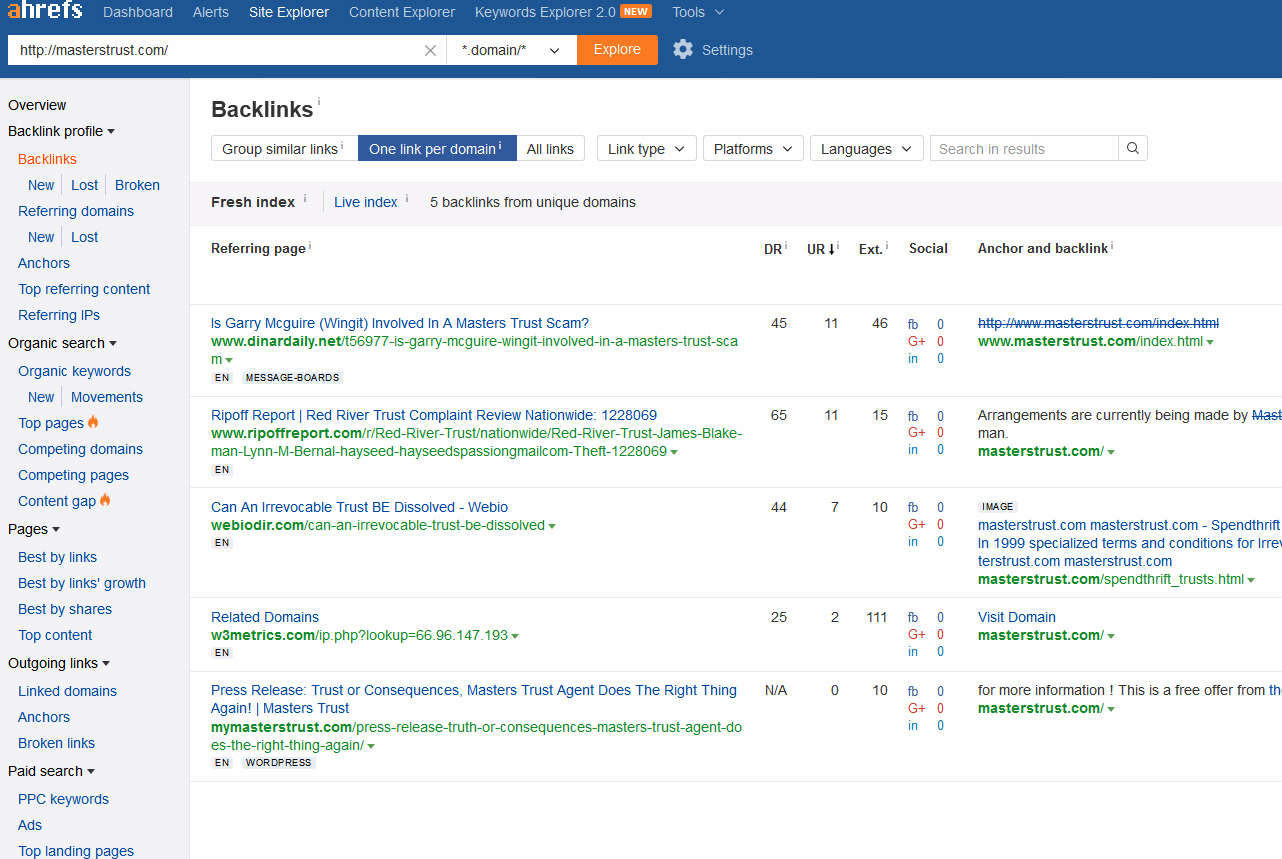 5 links, FIVE! Look at where the links going to MastersTrust.com are from:
Ripoff Report (what a shock), Dinar Daily, MyMastersTrust.com, and two indexing sites that are automatically generated from web bots.
So again, the site that is supposed to be the more professional site has done ZERO PROMOTIONS.
Conclusion:
I told Wingit the way they promoted the trust was a scam, but that the trust was real, obviously they got the picture and so did the Master pumpers Richard Howard and Marcus Laubli because Richard Howard got very scared on the call I was on, he literally saw the money slipping away.  Marcus thought it was OK to promote this trust by mentioning currencies, I had some interesting chats with him that I turned over to Rosen and Rosen.
Don't forget when I inquired why they called the individual Richard Ronald and not Richard Ronald Caycee why did Richard act like he didn't know who Caycee was but later Garry McGuire said they knew.
Below is the connection between Richard Ronald Caycee and Rosen and Rosen
http://www.law360.com/cases/5148e91e7128dc2aa3008f02
Wingit Call With Dinar Guru Hunters Nick - Nash - Sam I Am - Masters Trust from Nick Giammarino

http://dinarrvnews.net/ Wingit Call recording regarding the Masters Trust, with TNTBS, Nick, Nash and Sam I Am.
https://www.youtube.com/watch?v=QNvjSI_oeew
Now, we have a new disclaimer on the homepage.
Let's see how that dunce on the call reacts when she sees what a real man can do.  I'm not just your everyday guy, I found the lies, told the FBI and now Wingit is finished.  They can't keep doing calls when they are getting paid in BBQ sauce royalties.
Goodbye Wingit and Goodbye Masters Trust, we never needed you.
And for the woman who told TNTBS and I to do our research, WE DID.
Gotcha!