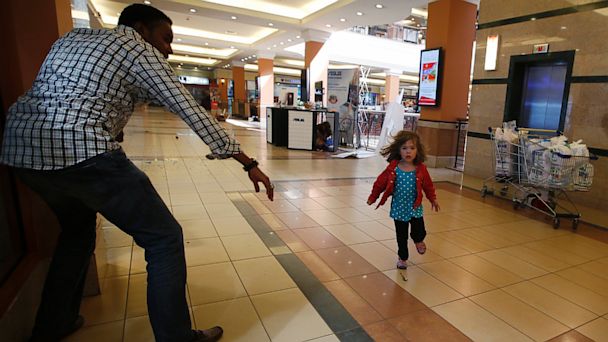 Sep 27, 2013 8:29am
Kenyan Hero's Harrowing Tale of Rescues in Mall Massacre
NAIROBI, Kenya–In one of the most memorable images to emerge from inside the Nairobi mall attacked last weekend by Islamic extremists, a 4-year-old girl is seen running toward a man who is reaching out a hand to pull her to safety.
The man was Abdul Haji, a 39-year-old real estate executive who rushed to the mall as the attack got underway. He managed to evacuate scores of people to safety, including that young American girl, Portia Walker, and is being hailed in Kenya as a hero.
SEE: KENYA ATTACK IN PHOTOS
As the gunmen began their rampage in Nairobi's upscale Westgate Mall early Saturday afternoon, Haji got a short text from his brother who was at the mall. "I'm stuck at the Westgate. It's probably a terrorist attack. Pray for me." Haji's immediate thought was that militants had gone to assassinate his brother.
Until just a few weeks ago, his brother was an undercover counterterrorism official battling organizations like al Shabab, the al Qaeda-linked group that has claimed responsibility for the four-day siege that left almost 70 people dead. But a local media outlet had recently revealed Haji's brother's identity and the family – including their father, a former defense minister – had started receiving death threats.
Haji says he grew up around guns and lately had been carrying his pistol with him. "I left where I was and I headed straight to the Westgate," Haji told ABC News. "Luckily on that particular day I had actually carried my licensed gun with me so I didn't have to go back home to waste time and pick up a gun, I went straight to the mall."
READ MORE: FULL COVERAGE OF THE KENYA MASSACRE
When he arrived he quickly figured out his brother was not the target. Haji joined up with a group of around 15 men outside, including some security officers, most of them armed and some wearing body armor, and headed into the mall with workers from the Red Cross. "It was like a war zone," he said. "I've never seen such a massacre. I've never come across such a thing. It was shocking. There were young girls, there were ladies, elderly people, some children. We were shocked."
The group had taken a ramp up to the mall's top floor which they started clearing, going store to store and yelling at people to get out, many of whom didn't know which side the men were on. "Most of them were really petrified, they could not move. They were lying down on the ground as if they were dead but they were not dead," said Haji. "We kept shouting that we're police officers, 'get up, get up, open the door, we're police officers.'"
As they arrived on the mall's ground floor, the attackers opened fire on the group, shooting one of the men Haji was with in the stomach. It was then that Haji came face to face with one of the attackers, whom he described as "of dark complexion, he had a black bandanna tied on his head."
"When his eyes and my eyes met, he started taunting me and telling come closer," Haji recalled. "Telling me in Swahili, 'come, come.' As if it was a joke to him. This whole thing was a joke to him."
Nearby, a woman was trapped behind a table. Haji yelled at her to run to them but the woman, 39 year-old Katherine Walker, said she couldn't because she had three young children with her. Haji told her to send the eldest, 4-year-old Portia, who ran across. "[A] very brave girl," said Haji affectionately. "She's running toward a man with a gun and she was very brave."
"I don't know how she knew to do it but she did," Katherine Walker later told The Telegraph newspaper, "she did what she was told and she went."
Walker and another woman followed close behind with the other two children who then re-united outside with the family's two teenage sons who had been shopping elsewhere in the mall. "I was worried about family in America seeing [the photo] because we haven't really shared the whole story with them yet," Walker told the newspaper. "For me, I know the story behind it and that it ends well. I think I owe Mr. Haji a hug or two."
As Haji arrived at a Nairobi hotel for the interview, he was instantly recognized by hotel staff who asked for photos with him. But Haji dismisses all the talk of him being a hero, saying he was just going to the mall to save his brother. "I think anybody in the situation would have probably done the same thing," he said. "[If] he was armed and thinking the worst about his family he would have probably done the same thing."
Haji claims he's coping well in the aftermath of the ordeal. He says he doesn't remember any nightmares but his wife has told him that he has been crying in his sleep. "I never saw anything like that," said Haji. "It'll probably stick with me for a long time. And I just hope I don't have to go through the same thing again."
http://abcnews.go.com/blogs/headlines/2013/09/kenyan-heros-harrowing-story-of-rescues-in-mall-massacre/